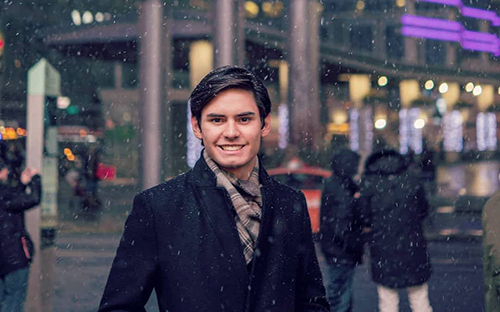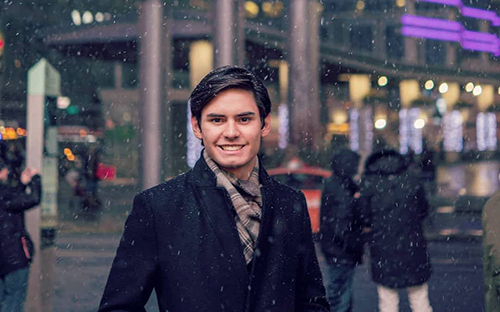 Earned his elite CITP®|FIBP® designation: March. 2020
For Rodrigo Osorio, it all began in Shanghai, China where he was working to develop his Chinese language skills in a corporate environment. At the time, he came across a position at an international trading company doing business between the Americas and China. This presented itself as a win-win opportunity for him, as it would not only help him further hone his Chinese language skills, but also allow him to leverage his fluency in Spanish to communicate with clients. It was this exposure that formed his interest in international trade, and since then there has been no looking back. 
"The exposure the procurement position gave me to Chinese and international business when visiting export expos such as the Canton Fair, various supplier factories, and trade negotiations immediately gave me a passion for the industry." 
Opening his eyes to 

opportunity
Attending the Canton Fair in Guangzhou, China proved to be a turning point in Rodrigo's career in international business. The eye-opening experience drove home the fact that China was an important player in global trade and this could surely open the doors to greater business opportunities with countries and continents across the world.
"Physically seeing the number of suppliers and products at the Chinese Expo illustrated the importance China has and will have in the business world, where there will surely be even more business opportunities opening between the country and the Americas." 
How k

nowledge of Chinese

 facilitated 

important negotiations
According to Rodrigo, one of his proudest professional accomplishments was conducting trade negotiations with suppliers in China on behalf of buyers who could only speak Spanish. It was his efforts and commitment to learn the Chinese language that made possible his professional achievements in the form of successful discussions and business deals. 
"Studying Chinese has been a huge investment of resources and time, so being able to use it as a tool in a professional environment is a super rewarding accomplishment"  
A piece of career advice from Rodrigo 

–

 

"Learn as much from various business sectors as you can"
International business spans every industry we can think of, which means that there's much to learn from the various sectors. As a business professional, it's essential to take advantage of the wide exposure to diverse industries and try to grasp the nuances of their products, market trends, and strategies. Gathering industry-specific knowledge is key to assessing potential business ideas and making plans for future ventures.  
"Whenever a client or supplier approaches you with their product, take the time to understand their market and competitive advantage to identify possible business initiatives." 
It is perhaps this desire to better understand the various aspects of international business that prompted Rodrigo to formalize his professional experience into a solid foundation in global trade. Therefore his logical next step was to sign up for FITTskills courses to build upon his business skills and drive career growth.  
Completing the FITT courses allowed me obtain an understanding of valuable terms and transactions important in international business….
Not surprisingly, Rodrigo's favorite course is International Trade Finance, as it helped fill all the gaps between finance and international business functions.  
I enjoyed International Trade Finance the most as it provided me with a deep understanding of how transactions are conducted and how risk is handled in international business.
Earning a designation that spells 

competence and 

credibility

 
After completing his FITT Diploma in International Trade, Rodrigo went on to apply for the CITP®|FIBP® designation to achieve the benchmark for excellence in international business and trade that earning it brings. The designation demonstrates proficiency in both theoretical and practical aspects of international trade, thus recognizing the credential holder as an expert in his field.  
For Rodrigo, the FIBP® designation marks the culmination of several years of dedication, discipline, and hard work. It spurs him to continue using his skills and experience to challenge his abilities and advance his career.  
It's very pleasing to see my dedication to excellence in both work and study throughout the years come to fruition.
Opening up

 new possibilities as an

 

FIBP®

 

 
The value of the FIBP® designation is that it validates his industry-backed competence as a global trade professional to his clients, partners and peers. Rodrigo believes that the credential greatly enhances his profile and will therefore open windows to new possibilities. 
Currently working as Procurement Manager at Asia Grupo, Rodrigo continues to use his skills and experience to help companies in Latin America accomplish successful business transactions in China.  
We're confident that Rodrigo's efforts and talents will open many doors for him and take his career trajectory ever upwards in the years ahead.  
Learn more about the CITP®|FIBP® designation
INTERNATIONAL BUSINESS CERTIFICATION—CITP®|FIBP®
Advance your career and build your professional credibility in the field of global business by earning the Certified International Trade Professional (CITP) designation.
Why Earn the Certified International Trade Professional (CITP) Designation?
The Certified International Trade Professional (CITP) designation is the world's leading professional designation for the field of international business. So whether you're new to global trade or have over a decade of direct experience, you'll find the CITP designation can help advance your career and build your professional credibility.
The CITP designation sets you apart in the competitive international business industry because it's proof you possess the competencies global business experts have identified as being essential for a successful career in international trade. It also recognizes your dedication to ethical business practices and ongoing professional development—both of which are desirable traits for today's global business practitioners.