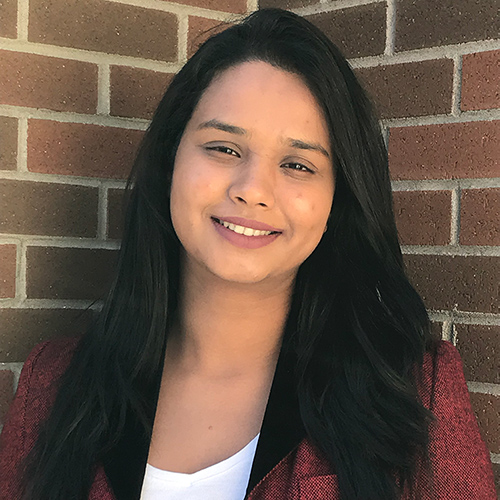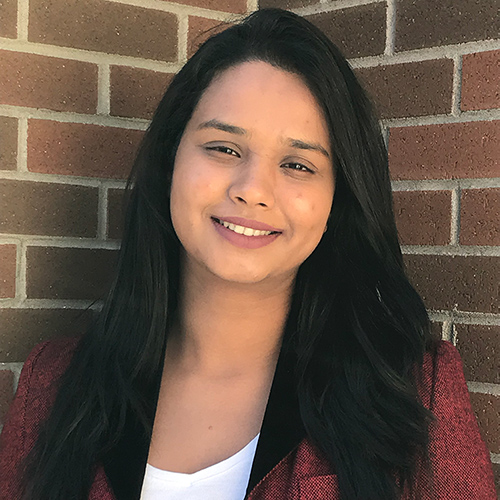 Earned her elite CITP®|FIBP® designation: Nov. 2018
Born and raised in Mumbai, India, Dimple Gandhi's path towards an international trade career started at a young age. Her father ran a logistics company for 25 years, and as she saw how much work he needed to do to keep his business going, she wanted to learn how to help him run and grow the business as well.
"I started understanding the business structure and day by day I was eager to learn more. After office hours, I used to ask several questions to my dad every day. I understood transportation is one of the most important factors in international trade, so I started focusing there, which helped me to better understand international trade as a whole and gain my own perspective."
As she grew older, she decided to attend university to continue her education, learning more about international trade and its many requirements. Each summer during her program, she also worked as an intern at different manufacturing companies to gain further experience in accounting and then import/export management. As the daughter of a business owner, however, she faced significant challenges in dealing with her employers and co-workers.
"For three summers I worked for free, none of the companies paid me a single penny. My employers would tell me 'you are here to learn' or 'you are the daughter of a businessman', and my co-workers always saw me first and foremost as a 'rich man's daughter'. This was very frustrating. I was struggling to please everyone around me and sacrificing any break during the summer, but only hearing unwanted things from everyone around me."
"I always wanted to be independent, and these three years of sacrifice and hard work changed my life and developed my self-confidence. I learned to always look on the bright side. There are 10,000 reasons to give up, so always eliminate all the excuses and replace those excuses with opportunities. Hard work pays off at right moment, so never give up."
The balancing act of studying while working full-time
After completing her undergraduate degree, Dimple earned a full-time position at SRV Global Freight, a freight forwarding company, where her role was to negotiate contracts and pricing for ocean, rail and other importers. She also wanted to continue her studies, which led to a hectic 18 month period in her life.
"My goal was to enhance my knowledge and gain further insights into logistics and supply chain management, and to apply my theoretical knowledge in a practical environment. I enrolled for an 18 month diploma program where I worked Monday to Friday full time and then spent my weekends in school for more than 10 hours each day, which was difficult."
"I still can't believe I graduated from the program with an A, which was unbelievable. Balancing my study time and work time was important. I am grateful for my SRV Team, especially my Director, Mr. Rosario Dcruz, who supported and motivated me throughout my journey."
After completing her diploma, she then set a new goal: to study abroad and continue her trade education. Moving to London, Ontario, Canada in 2017, she earned her diploma from Fanshawe College in international business management as well as the FITT Diploma in International Trade the following year.
"Moving abroad to achieve my goal was another achievement."
The FITTskills courses helped me to sharpen and enhance my international trade knowledge. They have all the essential content and elements an individual should know before you enter any kind of market around the world.
I personally developed my research skills – there were so many aspects which I wasn't aware of, and this training has all the minute things which are important for business.
Earning the CITP designation to open doors in the Canadian trade job market
By earning her FITT Diploma, Dimple fulfilled the educational requirements to apply for the Certified International Trade Professional (CITP) designation and applied for the designation shortly after.
"Within 20 months, I decided to pursue my diploma, complete all of my exams and successfully complete my work experience. I worked hard and enhanced my knowledge as much as I could, so I think of this designation as a kind of reward for my enthusiasm towards this field."
Learning that she had officially become a CITP was one of the proudest moments of her career to date.
"This feeling cannot be expressed, it's such a proud moment for me and my Parents. This designation has proven that my three years of struggle during my undergrad was worth it. Sacrificing my social life for two years while working and studying has given me this. I'm thankful to my parents for motivating me at each stage of my learning, and my "never give up attitude" paid off."
As she works to establish her career in Canada, she says that the CITP designation will open doors and help her earn the kind of position she is seeking.
This will help me to reach my goal and give me an opportunity to enter the global trade job market. Companies will know they can rely on my skills, knowledge and experience.
With all of the tools she needs to succeed in hand, Dimple has a bright future ahead of her and is poised to help any number of international trade businesses grow and excel in global markets.
Want to connect with Dimple?

LinkedIn: Dimple Gandhi, CITP|FIBP
Learn more about the CITP®|FIBP® designation
INTERNATIONAL BUSINESS CERTIFICATION—CITP®|FIBP®
Advance your career and build your professional credibility in the field of global business by earning the Certified International Trade Professional (CITP) designation.
Why Earn the Certified International Trade Professional (CITP) Designation?
The Certified International Trade Professional (CITP) designation is the world's leading professional designation for the field of international business. So whether you're new to global trade or have over a decade of direct experience, you'll find the CITP designation can help advance your career and build your professional credibility.
The CITP designation sets you apart in the competitive international business industry because it's proof you possess the competencies global business experts have identified as being essential for a successful career in international trade. It also recognizes your dedication to ethical business practices and ongoing professional development—both of which are desirable traits for today's global business practitioners.