A harrowing hit and run accident in 2015 that left Pernille battered, but not broken, was the inspiration for writing her memoirs, published in 2017.
"As I healed from my injuries, I found myself thinking of the people who helped me over the years. That night in the hospital I had been so afraid I would never get to thank them fully or tell their stories. Writing a book seemed like the perfect way."
Growing from strong international roots
Pernille's parents spent many years in Greenland where her two older siblings were born. The family moved to Kisserup, Denmark shortly before she and her twin brother were born. This is where she grew up and first developed the outgoing, ambitious attitude that would guide her through her remarkable career and life journey.
Her parents were a very social and welcoming couple, making friends with people from all over the world and opening their home to their diverse group of friends. This had a profound impact on Pernille and her siblings.
This early exposure to the many and varied friendships her parents had was her first introduction to the wider world, and the differences between the world's diversified cultures.
I learned from a very early age that people from different cultures have different ways of looking at things and doing things, and that differences are something to explore, celebrate and learn from.
Over the past 25 years Pernille has worked on projects in over 90 countries and six continents in over 25 sectors. When she founded Kisserup International Trade Roots to give a name to her fledgling consulting company upon moving to Canada, it was the first name that came to mind, and it turned out to be more than fitting.
Below (left): Pernille enjoying some unique arctic activities during a trip to Greenland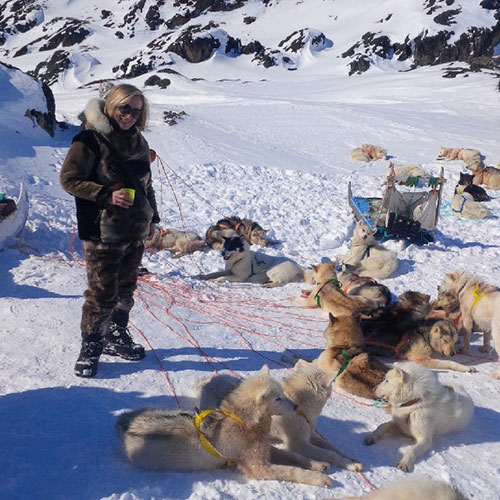 "When I emigrated from Denmark, my "roots" took on a new meaning. I named the company I established "Kisserup International Trade Roots." I did this quite intentionally. Roots is not a misspelling of Routes, and it's not a coincidence."
Setting down new roots across the Atlantic
Pernille came to Canada in 1998, settling in Halifax, Nova Scotia with her new husband, a lawyer and businessman who had set up a manufacturing plant in Bridgewater.
Like many of her fellow immigrants, she had left a successful professional career, credible achievements and a strong financial record behind, and had to start all over – even forced to retake her driver's test.
"It baffled me and I wondered – why is there no international cooperation or agreement that can bridge the gap? Why wasn't there any mutual recognition of international experience or qualifications? It was the very first time in my life I felt like a burden to someone, not an asset, and it was not a good feeling."
Adjusting to the different culture in Canada was the biggest thing for me, an area where I would learn the most, fail the most, and eventually succeed the most.
"It was only after I moved to Canada that I learned there is no real word for 'please' in the Danish language. When I'd mentally translate what I wanted to say in English it would be, 'Can you pass me the salt?' or just 'Pass me the salt', with no 'please.' So, to many Canadians I came across as quite rude."
"Like most Scandinavians, I was also a direct communicator and spoke my mind frankly. When you ask a Dane if they like your new haircut, they'll say 'no' if they don't, and that kind of directness takes Canadians by surprise. I went through quite a learning curve in my first few years in Canada."
During her first few months in Canada, Pernille listened to CBC radio, crediting Shelagh Roger's show Sounds Like Canada with teaching her valuable lessons about the people, lives, and cultures of her new home. She continues to draw on these lessons today, almost 20 years later.
You never lose – you win or you learn
Finding meaningful work in Canada was a daunting challenge as well. After meeting with the Danish Consulate in Halifax, Pernille realized that with limited resources available to her, she would have to take matters into her own hands.
"I realized that my curiosity, resourcefulness, and passion for business were all going to have to help me."
My CV and previous experience would not land me a job. I was going to have to find a way to introduce myself.
Pernille began writing letters to the top CEOs and entrepreneurs on the East Coast introducing her skills, background, experience and notably, the story of her journey to Canada. There was tremendous opportunity for Atlantic Canada businesses to get involved in European markets, but there was very little interest at the time. In the late 1990s, over 80% of Canadian exports went solely to the U.S. market.
Pernille contacted each of the top 100 business leaders in Atlantic Canada, many of whom were helpful, offering valuable advice and introducing her to other well-connected individuals. Some were less receptive, one even discouragingly asking about her typing skills for a low-level position, despite her years of international business experience. But Pernille was not deterred.
"This experience taught me a valuable lesson: you never lose – you win or you learn."
Ultimately the experience had a big impact on her career and gave her a great appreciation for the struggles of immigrants trying to make a life for themselves in a new country.
"I resolved to always make time for people. To this day, I spend five to ten hours per week mentoring immigrants, international students and small businesses all over the world. I have implemented a policy at my firm that everyone has to make time for mentoring, and that we will never turn away anyone who asks for a meeting."
Hard won success in Atlantic Canada
Eventually she was able to secure some small consulting jobs, including designing an international brochure for Lord Nova Balsam Christmas Trees and a local blueberry grower looking to expand into the UK. She landed her first long term contract with Hawboldt Industries as a New Business Manager. Despite the significantly lower salary and lack of staff amenities she was used to in Denmark, she was thrilled to achieve her first major milestone as a new Canadian.
This position also came with more than its share of challenges. She was tasked with initiating and growing Hawboldt's winch, crane and custom engineering business in the oil & gas industry, fishing industry and shipbuilding and defence industry, all industries she had no previous experience with. These industries were also largely dominated by men, who had little time or respect for those that didn't share their level of expertise. Fortunately, as in most things, Pernille was persistent and her warm relationships with her colleagues helped her to ease the transition to her new work.
Eventually Pernille began to get a hold on the energy and fisheries industries, making inroads with prominent companies, and the icy reception she had been receiving at many of her earlier sales calls started to thaw. As she learned and gained respect in the Atlantic provinces' business environment, Pernille was able to orchestrate the acquisition of the present Hawboldt Newfoundland in 2000, turning the company around to profitability – a major feat. She credits much of her early success to her generous colleagues and mentors who helped her develop and reach her goals through their guidance and influence. This experience inspired her to focus Kisserup's services around capacity building and helping other companies reach their potential.
Driven by her enthusiasm for her community in Nova Scotia, Pernille made the leap into politics in the early 2000s, landing the role of Chief of Staff to the Leader of the Opposition for the Nova Scotia Liberal Caucus.
"The chief of staff position turned out to be both the best and the worst job I ever had. It was the best because I learned so much in just a year, and the worst because I was on such a steep learning curve that I made lots of mistakes. The experience of this job helped me to see how people actually define who they are through politics and how deep an influence politics has on a country and province."
Finding the competitive edge to take Kisserup to the world
Pernille went back to focussing on Kisserup, but despite her expertise and success landing projects in countries all over the world, she wasn't finding much work locally in Nova Scotia, and she longed for more involvement with businesses at home.
"I wanted to bid on writing export strategy for the province I lived in, to build bridges between SMEs in Canada and internationally, and to influence the economic prosperity of my new home country."
Below (right): Pernille on her way to Europe, a trip she makes frequently.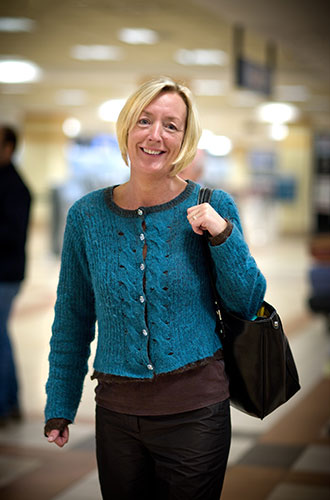 So Kisserup began the hard work of applying for international development funds for projects , which would allow the company to work predominantly with SMEs, building capacity and making an impact on people's lives – exactly what Pernille had been passionate about doing from when she first landed in Canada.
In 2008, she decided to further educate herself to provide a competitive advantage for her firm.
I found the FITTskills courses bridged a very important gap in international business and trade—hands-on trade. It teaches entrepreneurship, logistics, financing, research, marketing, and supply chain management.
"It has a curriculum that no MBA or Master's program does, it is solely oriented to international trade, and I was able to see firsthand how big of an impact students made in their companies upon completion of the courses."
"In two clicks of a mouse, exporters could learn what trade tariff might be applied in a foreign market and what import duties they might face. That same year, after completing the program and submitting my application, I obtained the professional certification Certified International Trade Professional (CITP|FIBP) designation and it propelled both my own professional career and my company's procurement to new levels of success."
The courses had a big impact on her career and she began teaching the FITTskills curriculum at Halifax's World Trade Convention Centre. She also helped develop and edit some of the FITT curriculum. Ever since, Pernille has been a leading member of the FITT community.
Combining personal and professional dreams is a recipe for success
That same year, Kisserup expanded into Europe, opening an office in Copenhagen, Denmark.
"We could see the sheer size of the EU's potential market, which included not just the UK, Germany and France. We saw the potential of the emerging markets too, and were one of the few Canadian companies recommending that clients expand to the EU, and not just because my roots were there."
"However, I recognize now that what drives people personally is often a huge factor in their ability to succeed in business, and when current clients want to expand, we do ask if they have family they want to be closer to, or if there is an old dream to be realized by going to a specific market."
I truly believe that if you can combine business with personal desires, it has the perfect potential for success.
In 2012 Pernille came across an exciting opportunity to bid on a contract with the Government of Greenland to design training to get small business in Greenland involved in the country's emerging energy industry. This fit perfectly with the expertise and mandate of Kisserup, but there was only one problem – the project was to be awarded to a Greenlandic company. Instead, Kisserup partnered with a local Greenland company and the project paved the way for them to work on future projects in the country. Once again combining her personal and the professional drive, Pernille opened an office in Greenland in the summer of 2016, a place that has a dear place in her heart and the lives of her ancestors.
It would be impossible to name all of the companies, individuals, development organizations, non-profits and communities Pernille and her Kisserup teams have influenced and impacted through her work worldwide and at home in Atlantic Canada. Through her work with SMEs, charities and mentorships she has made a difference in people's personal and professional lives, just as she always dreamed of doing from a very young age. This work has been recognized extensively at home and she was been the recipient of:
2007 Women of Excellence Award, Progress Club Halifax
Nominated for RBC Canadian Women Entrepreneur Award each year from 2007-2017
Appointed Nova Scotia's SME Representative (SME) Federal Advisory Board, Reporting to the Federal Minister of International Trade and Foreign Affairs.
2014 Top 25 Women of Influence by Women of Influence Canada ©
Appointed to the Atlantic Growth Advisory Group 2017
Despite having seemingly seen and done it all, Pernille is still learning valuable lessons about international business every day.
"I was in the Netherlands, just a few weeks back, doing matchmaking for a Nova Scotia delegation, two Dutch business people said to me, 'We really do like Canadians, but we like to business with the Americans better'. I was flabbergasted. Truly. I asked them why. They said Canadians are so polite, you never know what they really think. They never really say no, they never really want something, it's always middle of the road, balanced, no excitement and no rejection. That was news to me. After 20 years in trade, it was an eye opener. But digging into my Danish roots and culture, I actually understood what they meant. Culture is so important."
When asked if she could go back in time to the beginning of her career and give herself one piece of advice she provided a simple but telling answer.
Get a mentor and BE a mentor! Always ask questions or do the research when you don't know the answer.
Pernille stands as a stellar example of what immigrants can contribute to their new home country, and what a little persistence and positivity can reap for those brave enough to persevere. As she continues to grow Kisserup and serve as a mentor and leader to the SMEs all over the world, we are proud to call her a friend of FITT and an inspiration to the international business community.
Want to get in touch with Pernille and her team? You can reach her online at:
kisserup.com
www.pernillefischerboulter.com
Twitter 
LinkedIn