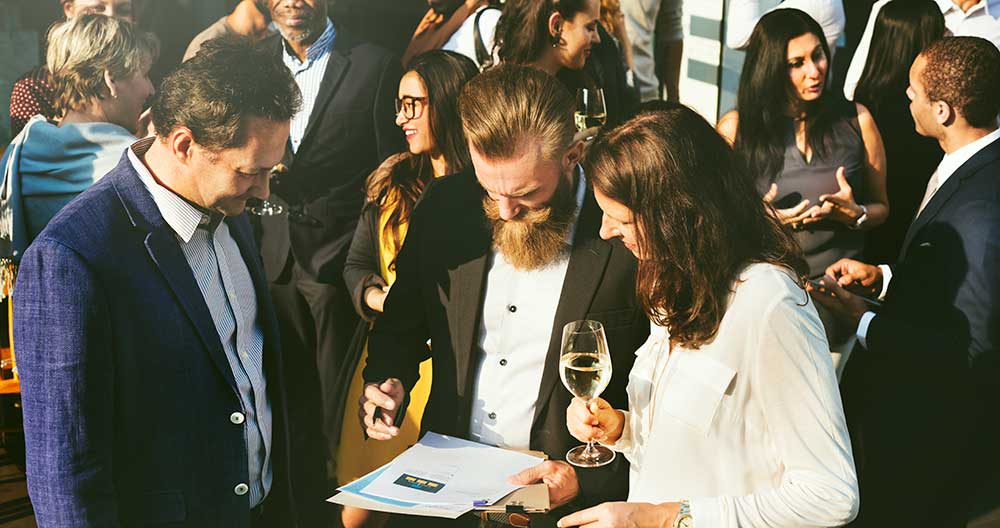 In the Internet age, everyone is talking about inbound marketing and content marketing. The growth and effectiveness of these marketing strategies is indisputable. But even with the constant evolution of marketing tactics and technologies, older, traditional methods are still important, especially for B2B. One of these traditional methods that deserves its place in your marketing mix is trade shows.
Trade shows or fairs are still important today. This is because it is still a powerful sales tool to give clients a chance to experience products in person.
At trade shows participants have the chance to meet with  representatives from a wide range of companies, from SMEs to multinational corporations. Representatives from companies that would otherwise be difficult to get in touch with through technology are often much more accessible at trade shows, and may even visit your booth and give you their contact information.
Research has shown that many buyers first attend trade shows as a source of information gathering when deciding on annual purchases.
But it can take a lot of time and effort, not to mention the expenses and travel, to attend a trade show. So how can you make the most out of participating once you get there? Here is a 20 tip checklist to follow to get the biggest benefits for your company out of any trade show.
1. Determine your goals.
First and foremost, before you put any effort into attending a trade show event you need to first decide why you are doing it, and what you hope to get out of it for your organization. Make your objectives measurable and achievable. These goals should inform everything else going forward.
2. Choose the right show.
Hundreds of trade shows are held every year. Determine the most appropriate event by examining data from past shows and map them to your company's goals.
3. Advertise.
After you have determined which trade show to attend, add the name of the show and your stand number in your email signatures. Then invite your potential buyers and set up appointments for to make the most of your time at the event.
Professional buyers often devote very little time to trade shows and tend to fit all their negotiations into one day. They decide in advance which conferences to attend, which forum to talk to and which stand to visit. Setting up engagements ahead of time is the best way to ensure you snag some of the precious time for your company.
4. Create a great display stand.
A company's stand shows its efficiency, capacity, capabilities, and responsibilities. Deutsche Messe Interactive's recommendation is to choose a place close to meeting points, such as the forum and the event area. Trade show visitors decide whether to visit the stand in an average of three to five seconds. Put yourself in your visitor's shoes while making plans.
5. Make it memorable and engaging for visitors.
It is important that your stand is as engaging as possible, but you do not need expensive designs or huge stands. Music, a video show or little game your visitors can engage with, or even a giveaway can make all the difference. Let your imagination get to work.
6. Put the right person in front of your prospective clients.
The representative who will be at your stand must be a person who knows the product, the business and gives confidence to the visitor. Even if you communicate with your booth visitors through the interpreter, you should be there and involved, ensuring everything is properly represented.
7. Be inviting.
A long day at a trade show can be pretty tiring, but avoid sitting at your booth. Keep in mind that you are representing your company and products all day. Visitors expect that the person who meets them at each display will be cheerful and dynamic, and who can blame them? For this purpose, orthopedic-friendly shoes and comfortable but stylish clothes will make your job easier.
8. Stay engaged.
Similar to the above, do not turn on your computer and start working at your booth unless you are prepared to miss out on visitors. The visitor who sees you in this position will not want to disturb you, and you are displaying to them that you have prioritized other things over meeting them .
You should remember that your exhibition stand is not an office; you are there to make sales. Besides, engaging with the people who pass in front of your booth is much more fun than office work.
9. Cater to your audience.
Always have small snacks and drinks at your booth that you will serve. There is even an old saying about it in Turkey, "a cup of Turkish coffee will be remembered for 40 years." It means that the person who offers the coffee is to be respected and remembered for a long time for the sake of his offering.
10. Keep your collateral with you.
Instead of leaving your business cards and brochures on a desk at the entrance, give them out at your booth. This is another great opportunity for a possible dialogue, and will ensure you have not spent unnecessarily on extra brochures and business cards.
11. Stay focused.
Remember, the show starts when you arrive at the airport and ends when you get off the plane and return home. So stay focused and make sure you are taking every opportunity at your disposal, including the lobby, elevator and restaurant. Business can be done everywhere at trade shows. Be prepared for opportunities to be born in interesting places.
12. Have your non-heavy printed materials with you.
You never know when you might have the chance to hand out a promotional CD or thumb drive. And always carry a lot of business cards in your pocket.
13. Make a detailed note after every meeting.
You won't remember everything that happened at a busy trade show when you are back at the hotel, or settling back in at your office. And many of the details you may capture could be crucial in completing a sale and maintaining a relationship after the show.
14. Never turn down anyone who asks for an appointment.
If necessary, the cleaners can work around you to close down the fair area while you continue your negotiations.
15. Do not give yourself over to the nightlife.
If you insist on having fun at night, leave it to the last night. The next day after a tiring evening, no one wants to have a meeting with someone with swollen eyes trying to stifle a yawn.
16. Dress to impress.
Wear clothes that are appropriate to the weather, culture, location and professional business world. This can make or break a first impression.
17. Manage your time efficiently.
Prepare well in advance to deliver polished talking points and make the most out of every interaction. You want to develop as many leads as possible during the trade show, so make every second count.
18. Follow up.
On the first business day after the show, send a "thank you" e-mail to all the people you have met, especially those you had appointments with. Here's where those detailed notes come in handy.
19. Get a list of attendees after the event.
This list will be very useful for your business's database and don't wait too long to engage in follow-ups with your connections.
20. Have fun and entertain.
Enthusiasm and humor are contagious. People want to do business with the confident, charismatic winners. Avoid negativity and approach every interaction fresh. Always remember why you are doing this and you will be sure to achieve your goals.
Disclaimer: The opinions expressed in this article are those of the contributing author, and do not necessarily reflect those of the Forum for International Trade Training.