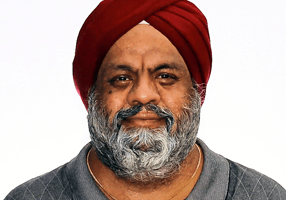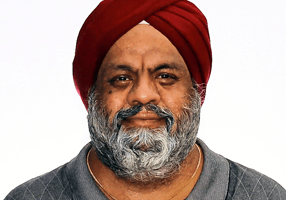 Earned his elite CITP®|FIBP® designation: June 2007
As a young man in India, Harmeet developed an interest in pursuing a career in international trade. He credits this early enthusiasm for global business to one person: his father.
"My father was an accomplished and seasoned international business person in India. He developed in me a desire to travel, and learn the core values of business in a practical fashion. Because of him, I wanted to complete my higher and advanced studies in international business and economics."
His father's lessons and actions as a role model were also a big influence as he stepped out into the business world for the first time and completed one of his earliest business deals at a young age.
"My first proud moment was finalizing a deal in Japan. I was only 20 years old, and I was quite nervous. However, I drew from the practical and stringent training given to me by my father, and it alleviated my nervousness. Doing that gave me the confidence I needed, and helped me to purchase consumer goods for the Indian market."
After this early success, Harmeet wanted to travel and continue his education, so he moved to the U.S. in 1979 to study business administration and economics at American International College in Massachusetts. Excelling in his studies, he won multiple awards for outstanding achievements in economics. Upon graduating from the program, he moved across the country to California to complete his MBA at JFK University, with a specialization in international business.
Spreading his wings as a business owner, consultant and lecturer
Once his education was complete, Harmeet found a job consulting for a California company selling air conditioners and parts, setting up and coordinating their Export Department and helping them export their goods to Europe and India. At the same time, he also began teaching for the first time, lecturing at his alma mater, JFK University, in their MBA program.
With this experience in hand, he decided to start his very own international trade business, Cal Systems Inc., in Toronto. His business focused on sourcing and purchasing consumer goods from Singapore, Hong Kong, China and India, and then re-packaging and exporting those goods to countries across Africa.
The six years he spent running his own business came with a lion's share of challenges and opportunities for career growth.
"It was not easy! There are many points to be concerned with when you start a business, especially perception. Patience is important, and matters take time to finalize. Rome was not built in a day! Trust building and engagement takes time."
Running his company also required a lot of travel around the world, which provided him with a lot of fond memories.
"Travelling and meeting people from various cultures is one of the things I've enjoyed most throughout my career. I've especially liked learning the norms and practices of various groups, and understanding different commercial practices."
Finding the right balance as a consultant and professor
Harmeet got his first teaching job in Canada in 1998, teaching various import/export and international trade courses at Seneca College. Since then, he has largely split his time between teaching opportunities and consulting work.
Though he has now lived in the Toronto area for several years, his consulting work has given him further opportunity to work and travel internationally. One project he worked on from 2000-2002 involved exporting heavy machinery and other consumer products in the Middle East. Another project he has worked on since 2006 focuses on procuring textiles and consumer goods from Singapore and China. He also spent five years consulting for a company that did business in the UK, Iran and UAE.
His main focus is now his own consulting company, I&E Trade Consultants, for which he has been President and CEO since 2005.
Many of his company's projects revolve around helping small businesses find vendors and partners to sell internationally for the first time, as well as with sales, marketing, customs, shipping and research. These projects have covered a wide variety of products, from food and textiles to electronics and auto parts, across different parts of the world, including Canada, the U.S., China, India, Europe and the Middle East.
He also has enjoyed his opportunities to educate the next generation of global trade professionals. As Program Coordinator for George Brown College's International Business Management program from 2003-2016, he taught FITTskills and other business courses, while also developing curriculum for continuing education and an international relations course.
He has also taught at Centennial College, Humber College, Sheridan College, Georgian College, the University of Windsor, and the University of Toronto's School of Continuing Studies, as well as other online courses and seminars, building an impressive body of work as an educator.
Proving his expertise with international trade certification
Along with many years of teaching and consulting experience, Harmeet has several different professional certifications to his name. Among those, his CITP®|FIBP® designation, which he has had since 2007, stands out as particularly important.
"I applied for the CITP®|FIBP® designation because of the respect, belonging and prestige that earning it conveys. FITT attracted external forces like a magnet, and being able to associate myself with them had a great deal of meaning. It has had a very positive role in my career, and I am very satisfied with having it, as I can apply it to my career both academically and practically."
Having now helped countless businesses in international markets, and countless students as they work towards starting their own careers, he has had an extensive impact on international trade in Canada and around the world. Even as he continues to expand his own list of accomplishments, the many students and professionals whose careers he helped to grow stand as a testament to his abilities as a consultant, educator and international trade expert.
Learn more about the CITP®|FIBP® designation
INTERNATIONAL BUSINESS CERTIFICATION—CITP®|FIBP®
Advance your career and build your professional credibility in the field of global business by earning the Certified International Trade Professional (CITP) designation.
Why Earn the Certified International Trade Professional (CITP) Designation?
The Certified International Trade Professional (CITP) designation is the world's leading professional designation for the field of international business. So whether you're new to global trade or have over a decade of direct experience, you'll find the CITP designation can help advance your career and build your professional credibility.
The CITP designation sets you apart in the competitive international business industry because it's proof you possess the competencies global business experts have identified as being essential for a successful career in international trade. It also recognizes your dedication to ethical business practices and ongoing professional development—both of which are desirable traits for today's global business practitioners.