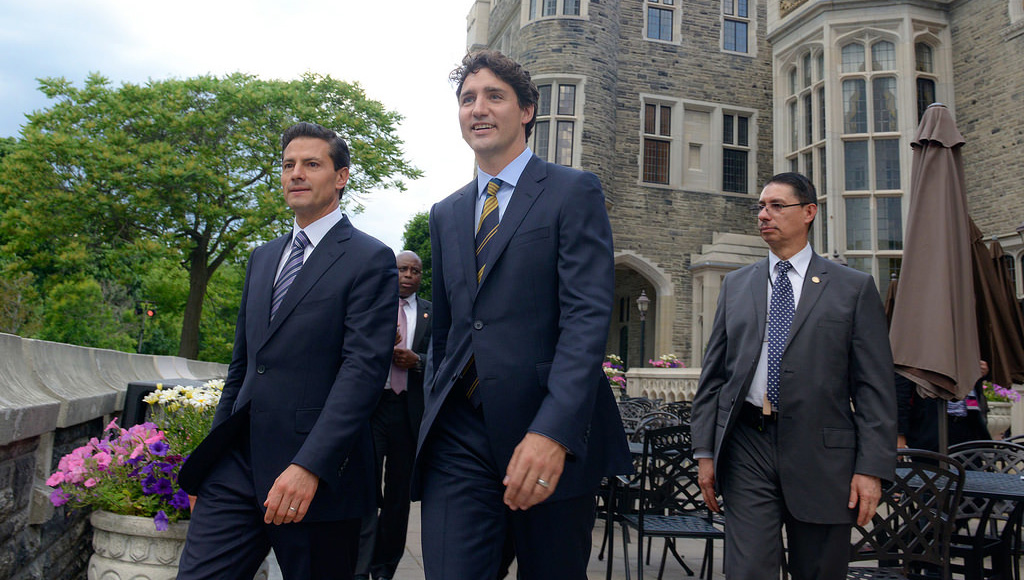 When it comes to NAFTA, the main focus is often on the U.S.'s relationship with its two NAFTA partners. As a result, the strong trade links between Canada and Mexico are often largely underappreciated. In 2015, Canada was Mexico's second-largest trading partner after the U.S., while Mexico was Canada's sixth-largest trading partner, after the U.S., China, the UK, and Japan.
That same year, Canada imported five times more to Mexico than it exported, with total exports of nearly $6.6B CAD and imports totaling $31.2B. This means many Mexican companies are already in the Canadian market and could serve as business partners to Canadian companies interested in importing from Mexico.
Interestingly, the inverse trend presented itself in foreign direct investment, as Canadian companies have found huge opportunities in the Mexican market which should continue to grow. Mexico invested $1.4B in Canada in 2015, while Canada invested $14.8B in Mexico.
Recent signs point to a deepening Canada-Mexico trade relationship
Canada's relationship with Mexico has never been better. In fact, on June 28th, 2016, the Governments of Canada and Mexico agreed that a strong relationship between their two countries is vital to creating jobs, strengthening the middle class, and ensuring sustainable economic growth.
During their bilateral meeting, Prime Minister Justin Trudeau and President Enrique Peña Nieto renewed their close relationship on the environment, climate change and energy, and highlighted the opportunity for North America to become the world's most competitive player in the clean growth economy.
Canada and Mexico also have a strong and growing relationship when it comes to education. This cooperation is supported by over 400 inter-institutional agreements between Canadian and Mexican higher education institutions, as well as significant collaboration between Canadian provinces and territories and Mexican states.
Both governments also offer scholarships to attract students or researchers from the other country. Mexico is now Canada's 10th largest source country for international students, hosting more than 5,000 Mexican students in 2015.
Not only do Mexican students come to study, it is estimated that in British Columbia alone there are at least 21,000 dual citizens who have decided to stay in Canada.
The Mexican-Canadian community of British Columbia is full of individuals with the highest academic degrees from universities around the world; businessmen developing new industries in the province, technology developers, post-graduate students, artists, and overall individuals with very strong attachments to this country we now call home.
Nearly 2 million Canadians also travel to Mexico every year for both business and pleasure. A significant number of Canadians, particularly retirees, have purchased property in Mexico and spend extended periods of time there enjoying the warm weather. Northbound, Canada has recently seen an increase in visitors from Mexico as well. According to the Canadian Tourism Commission, more than 200,000 Mexicans vacationed in Canada during 2015.
In addition, Canada receives approximately 20,000 agricultural workers annually under the Seasonal Agricultural Workers Program, often cited as a model for international labor mobility arrangements. The workers provide much needed help to local farmers.
What makes the Mexican market an intriguing option for Canadian businesses?
Mexico is ranked 38th worldwide in the World Bank Group's Doing Business 2016 rankings, an improvement from 42nd in 2015. Mexico is also ranked 5th this year in its ability to obtain credit, a major improvement from 12th in 2015.
This means that it is relatively easy for entrepreneurs who want to develop their business in Mexico to access credit from financial institutions .
As of June 2016, according to Statistics Canada's Harmonized System data, Canada exported more than it imported from Mexico in live animals, pulp of wood or other fibrous cellulosic material, and base metals. The data shows Canada has the lead in those products and more of these goods can be exported to Mexico because of high demand.
Export Development Canada (EDC) is present in Mexico to help Canadian companies interested in exporting to the country. Likewise, offices for ProMexico, the country's trade and investment promotion organization, are also present in Canada to help Canadian companies that want to do business in Mexico. Canadian entrepreneurs should consult with both organizations before starting a business in Mexico.
Are you prepared to take advantage of the opportunities available to you?
There is a tremendous opportunity for Canadians interested in the Mexican market, and the time is right to take comprehensive global business training such as the FITTskills program. An informed and knowledgeable trader is the only one who is prepared to capitalize on the global business opportunities available. Preparing entrepreneurs and employees to deal with the challenges of today's business is what organizations like FITT are here for.
To further discuss the economic implications and explore future business opportunities, I will be speaking at the Mexican-Canadian Forum on International Trade in Vancouver, British Columbia on September 7th, 2016
This year's topic is "International Trading and the Free Trade Multilateral Treaties". The Forum will have keynote speakers from Mexico, Canada, and Europe delivering their presentations and experience with particular attention to the industries that connect Canada and Mexico such as mining, banking, technology and services.
If you're interested in better understanding the latest trading trends between Canada and Mexico, please visit the event page to find out more and register for the event.