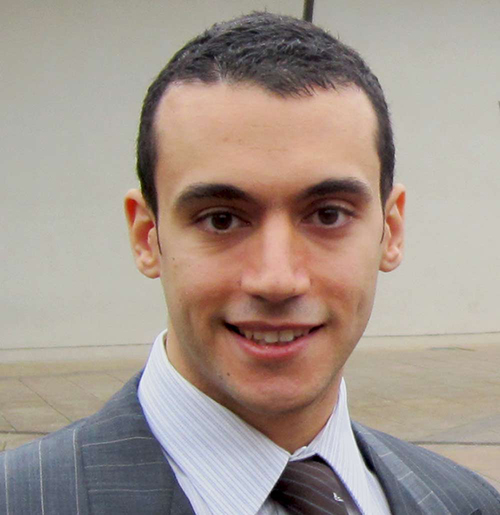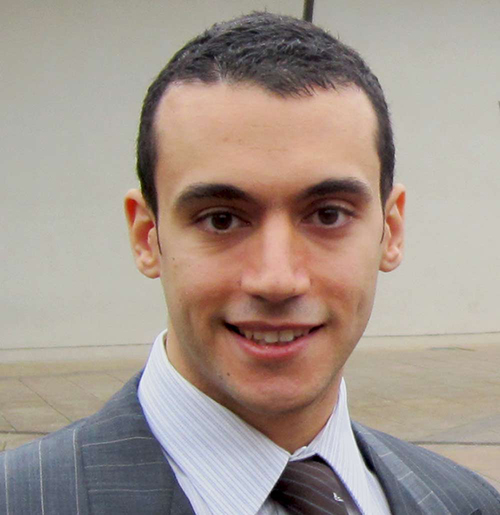 Earned his elite CITP®|FIBP® designation: March 2016
Gabriel is a Trade Commissioner at the Embassy of Canada in Saudi Arabia, responsible for the Infrastructure and Information Communication and Technology (ICT) sectors.
As an international trade specialist at the Embassy of Canada, Gabriel drives business and revenue growth for large companies in diverse industries. He analyzes, identifies and facilitates multimillion dollar international business opportunities, adding value by matching each company with appropriate partners in the Mid East and East Asia regions.
Finding his way to Saudi Arabia
Gabriel's global trade career began far away from his current posting in Saudi Arabia, in a finance position in Boston, MA.
Gabriel first went to school to obtain a BComm in Finance from Concordia University in Montreal, graduating in 2010.
"I got a job at a hedge fund in Boston. Serving as Financial Analyst for Gottex Fund Management, I measured fund performance, performed due diligence and prepared quantitative reports for investment programs from 2010 – 2011."
It was while working as a financial analyst that Gabriel first discovered he wanted to pursue a more international career, applying for post-graduate studies in International Management at Royal Holloway, University of London.
I realized that I wanted to expand my horizons and continue to engage myself internationally, whereby I discovered a role that complements my interests in international trade.
Building business relationships at the highest level
As a trade commissioner at the Embassy of Canada in Saudi Arabia, Gabriel's day consists of gathering intelligence on the local market and connecting Canadian companies with qualified local contacts.
He works hard to advance Canada's presence in Mid East markets, using his project leadership skills and devising market penetration strategies that highlight the strengths of Canadian companies. He also makes use of his language proficiencies in English, Arabic, French and Chinese to liaise with clients in their native language, a valuable asset in forming international business relationships.
Gabriel finds the opportunities to use these skills at an official, high-stakes level to be the most thrilling.
The most exciting projects are high-level Canadian government visits to advance commercial interests in Saudi Arabia.
One of the projects he's proudest of is connecting one of Saudi Arabia's largest companies with a Canadian company, forming a profitable new relationship for both parties.
"I brought together a Canadian company, AirG, with Saudi's largest telecom, STC, building a strong foundation for new business development. Their relationship is projected to generate 3-4 Million CAD annual revenue and has strong growth potential. I achieved this by networking with industry experts and Saudi government officials to extract market intelligence and critically analyze market conditions."
Gabriel has worked on many other projects bringing Canadian and Saudi Arabian businesses together to a successful end.
"By gathering timely market information, developing a strong market strategy, vetting potential partners and meeting with key decision-makers, I enabled a Canadian company, Arconas, to secure an extremely competitive project valued at more than half a million dollars to install public seating at King Fahad Int'l Airport."
He has also contributed to new business opportunities in East Asia by networking with associates in China and Hong Kong and connecting them with Canadian companies to promote international partnerships.
What it takes to be an international success
For all of his hard work and results-driven successes in his role, the Canadian Embassy to Saudi Arabia recognized Gabriel with a prestigious award in May 2015.
"I was presented an outstanding performance award, handed by the former Canadian Ambassador to Saudi Arabia for my excellent contribution to our Embassy. I've earned this by working hard and focusing on building myself to progressively become better at my role and serve the whole department."
Gabriel saw the FITTskills International Business Program as a way to further improve his skills and better serve the Embassy. He took all the FITTskills courses online, enabling him to easily complete the program and apply for his elite CITP®|FIBP® designation from his location in Riyadh, halfway around the world.
The FITTskills courses were productive and useful to my role, as I am now able to comprehend different types of international trade and distinguish them better. This gives my clients a higher satisfaction in the quality of responses I am able to provide them.
On top of improving his job performance, earning the CITP®|FIBP® designation has given him confidence in his professional standing as an international trade practitioner, accredited with the world's leading import/export credentials.
"I feel that earning the CITP®|FIBP® designation gives me a competitive advantage in the everyday work I do. I foresee this designation complementing my experience to help show the world my capabilities as an international trade specialist."
Gabriel takes pride in all aspects of his position at the Canadian Embassy, contributing to the organization in many ways, outside of his key responsibilities of forming business relationships.
He has co-chaired the Occupational Health and Safety Committee (OHSC), ensuring acceptable work conditions for all staff members at the Canadian Embassy. He also served as Social Media Leader for the Commercial Section at the Embassy. One of his tasks in this leadership position was to launch and advocate for social media initiatives in compliance with Federal Digital Diplomacy Act.
With a strong international background, multilingual communication skills, collaborative relationship-building and team leadership attributes, Gabriel's career is heading in a great direction.
Want to connect with Gabriel?

LinkedIn: Gabriel Jabbour
Learn more about the CITP®|FIBP® designation
International Business Certification—CITP®|FIBP®
Advance your career and build your professional credibility in the field of global business by earning the Certified International Trade Professional (CITP) designation.
Why Earn the Certified International Trade Professional (CITP) Designation?
The Certified International Trade Professional (CITP) designation is the world's leading professional designation for the field of international business. So whether you're new to global trade or have over a decade of direct experience, you'll find the CITP designation can help advance your career and build your professional credibility.
The CITP designation sets you apart in the competitive international business industry because it's proof you possess the competencies global business experts have identified as being essential for a successful career in international trade. It also recognizes your dedication to ethical business practices and ongoing professional development—both of which are desirable traits for today's global business practitioners.