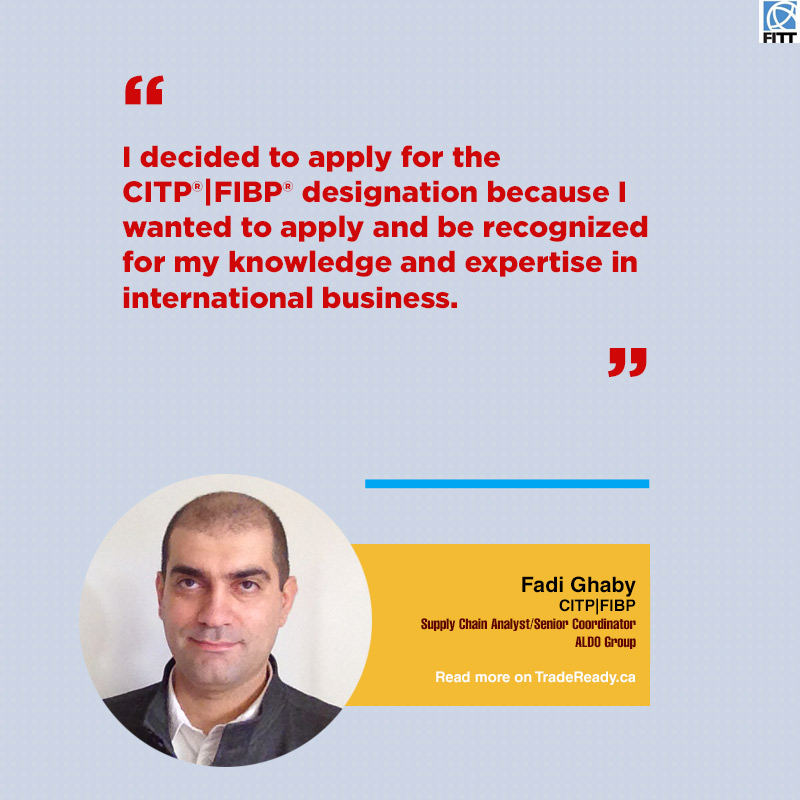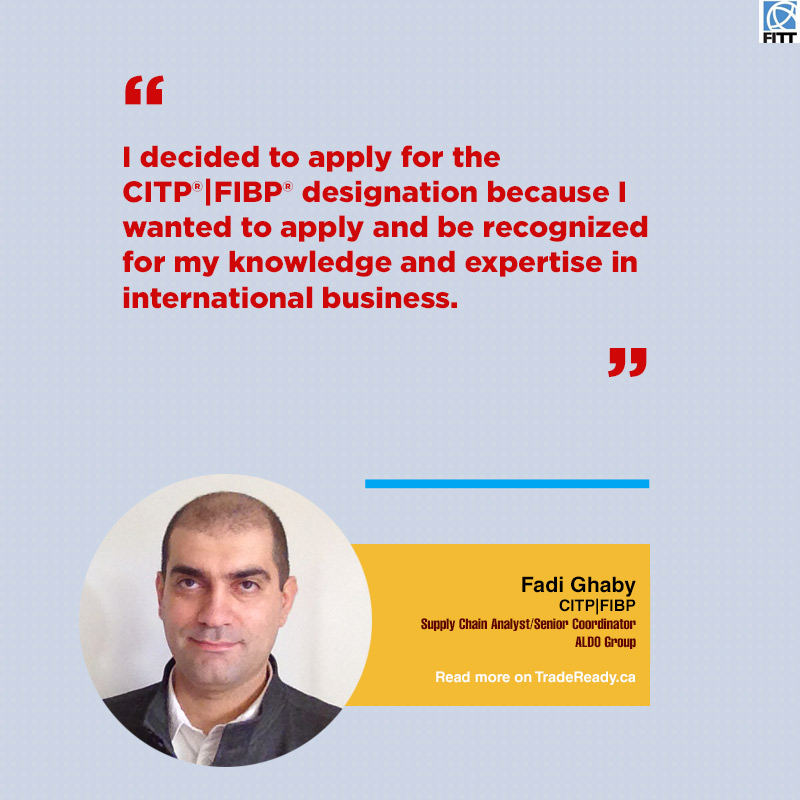 Earned his elite CITP®|FIBP® designation: June 2011
Fadi Ghaby, CITP|FIBP is a Supply Chain Analyst/Senior Coordinator at ALDO Group, based out of Montreal, Canada, where he supervises the complete customs operations group, including five supporting employees.
He is a highly skilled professional with over ten years of experience in the import/export and supply chain fields. With his exemplary abilities to organize and pay attention to detail, Fadi excels at managing multiple projects, as well as providing guidance and managing risks within supply chains.
Getting the right tools for the job
When Fadi decided global trade was the right industry for him, with an international background and language proficiency, he looked for the best education he could find to help him develop the skills he needed to break into the field.
After some careful research, he decided to pursue the International Commerce Import Export program, which delivers FITTskills courses, at LaSalle College in Montreal, Quebec. The program helped Fadi master the techniques, practices and laws he would use in his future career to develop strong, efficient supply chains.
FITTskills courses were very practical, and I use what I learned in the FITTskills program every day in my work in the import-export department at Aldo Group.
Wasting no time climbing the corporate ladder
Fadi got his big career break in March 2010, shortly after completing his FITT Diploma in International Trade, when he was offered the position of Export Administrator at ALDO Group.
After nearly two years in the role, Fadi decided to apply for the CITP®|FIBP® designation to show his commitment to the profession, as well as showcase his skill set and experience.
I decided to apply for the CITP®|FIBP® designation because I wanted to apply my knowledge and expertise in international business, and because the CITP®|FIBP® designation is the only comprehensive global trade credential recognized by the World Trade Centers Association.
Joining his fellow global trade experts was a dream come true for Fadi, and he sees it opening many doors for him in the future.
"I am very proud to have earned the CITP®|FIBP® designation, and I believe that it will help me to advance in my career as an import export and supply chain professional."
In fact, he immediately began reaping the benefits of his new title by being promoted to a management role within ALDO Group. He started his new position as Customs Operations Coordinator in March 2012.
Shipments don't go out without his stamp of approval
As Customs Operation Coordinator, Fadi was charged with coordinating all daily tasks and training for the export group at his company. He was ultimately responsible for ensuring his team met performance targets, and stepped in to solve any operations issues quickly and efficiently.
He reported his team's results by performing statistical analyses and continually developing KPI's to improve his team's performance. He was also the last line of defence, reviewing customs documents, maintaining CIFTA, CCFTA and NAFTA compliance, and dealing with suppliers, brokers and carriers for each daily shipment from Canada to the U.S.
Fadi has recently been rewarded for his achievements by being promoted, yet again, to his current position as Supply Chain Analyst/Senior Coordinator.
This promotion gives him an elevated role in establishing and administering supply chain operations in order to improve global lead time performance.
To do this, he conducts research in collaboration with support departments to better understand logistics requirements, and communicates with partners, other logistics teams and freight forwarders to better achieve their goals.
Fadi is also involved in contract negotiations with freight forwarders and suppliers, and works with subject matter experts to resolve any supply chain problems.
Gazing into the future of logistics
An exciting aspect of Fadi's work, is assisting in designing and implementing models and analytical reports – not only to evaluate and track current operations, but also to project future situations in order to identify opportunities for improvement.
On top of his international business training, Fadi has also received diplomas in Human Resources Management and Administration from the University of Quebec. He is currently completing a Professional Development Certificate in Logistics and Supply Chain Management at the University of Waterloo.
Fadi was promoted to Manager, Business Navigating and Reporting in fall 2017.
Fadi enjoys getting involved in the global trade community and was proud to have been selected to take part in the Steering Committee for the International Trade Competency Standards (ICS) project, led by FITT and the Canadian Government.
He hopes to soon get involved in supporting the World Trade Organization.
Fadi has a bright future ahead of him in the supply chain industry and strives to someday open his own international business. We look forward to seeing what innovations his team achieves in the future.
Want to connect with Fadi?

LinkedIn: Fadi Ghaby
Learn more about the CITP®|FIBP® designation
INTERNATIONAL BUSINESS CERTIFICATION—CITP®|FIBP®
Advance your career and build your professional credibility in the field of global business by earning the Certified International Trade Professional (CITP) designation.
Why Earn the Certified International Trade Professional (CITP) Designation?
The Certified International Trade Professional (CITP) designation is the world's leading professional designation for the field of international business. So whether you're new to global trade or have over a decade of direct experience, you'll find the CITP designation can help advance your career and build your professional credibility.
The CITP designation sets you apart in the competitive international business industry because it's proof you possess the competencies global business experts have identified as being essential for a successful career in international trade. It also recognizes your dedication to ethical business practices and ongoing professional development—both of which are desirable traits for today's global business practitioners.