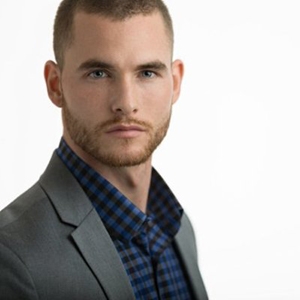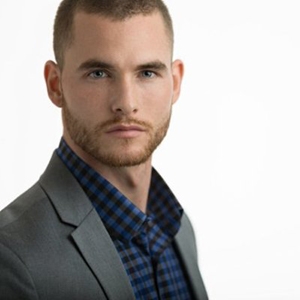 Earned his elite CITP®|FIBP® designation: Sept. 2016
As a teenager, Benjamin Charbonneau was already taking his first steps towards his future career in global business and displaying entrepreneurial abilities.
"When I was 15, I asked my older sister to send a Western Union money transfer to someone in China for a 10-piece bulk order of collared t-shirts to resell online."
He also had many other activities to keep him busy, including joining the infantry of the Canadian Armed Forces, working sales jobs and competing in athletics.
His involvement with athletics would end up playing a major part in moving his international business career forward. In 2008, he was offered an athletics scholarship to Lake Superior State University in Michigan, where he competed in javelin and earned his degree in finance and economics.
"My favorite topic during my undergrad was the concept of comparative advantage. It has always made sense to me to do business with others across borders and oceans if they used fewer resources to produce an identical product. As the school was located on the Canada-U.S. border, I witnessed the giant container ships crossing Lake Superior on a daily basis, which fueled my passion for trade even more."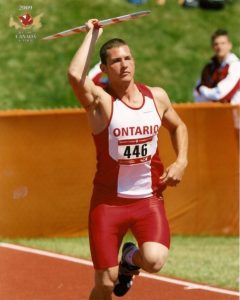 He excelled in his studies, and received Academic All-American honours all four years of his degree program. Athletically he did equally well, winning his conference championship three times. Benjamin also participated in the 2008 Olympic trials, the 2009 Canada Games and the 2012 NCAA Division II National Championships.
A passion for sports paved the way for a rewarding international profession
After graduation, Benjamin continued to develop his sales skills with different companies in data analysis, finance and insurance. He also never lost sight of his international trade goals, and began to set out on his own, specializing in imports.
"My first official import transaction was for an order of 1000 pairs of weightlifting collars. I wired US $7,000 at the time and had no idea if I'd receive anything in return. Obviously, I was green to the concept of trade insurance and letters of credit. To my surprise, I received the items a few months later, and that experience alone opened my eyes to the world of opportunities, prompting me to offer trade services to local companies."
He continued to develop contacts and expand his reach into different industries over the next couple of years. One of the most important lessons he learned was to remain patient and build slowly, rather than risk everything he'd accomplished up to that point on one large, risky deal.
"There is a temptation to go "all-in" when you first start importing or exporting goods, but unless you test your specific market and make sure there's an actual demand for it, you'll be sitting on a pile of useless inventory."
By 2014, he was ready to officially launch Hedgeports Company, which allows him to serve as an import broker to help SMEs import goods and raw materials from all over the world.
By using a fee per service model, rather than cost per unit, he is able to connect with manufacturers and suppliers to help businesses reduce their costs. With a strong knowledge of all of the fees involved, close relationships with suppliers and logistics professionals he trusts, and regular communication with customers to make sure they're happy each step of the way, he's been able to build a successful online business.
I've been able to spend more time nurturing client relationships and really providing a positive experience for my customers without having to worry about cash flow.
His expert knowledge of all of the fees involved is particularly useful, and something he advises anyone involved in importing to learn more about.
"Know the fees and know the risks," he advises his clients. "There are a variety of fees that you won't find in any textbook. There are odd little fees like 'warehouse fees' that generally do not accept anything but cash. You need to mind foreign exchange risk, and do not underestimate the value of forward currency contracts to hedge your risk."
Combining training, experience and a diverse set of interests
On top of his successful business, Benjamin has plenty of other work and activities to keep himself busy. He also began working for CMC Markets, creators of an online market trading platform, and has now worked up to the role of Senior Sales Executive. In the role he leads and mentors a team of other sales executives, and practices a client-centric approach to find the ideal solutions for them.
He has continued with the Canadian Armed Forces as well, holding several different positions and now finds himself in a mentoring role through Cadets Canada. He hasn't lost his athleticism either, and is also a licensed CrossFit trainer.
To continue to grow his skills and business, Benjamin began taking FITTskills online courses in 2016, and found them to be applicable for both his company and his work at CMC Markets.
The courses offer valuable information, and I found learning all of the vocabulary of international trade to be particularly helpful.
"Like any exam or any university course, you won't remember everything but the courses help you formulate an opinion, help you recall certain terms and shape your professional conversation within the international trade industry. I have the Chartered Investment Manager designation and the extra emphasis on International Trade obtained through FITTskills courses has served me quite well in the global investments world."
Shortly after completing the FITTskills program, he applied for the elite CITP®|FIBP® designation, and is already enjoying the benefits of earning the certification.
"Having the CITP®|FIBP® designation offers credibility in the international trade arena. Even though I have built a successful business that conducts transactions in the international trading world, I do not have the privilege of listing a series of popular companies that can speak to my experience in the industry. Having the letters beside the name confirms I have expertise when it comes to international business and especially trade."
Benjamin is now currently working to add the Chartered Financial Analyst (CFA) designation to his credentials, with the hopes of adding a new line of financial services to his business.
Want to connect with Benjamin?

LinkedIn: Benjamin Charbonneau
Learn more about the CITP®|FIBP® designation
INTERNATIONAL BUSINESS CERTIFICATION—CITP®|FIBP®
Advance your career and build your professional credibility in the field of global business by earning the Certified International Trade Professional (CITP) designation.
Why Earn the Certified International Trade Professional (CITP) Designation?
The Certified International Trade Professional (CITP) designation is the world's leading professional designation for the field of international business. So whether you're new to global trade or have over a decade of direct experience, you'll find the CITP designation can help advance your career and build your professional credibility.
The CITP designation sets you apart in the competitive international business industry because it's proof you possess the competencies global business experts have identified as being essential for a successful career in international trade. It also recognizes your dedication to ethical business practices and ongoing professional development—both of which are desirable traits for today's global business practitioners.