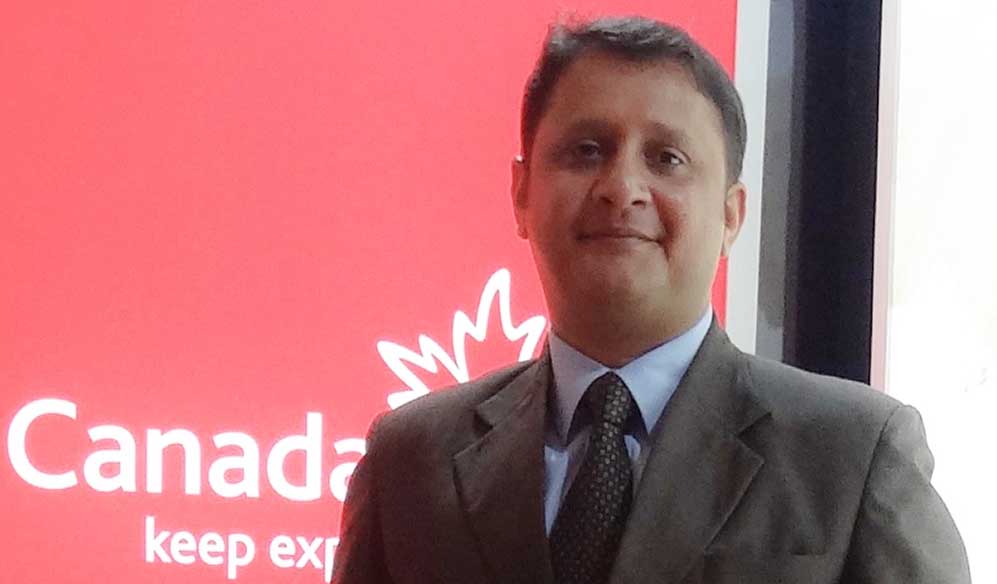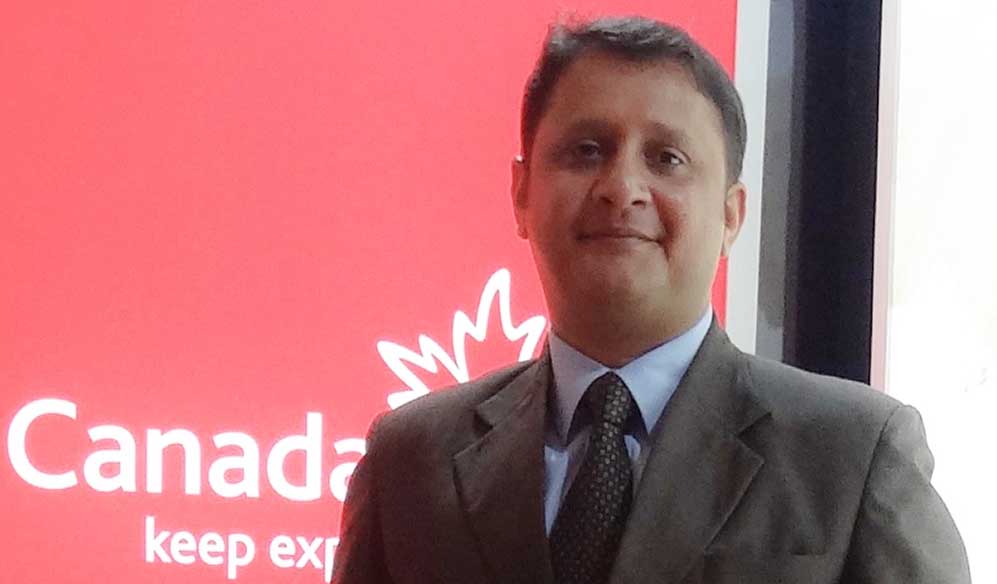 Earned his elite CITP®|FIBP® designation: April 2016
Amit Ranjan, CITP|FIBP is a trade commissioner with Global Affairs Canada (GAC) based at the High Commission of Canada in New Delhi, India.
At the High Commission, Amit is responsible for managing the day-to-day operations of the InfoCentre, a resource that provides a single-window system for clients and centralized information management services for GAC's  International Business Development program.
The InfoCentre tracks and collects the receipts of all incoming enquiries and performs the research and development to provide the responses. Amit's team is responsible for providing advice to trade commissioners and staff about effectively managing their data in their respective sectors. He also supports Canadian companies in the arts and culture, consumer products and tourism sectors to find qualified contacts and make market potential assessments.
Bringing a valuable skillset to the High Commission of Canada
Amit has always had a passion for using technology to improve efficiency and empower people to meet their goals. He started his career as a software developer for after graduating from Priyadarshini College of Computer Sciences in 1999.
He had the opportunity to work with some big companies over the next few years, including GE, Hewitt Associates and Franklin Templeton, gaining early experience in international business by providing technical support services and developing and delivering new products to clients in the U.S.
During his time with GE, Amit was given the opportunity to lead a team of three for a project from GE Healthcare, introducing new process improvement plans and quality measures for the team. Within a few months, his hard work began paying off when his team was able to deliver projects with zero defect results. This outcome was so successful that the project was beefed up with 10 additional associates, all of whom were put under Amit's strong leadership.
Amit was honoured to join the High Commission of Canada in New Delhi as a trade commissioner in July 2009. Through his talents in info management and technology, he was perfectly suited for his role leading the InfoCentre and knowledge management staff for all of India.
Thriving in India's complicated business world
As his experience grew, so did the scope of Amit's responsibilities, and he was tasked with gathering information on potential new markets and creating qualified lead contacts for his clients. He has taken the initiative to automate as many applications as possible, allowing his team to be more efficient in delivering on their tasks. Amit found this work particularly interesting and he took to it enthusiastically, working hard to develop his experience in international business development and networking.
"It's an area that has become one of my core strengths."
As in any region, Amit says India has its own unique challenges when it comes to doing business. Indian businesses face many levels of approvals, registrations for properties, taxes, and sometimes lengthy processing times. The bureaucracy can be a complicated system to navigate, even for those who are familiar with it. And in a large nation like India, cross-cultural issues are always present, even within different regions of the country.
"As a society, India is very relationship focused. It is really many countries within a country," Amit says.
As a trade commissioner, Amit was encouraged to expand his knowledge and practical skills in international trade through the FITTskills online international business program.
The training courses were very effective, helping me to enhance my skills in international business, exporting and importing. The FITTskills program also helped me to learn about international trade research, different types of international trade agreements, and how to develop and implement market entry strategies and distribution plans.
After successfully completing the program, Amit decided to apply for the elite CITP®|FIBP® designation in order to add the credibility and confidence he wished to portray to his clients and colleagues.
"Who would not like to have the world's leading professional designation for global business practitioners? With this designation, I've gained valuable education and joined a community of knowledgeable professionals, which will undoubtedly help me to do business in international markets."
Learning about different cultures at work, home and abroad
When thinking about the future of his career, Amit hopes to continue to grow his business development skills and build more experience in the two aspects of his career that he enjoys most: creating new, meaningful business relationships and successfully delivering challenging technical assignments.
For business or pleasure, Amit has been an avid traveller throughout his career, enjoying most of all the opportunity to get to know people from different cultures and unique environments. He has already been to Canada, Germany, Denmark, Austria, the UAE, Thailand, Malaysia, the Maldives, and Nepal. And he hopes to continue traveling with his family in the future.
"I love travelling, especially with my family. When I'm not working I am on road, driving with good music on. All of these travel experiences are very meaningful. It's very helpful to me to get a sense of different cultures and environments and gain a stronger understanding of a place."
Though he enjoys getting away, he has a strong love for his home city.
For me, Delhi means "people with big hearts". For a foodie like me, Delhi is the best place. The city is very important to India, as it has a rich and diverse culture. People from all over country, with different religions and cultures are living here. There are monuments, fascinating museums and art galleries, architectural wonders, fabulous restaurants and bustling markets.
With his passion for relationship building and business development, and his unique technological skills, we know that Amit will continue to represent the Canadian Trade Commissioners Service well and be a welcome member of the CITP®|FIBP® community.

Learn more about the CITP®|FIBP® designation
International Business Certification—CITP®|FIBP®
Advance your career and build your professional credibility in the field of global business by earning the Certified International Trade Professional (CITP) designation.
Why Earn the Certified International Trade Professional (CITP) Designation?
The Certified International Trade Professional (CITP) designation is the world's leading professional designation for the field of international business. So whether you're new to global trade or have over a decade of direct experience, you'll find the CITP designation can help advance your career and build your professional credibility.
The CITP designation sets you apart in the competitive international business industry because it's proof you possess the competencies global business experts have identified as being essential for a successful career in international trade. It also recognizes your dedication to ethical business practices and ongoing professional development—both of which are desirable traits for today's global business practitioners.