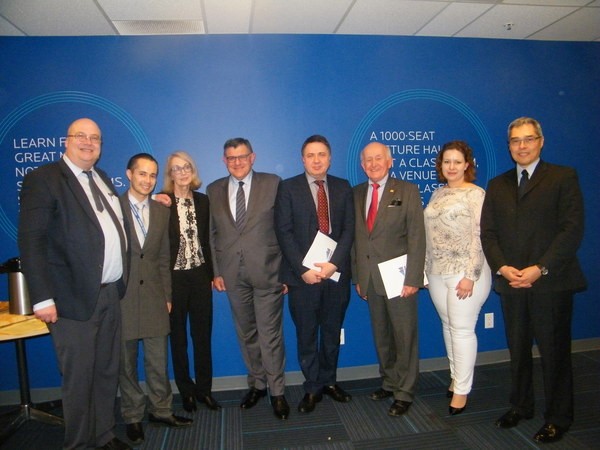 While there are numerous skills and competencies that import export professionals need to succeed in their industry, few of them are as important as the ability to build meaningful global business partnerships and relationships.
The people you know in the industry are not only potential partners, clients, suppliers or other connections, but also resources of information, and sometimes even friends.
Since October 2014, the Vancouver Global Trade Enthusiasts Meetup group has been an ideal place for professionals in the city and surrounding area to get together and learn from each other's experiences, network, and to share common interests for business growth and development.
The meetings have now become a monthly tradition which give the group's 141 members the chance to regularly connect and, most recently, participate or listen to panel discussions on topics we're interested in.
We aim to give people an opportunity to share their knowledge in business and learn from each other, and we're glad to see a lot of enthusiastic and self-driven people joining us.
David Smythe, Export Liaison with W.A. Grain & Pulse Solutions continues to be an active co-organizer for the International Trade Enthusiasts group and actively promotes a balance of students & professionals at each event.
Great discussions about Canada-EU trade
Most recently, Dr. Michele Vincenti, CITP|FIBP, President and CEO of Alvana Business Consulting Inc., chaired a panel on January 5th about the updated status of CETA (European Comprehensive Economic and Trade Agreement) at the Ascenda School of Management.
Since the European Union is Canada's second largest trade and investment partner, after the U.S., we wanted to give our members a chance to learn more about this important issue, as it could have immediate and significant benefits to their businesses.
We were also fortunate to have several notable experts involved, who were able to speak in-depth about the most crucial issues.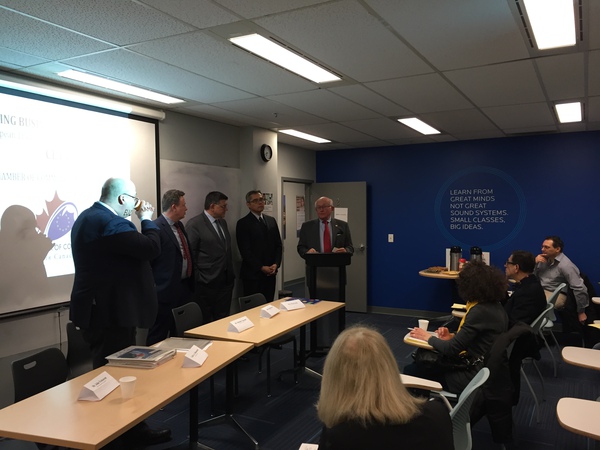 Alex Martyniak, Executive Director EU Chamber of Commerce in Canada–West, opened the panel discussion by presenting new tendencies regarding current and future activities of the EU Commerce Chamber and trade relationships with Canada.
Afterwards, Celso A. A. Boscariol, Partner, Watson Goepel LLP and the President of the Italian Chamber of Commerce of Canada West, and of the European Chamber of Commerce – West, highlighted legal issues and business law updates pertaining to international trade and CETA such as investments, public procurement, intellectual property rights and sustainable development.
Juan Angel Berecca, Partner at Calderon Gonzalez and Carvajal SC, kept the attentive audience on the edge of their seats as he tackled the issue of international taxation systems and legal regulations in Europe and internationally.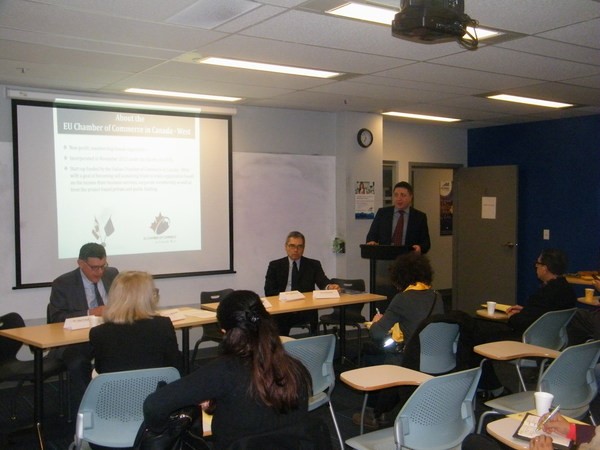 Finally, special guest panelist John Treleaven, CITP|FIBP, a longtime member of FITT's Board of Directors, shared his own experiences with participants and gave valuable advice on how to engage the world to become a successful entrepreneur.
Meetups are an excellent chance to learn, meet new people and grow in your career
While we always hope that each event is successful, the feedback that we receive from group members has been helpful and encouraging.
One of our members who attended this latest event, João Paulo Zanchet Vilela, posted on social media that it was a "Great experience! I met good people and shared useful information."
Olga Zykova, a Master's student in Administrative Science and Leadership and one of the assistant organizers for the event, says that "I came here as a student, and for me is it a good opportunity to meet and learn from people with outstanding career achievements, along with solid experience in trade and business. I hope this society will grow and develop, and more people will join."
It's been a wonderful opportunity to see people of all levels of experience, from student to mid-level to high level executive, come out to our events and learn from one another.
We're always happy to welcome new members, but if you're not in our area, please contact marketing@fittfortrade.com to find out whether there is a group near you, or to start a new group in your area.
Disclaimer: The opinions expressed in this article are those of the contributing author, and do not necessarily reflect those of the Forum for International Trade Training.