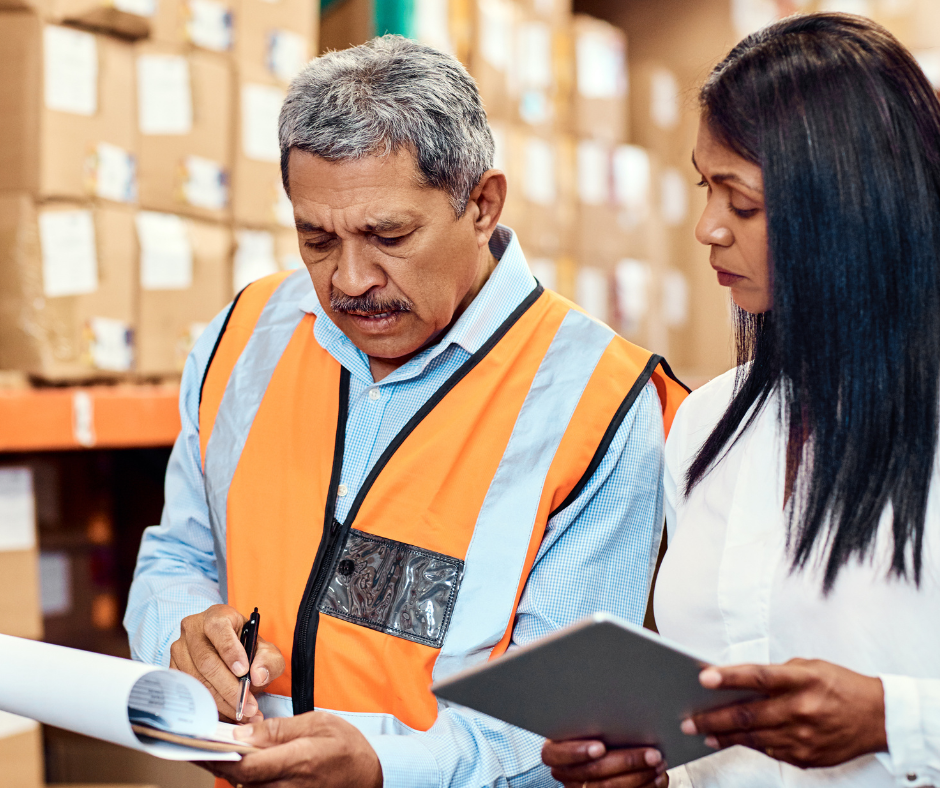 Supply chain management encompasses such a wide range of functions that it can seem daunting, even to the most experienced international businessperson. Breaking the process down into several main strategic areas is an effective way to model it. For example, the SCOR model has broken it down into 5 supply chain stages.
A common and very effective model is the Supply Chain Operations Reference (SCOR) model, developed by the Supply Chain Council to enable managers to address, improve and communicate supply chain management practices effectively.
The SCOR model runs through 5 supply chain stages: Plan, Source, Make, Deliver, Return
The 5 supply chain stages
Stage 1: Plan
Planning involves a wide range of activities. Companies must first decide on their operations strategy. Whether to manufacture a product or component or buy it from a supplier is a major decision.
Companies must weigh the benefits and disadvantages of different options presented by international supply chains.
Options include:
Manufacturing a product component domestically
Manufacturing a component in a foreign market by setting up international production facilities
Buying a component from a foreign supplier
Buying a component from a domestic supplier
If companies are manufacturing products, they must decide how they will be produced.
Goods can be:
Make to stock (produced and stored, awaiting customer orders);
Make to order (constructed in response to a customer order);
Configure to order (partially manufactured the product and completed it after a firm customer order is received); or
Engineer to order (manufactured a product to unique specifications provided by a customer).
Sometimes, the combination of these methods can produce goods. Companies must also decide whether they will outsource manufacturing. This operations planning is essential because these decisions influence the supply chain.
Planning also involves mapping out the network of manufacturing facilities and warehouses, determining the levels of production and specifying transportation flows between sites. It also involves assessing how to improve the global supply chain and its management processes.
When planning, companies should ensure that their supply chain management strategies align to business strategies, that communication plans for the entire supply chain are decided and that methods of measuring performance and gathering data are established before planning begins.
Stage 2: Source
This aspect of supply chain management involves organizing the procurement of raw materials and components.
Procurement is the acquisition of goods and services at the best possible price, in the right quantity and at the right time.
Companies will negotiate contracts and schedule deliveries with the selected and vetted sources.
Supplier performance must be assessed and payments to the suppliers made when appropriate. In some cases, companies will be working with a network of suppliers. This will involve working with this network, managing inventory and company assets and ensuring that export and import requirements are met.
Stage 3: Make
This stage is concerned with scheduling of production activities, testing of products, packing and release. The company also manages rules for performance, data that must be stored, facilities and regulatory compliance.
Want to learn more about managing your company's supply chain, logistics and how to mitigate risks? Check out the FITTskills Global Value Chain online course.

Stage 4: Deliver
The delivery stage encompasses all the steps from processing customer inquiries to selecting distribution strategies and transportation options. Companies must also manage warehousing and inventory or pay for a service provider to manage these tasks for them.
The delivery stage includes any trial or warranty period, and customers or retail sites must be invoiced, and payments received. Companies must also manage import and export requirements for the finished product.
Stage 5: Return
Return is associated with managing all returns of defective products, including identifying the product condition, authorizing returns, scheduling product shipments, replacing defective products and providing refunds.
Returns also include "end-of-life" products (those that are in the end of their product lifetime and a vendor will no longer be marketing, selling, or promoting a particular product and may also be limiting or ending support for the product).
Companies must establish rules for the following:
Product returns
Monitoring performance and costs
Managing inventory of returned product
Do you think we covered all of the essential stages of supply chain development? If not, what would you add to the mix? 
This article is an excerpt from the
FITTskills Global Value Chain course
. Keep your customers, clients and suppliers happy by transporting goods in a timely manner and in compliance with all regulatory requirements.
Learn more!