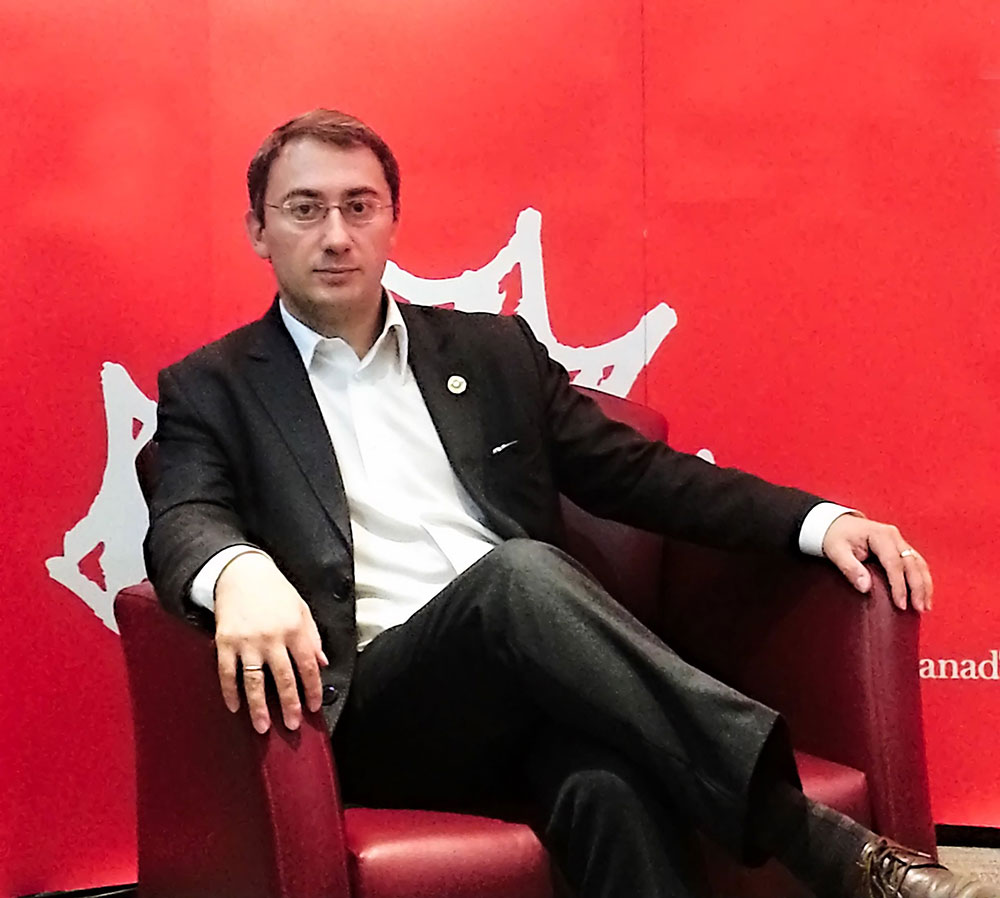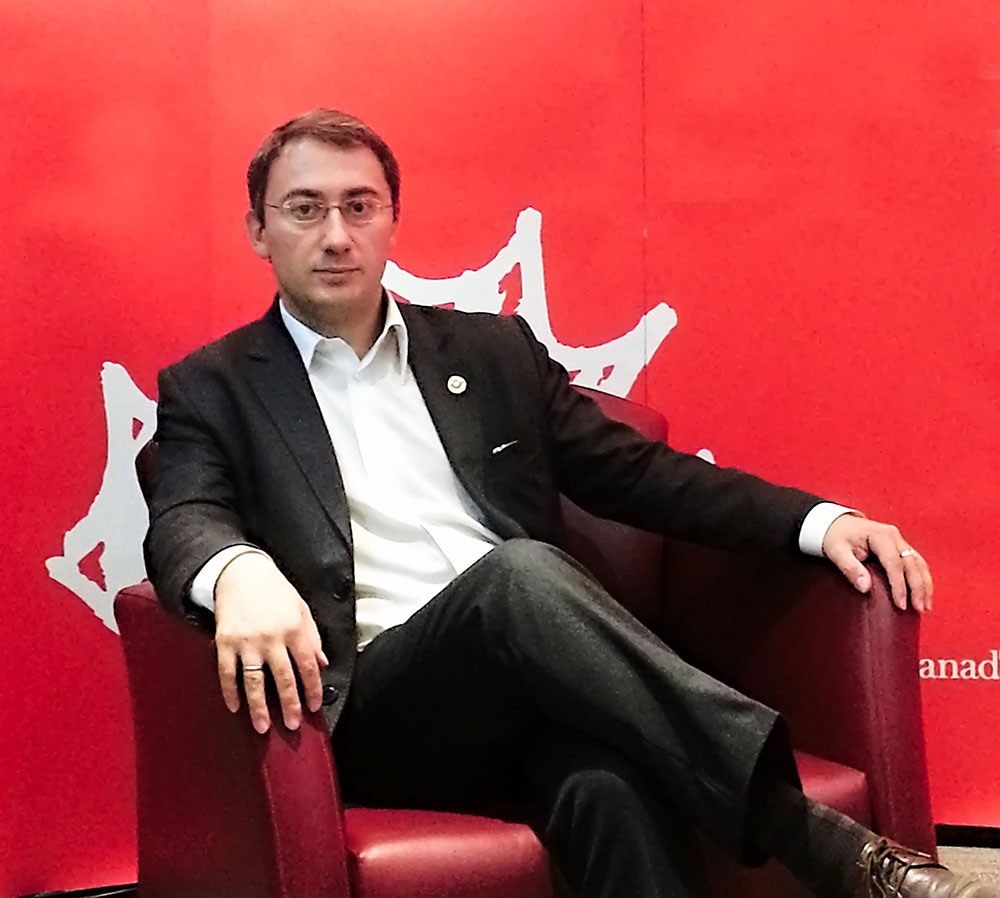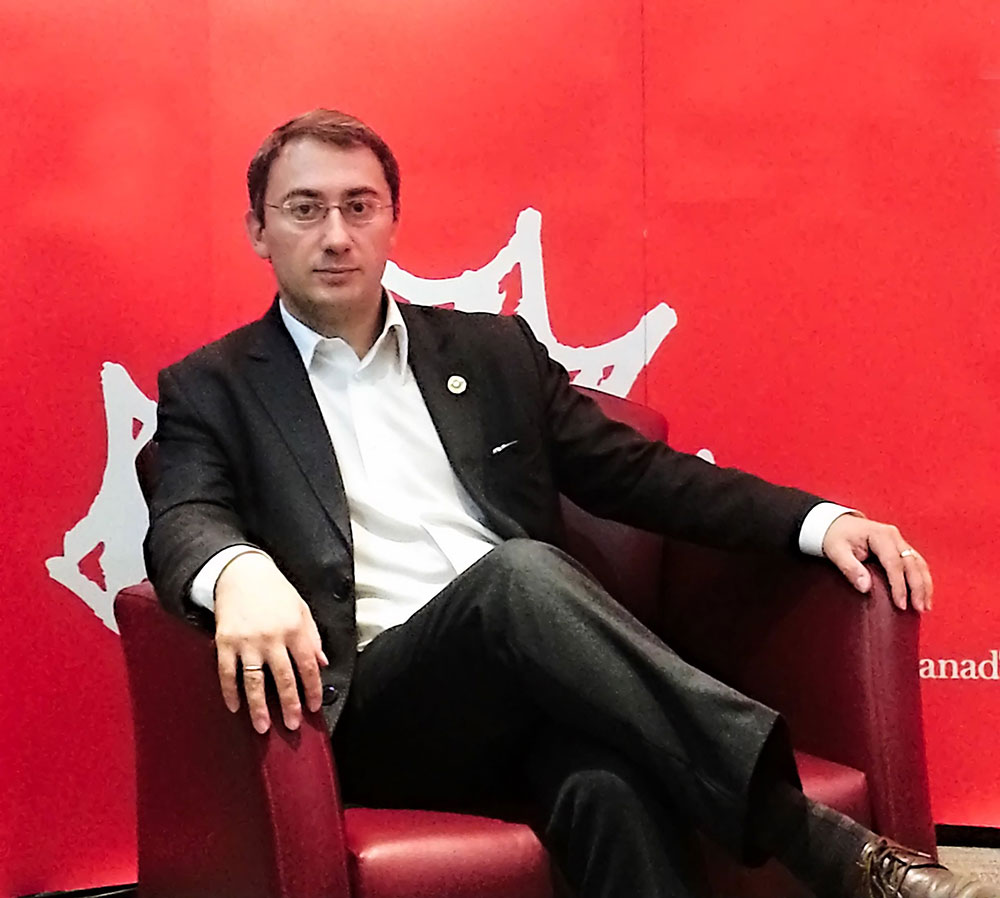 Earned his elite CITP®|FIBP® designation: Sept. 2015
Maxim Berdichevsky, CITP|FIBP is Deputy Director, Investment Trade Policy Division at the Department of Foreign Affairs, Trade and Development (DFATD) in Ottawa, where he negotiates bilateral investment treaties between Canada and other countries.
Maxim's entire career has been internationally focused, beginning after graduating from Simon Fraser University. His first position was as a Country and Bank Risk Analyst for Nordea, a financial services group in the Nordic and Baltic Region, based out of Helsinki, Finland.
Since then Maxim has worked in Korea, Kazakhstan, Russia, Mongolia and Canada.
Serving his country the best way he knows how
Maxim's career in international trade began with a very personal decision to work in the Canadian Foreign Service.
"I am an immigrant. While very proud of my heritage, I was thankful that my family was given a chance to come to Canada and live in a multicultural, accepting and tolerant society. I immediately adopted Canada as 'my country.' And I simply wanted to return a favour."
"Generally patriotically-minded and somewhat old-fashioned, I think of serving one's country as either being in the military or representing it internationally as a diplomat. Not quite being cut out for the military, I chose the Foreign Service as the way to go."
I thought international trade was a good path that allowed my generally extroverted personality be put to good use.
"After a few years on the job, I realised that I also liked the subjects of trade, investment and international finance for their substance. So, I was happy to validate my initial choice of career."
Being an intercultural "marriage" counsellor
During his time as a Trade Commissioner in South Korea, Maxim worked on some fascinating projects, including helping to bring retail chain Fruits and Passion to the region.
He also worked with a tool, die and mold operation in Korea that ended up partnering with a college in Ontario to train designers and technicians for the auto parts industry.
"Korea is a fascinating place. It took me a while to wrap my head around the ways people do business there. With the passage of time I realised that what is illogical to a Canadian is perfectly logical to a Korean, and vice-versa. I kept that mantra throughout my international career and it helped to become more effective in bridging gaps in business relationships."
"Oftentimes it meant getting my Korean contacts or Canadian clients to step into the other side's shoes."
Perhaps I was kind of a business "marriage" counsellor? As one of my mentors put it – we, the Trade Commissioners, don't make decisions for our clients. We help them to make better business decisions.
During his time in the country, Maxim learned the ins and outs of Korean culture and business dynamics, and stresses the importance of not taking pre-conceived notions or stereotypes to heart.
"I was taking some business courses and I expected, in accordance with my stereotypes about Korea and the after-work bonding culture over drinks, to be out late after class with my new classmates."
"I warned my wife not to wait up that evening and was all ready to go when the lecture finished, only to find out that everyone rushed home to help out their spouses with dinners, kids, homework, etc. I was a bit shocked, but happily surprised. And over my 3 years in Seoul I found many other chances to bond with Korean friends over excellent meals and a few drinks as well."
Award-winning projects and unforgettable experiences
After Korea, Maxim returned to Canada for a one-year stint working in International Financing (Asia and Europe) at DFAIT (now DFATD).
In this role, Maxim was the liaison with the European Bank for Reconstruction and Development and the Asia Development Bank to facilitate Canadian participation in the IFI-funded projects in Europe and Asia.
He contributed to a project establishing the Canada Investment Fund for Africa during this time, for which his team was recognized with the Canadian International Development Agency's President's Award for Excellence.
Maxim wasn't back in Canada for long before he became Senior Trade Commissioner and Consul for the Embassy of Canada to Kazahkstan, Kyrgyz Republic and Tajikistan.
Stationed in Almaty, Kazakhstan, he was able to have some truly unique experiences, including milking some Canadian Holsteins on a farm in Northern Kazakhstan, standing over 4,000 metres above sea level gazing down into a gold mine over 1km deep, and tasting local delicacies including sheep's eyeballs and testicles.
One of his most memorable experiences from a more recent role involved an ancient mix of business and ceremony.
"We got soaked in a torrential downpour in an equatorial forest paying respects to the spirits while trying to negotiate a treaty. Truth be told, our hosts wanted to share with us their pride in managing their national parks, so the spirits were incidental to the issue. But apparently we didn't praise them enough … or maybe too well?"
Never a dull moment in Russia and Mongolia
After three years in Kazakhstan, Maxim moved on to a new role and a new country, as Regional Manager for Russia and CIS for Export Development Canada (EDC) in Moscow, Russia.
"My job was to originate and structure trade finance transactions. On the Canadian client end, the work included advising on how to structure commercial contracts in order to make them financeable from the EDC mandate perspective."
Russia is a really vast country and the only part that I regret is not seeing more of it. I did, however, have a chance to see Lake Baikal and even cross the Arctic Circle – all in the course of trying to find more deals for our Canadian clients.
In August 2012, Maxim moved on to another opportunity in Mongolia, where he was Counsellor and Head of Trade and Investment at the Canadian Embassy in Ulaanbaatar. There his focus was mainly Canadian foreign investment, mining and education.
"My team and I put in a lot of effort to promote study opportunities in Canada for Mongolians. We initiated a lot of institutional linkages between the Mongolian government, Mongolian universities and Canadian schools and educational organizations."
"We ran the first ever Canadian Education Fair in Mongolia, and I designed a solution to adapt an existing scholarship programme by the Mongolian government and morph it into a jointly contributed programme by the Mongolian government and a group of Canadian universities."
Maxim was recognized for these efforts with an Outstanding Contribution Award signed by the Mongolian Minister of Education.
Supporting Canadian exporters overseas through some serious intervention
Helping Canadian exporters and investors strike deals overseas and advocating on behalf of Canada and Canadian companies with foreign governments have been the two pervading themes of Maxim's career.
"While on an overseas post, a typical day for me involves originating and structuring commercial and financial deals, analysing the local economy/business sector for opportunities for Canadian exporters and investors, providing advocacy for Canadian business vis-à-vis foreign governments in legislative/regulatory space and facilitating the resolution of all sorts of commercial 'misunderstandings' between Canadian and foreign business partners."
Handling these "misunderstandings" include situations as diverse as intervening with a host government to mitigate a situation on behalf of a Canadian exporter who is in danger of losing their contract for a major project, helping Canadian exporters with non-payment issues by intervening with the delinquent buyer on their behalf, and coordinating advocacy campaigns aimed and legislators and regulators to promote a more conducive business environment for Canadian exporters and investors.
Connecting with his peers by earning his elite designation
Maxim decided to officially join the international trade elite this year by earning his CITP®|FIBP® designation.
"I kept hearing about the designation through the DFATD network. The original food for thought came as a result of the emphasis placed by the Department on FITTskills courses and the CITP®|FIBP® designation as training for Trade Commissioners."
After having looked at it closer, I realised that it would be an excellent way for me to get recognition for the experience and the skills I have acquired over the years.
"If I was looking for another job, I think that a prospective employer will recognise this designation as an achievement, which I believe it really is. I also hope that because I joined DFATD at a rather young age, by the time I retire I will still have plenty of energy to work with Canadian international trade professionals. I expect that my designation will give me a lot of credibility in this regard."
Maxim is excited about joining the FITT community to network, participate in discussions on the latest trade issues and meet up with other members of the global trade elite.
"I really see this as an extension of my work as a trade commissioner – sharing my knowledge and expertise with those who may find it useful for their business. I also expect to learn a lot from others doing the same in the FITT community."
We admire the skill, experience, hard work and unique perspective that Maxim continues to bring to his service to Canada, and can't wait to see what the next steps are in his impressive career.
Learn more about the CITP®|FIBP® designation
INTERNATIONAL BUSINESS CERTIFICATION—CITP®|FIBP®
Advance your career and build your professional credibility in the field of global business by earning the Certified International Trade Professional (CITP) designation.
Why Earn the Certified International Trade Professional (CITP) Designation?
The Certified International Trade Professional (CITP) designation is the world's leading professional designation for the field of international business. So whether you're new to global trade or have over a decade of direct experience, you'll find the CITP designation can help advance your career and build your professional credibility.
The CITP designation sets you apart in the competitive international business industry because it's proof you possess the competencies global business experts have identified as being essential for a successful career in international trade. It also recognizes your dedication to ethical business practices and ongoing professional development—both of which are desirable traits for today's global business practitioners.