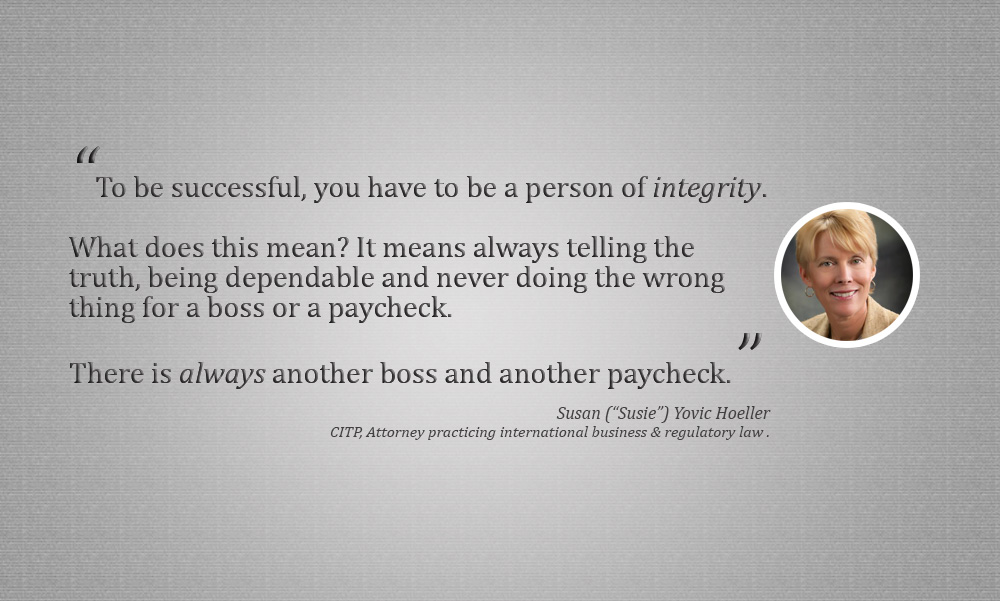 Speaking from three decades of experience as a business professional, I believe that the most important requisites for success in a career in any field are personal characteristics and values. Education, training and on the job experience are necessary of course.
However, the news media is full of stories about highly educated, trained and experienced business people who spectacularly fail because of negative personal characteristics, including the lack of values. 
1) A top personal characteristic and requisite is curiosity.
You have to be a curious person to be attracted to the field of international trade and then to persevere and succeed in the field.
Curious means eager to know and eager to learn.  Another similar characteristic is inquisitiveness. Successful international traders are curious and inquisitive about other countries and their histories, geographies, cultures, religions, foods, sports and ways of living and doing business.
Conducting international business is not just about the exchange of goods, services or currencies across international borders. It is about developing and sustaining personal relationships. People appreciate it so much when we make an effort to learn about their country and way of life. I remember when I was practicing law in Dallas, Texas how many clients based overseas told me they had never met an American lawyer who knew so much about their country or who could greet them in their language.
I am not saying this to brag. I am passing it along as career advice. Don't just wear your lawyer, logistician, sales person or accountant "hat" when dealing with international clients, customers and suppliers. All your competitors can do that.
 What will set you apart is when you can converse with other people about their country in an informed manner and show sincere interest in learning more about their culture.
Your curiosity impresses people and builds relationships that last and enhance your career.
Is the FITTskills program for you?
Developed by business for business, FITTskills meets the needs of those who are
seeking to enhance their import-export career standing,
new to exporting or importing,
and those who simply want add to their expertise or gain valuable educational credits.
If you want to build your career in international trade, don't be a narrowly focused "technocrat" in your profession. Learn about life in other countries through reading, watching documentaries, studying maps, following international news and travelling.
You don't have to become fluent in multiple languages, but learning a few phrases in the language of the people with which you are doing business is incredibly important to build trust. They are not going to make fun of you if you speak with an accent or mispronounce a few words—they will applaud your effort.
2) The second and equally important requisite is your values.
To be successful, you have to be a person of integrity. What does this mean? It means always telling the truth, being dependable and never doing the wrong thing for a boss or a paycheck. There is always another boss and another paycheck.
Better still, you can always start your own international business and be your own boss once you have a reasonable level of education, training and experience behind you.
 No matter where you are in your international trade career—at the beginning, in the middle or nearing the end—curiosity and integrity are the top requisites you will need to be successful and happy in your work. 
Do you already possess these traits?  Let me know how these traits have helped you in your own international trade career.