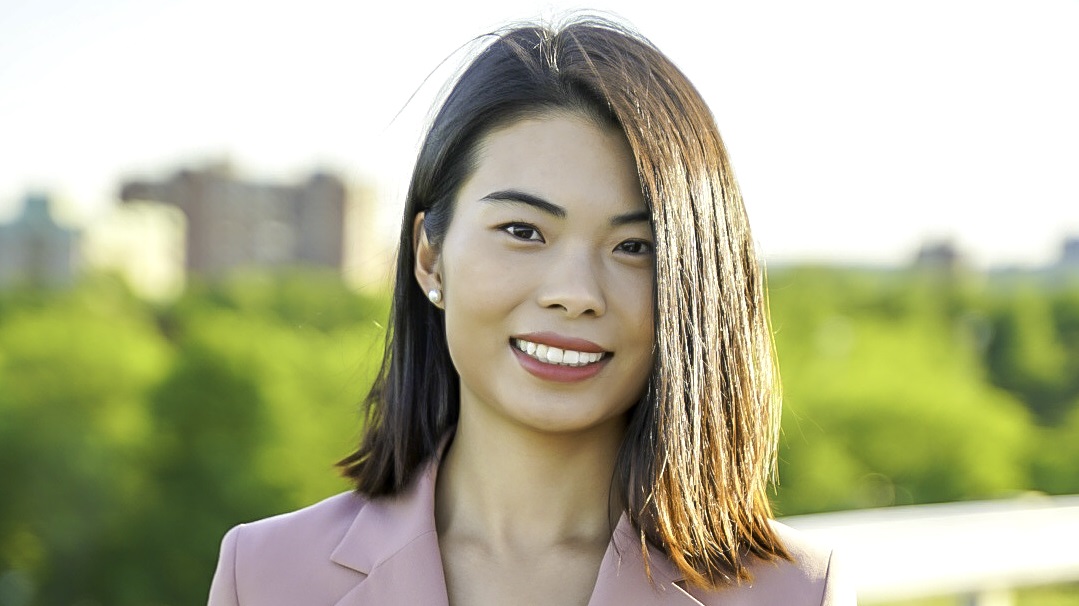 Earned her elite CITP®|FIBP® designation: August 2021
In 2016, the Province of Nova Scotia formalized its partnership with China by launching the Nova Scotia-China engagement strategy.
In this, Christine Quin Yang identified an opportunity to engage her unique skills and cultural knowledge to build bridges between Nova Scotia and its global partners. So, one year later, while Nova Scotia-China engagement was blooming, she joined the Nova Scotia Department of Intergovernmental Affairs as an International Relations Officer with a focus on China.
Seeing the impact of building trade relationships first-hand
In this role, Christine attends bilateral meetings with foreign governments and Nova Scotian businesses to identify opportunities to work together. She often accompanies the Premier of Nova Scotia on trade missions pursuing and negotiating important partnerships for the Province of Nova Scotia.
"It's special for me, both personally and professionally, to develop economic and cultural ties between Nova Scotia and China, and more broadly throughout Asia. I'm proud to support the relations that go beyond business and trade, helping people from different parts of the world better understand each other."
Pre-pandemic, her day-to-day work included bilateral meetings, trade shows, formal dinners, public speaking engagements, and business roundtable meetings, with the end goal of promoting Nova Scotia exports and attracting foreign investment to Nova Scotia. Fortunately, Christine and her colleagues were able to adapt many of these engagements into virtual meetings until regular business travel resumes.
"This type of work is often difficult to measure. On a trade mission to Japan in 2017, colleagues and I finished a meeting and walked down a busy street in Tokyo.

I spotted a truck with a Nova Scotian seafood company's logo parked on the road, thousands of miles away from Canada. At that moment, by seeing a Nova Scotia company succeed in a foreign market, I realized that was the best way to visualize the meaning of my type of work.

Working hard to end anti-Asian racism
Christine also has a deep sense of pride in the important work she does as Vice-Chair of the Halifax Regional Municipality's Women's Advisory Committee.
Christine has harnessed her skills in advocacy and diplomacy to create awareness to campaign for better race-based data collection in Nova Scotia, and a call to action to stop anti-Asian racism.
Her accomplishments earned her further recognition as one of 2021's recipients of the Most Inspiring Immigrant in the Maritimes Award presented by My East Coast Experience.
Aside from her diplomatic skills and cultural knowledge, Christine credits some of her success to her experience taking FITTskills courses and earning her CITP designation.
My favourite part of FITTskills courses was learning from my classmates and instructors by listening to their real-life stories of international trade. It has helped me to gain a new perspective. My favourite course is Global Value Chain. I've learned so much about the global supply chain and logistics, which play an instrumental role in international trade.
Christine is thrilled all of her hard work has paid off and she has now joined the elite global community of Certified International Trade Professionals.
"The CITP designation is recognized in the global business world. It will provide me with a broader network and introduce me to future opportunities."
Learn more about the CITP®|FIBP® designation
INTERNATIONAL BUSINESS CERTIFICATION—CITP®|FIBP®
Advance your career and build your professional credibility in the field of global business by earning the Certified International Trade Professional (CITP) designation.
Why Earn the Certified International Trade Professional (CITP) Designation?
The Certified International Trade Professional (CITP) designation is the world's leading professional designation for the field of international business. So whether you're new to global trade or have over a decade of direct experience, you'll find the CITP designation can help advance your career and build your professional credibility.
The CITP designation sets you apart in the competitive international business industry because it's proof you possess the competencies global business experts have identified as being essential for a successful career in international trade. It also recognizes your dedication to ethical business practices and ongoing professional development—both of which are desirable traits for today's global business practitioners.
*Certified International Trade Professional (CITP) is trademarked for use within Canada. FITT International Business Professional (FIBP) is trademarked for use internationally. Both reflect the same FITT-certified designation. 
**Note: This represents one of the current pathways to the CITP. Based on FITT's application for ISO 17024 accreditation, this process will change as of January 1, 2023