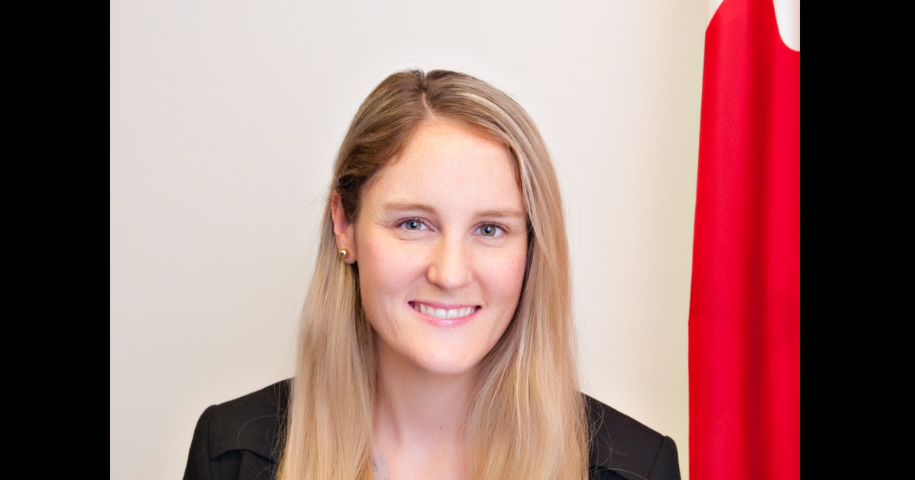 Earned her elite CITP®|FIBP® designation: April 2021
Colleen's Spanish language skills are what spurred her into an international trade career. She had just returned from working in Uruguay on a Master's curriculum program in ocean management, when she came across a vacancy in the Department of Foreign Affairs Latin American Bureau. That marked the beginning of a fulfilling career journey—and there has been no looking back since. 
Covering large gaming events as a Trade Commissioner in Brazil 
Among Colleen's favourite career stories was her involvement in covering major gaming events, including the FIFA World Cup. She also was part of preparations for the 2016 Olympic Games while working in Brazil as a Trade Commissioner. 
"I was lucky to be able to visit and tour a large shipyard project, as well as some of the stadiums while under construction, the Rio Olympics locations, and headquarters—really great opportunities to see things in action." 
Proud to work with the "Canadian Olympic Family" 
Helping Canadian companies that provide products and services related to large gaming events like the Olympics is what Colleen finds extremely satisfying. She takes pride in assisting them with the procurement process so they can succeed in different markets. She also enjoys training the large network of her trade commissioner colleagues, helping them enhance their performance.  
"Meeting more than 1000 of our staff members all over the world–we have a really amazing trade team at Global Affairs Canada and being a part of making them better every day is really great."
Be prepared for hiccups and sudden changes 
Experience has taught Colleen to always be prepared for the unforeseen, as things rarely unfold as expected. It's important to be open to any situation and seize opportunities as they present themselves. 
"You might have gone to a meeting with one expectation and a completely different opportunity, even in a different sector, suddenly appears—you need to be able to turn around quickly, grab it and run. Those are golden moments." 
For Colleen, the FITTskills courses proved extremely useful as she didn't have any trade/MBA background. The in-depth and practical training helped her become a more knowledgeable and confident business advisor to her clients.  
"Systematically reviewing the various market entry strategies, the international financial instruments available to companies…it was a great overview that gave me a solid base from which to help clients (and help our trade commissioners in the TCS help clients)."
Colleen's favourite course: 
"International Trade Finance was the most useful for me, as this area can feel opaque and a bit confusing, yet is so important for our clients and our Canadian companies."
Achieving the next important milestone—the elite and industry-recognized certification in International Trade 
Colleen wanted the best way to validate her skills, experience, and hard work, and she knew the prestigious CITP®|FIBP® designation would help her do this:
"I wanted to highlight the skills I had developed, the studies I'd finished, and the experience I'd gained over the last 10 years. This seemed like a good way to both demonstrate those and connect with others in the international trade field." 
Colleen is confident that her newly acquired designation will her network with other international trade professionals and allow them to connect with her as well.  
"I think it demonstrates my commitment to the field" 
Colleen's love for her profession, combined with her knowledge and enthusiasm, has already set her on a successful path. There is no doubt that this is just the beginning of many more accomplishments just waiting to happen in the years to come.   
Learn more about the CITP®|FIBP® designation
INTERNATIONAL BUSINESS CERTIFICATION—CITP®|FIBP®
Advance your career and build your professional credibility in the field of global business by earning the Certified International Trade Professional (CITP) designation.
Why Earn the Certified International Trade Professional (CITP) Designation?
The Certified International Trade Professional (CITP) designation is the world's leading professional designation for the field of international business. So whether you're new to global trade or have over a decade of direct experience, you'll find the CITP designation can help advance your career and build your professional credibility.
The CITP designation sets you apart in the competitive international business industry because it's proof you possess the competencies global business experts have identified as being essential for a successful career in international trade. It also recognizes your dedication to ethical business practices and ongoing professional development—both of which are desirable traits for today's global business practitioners.