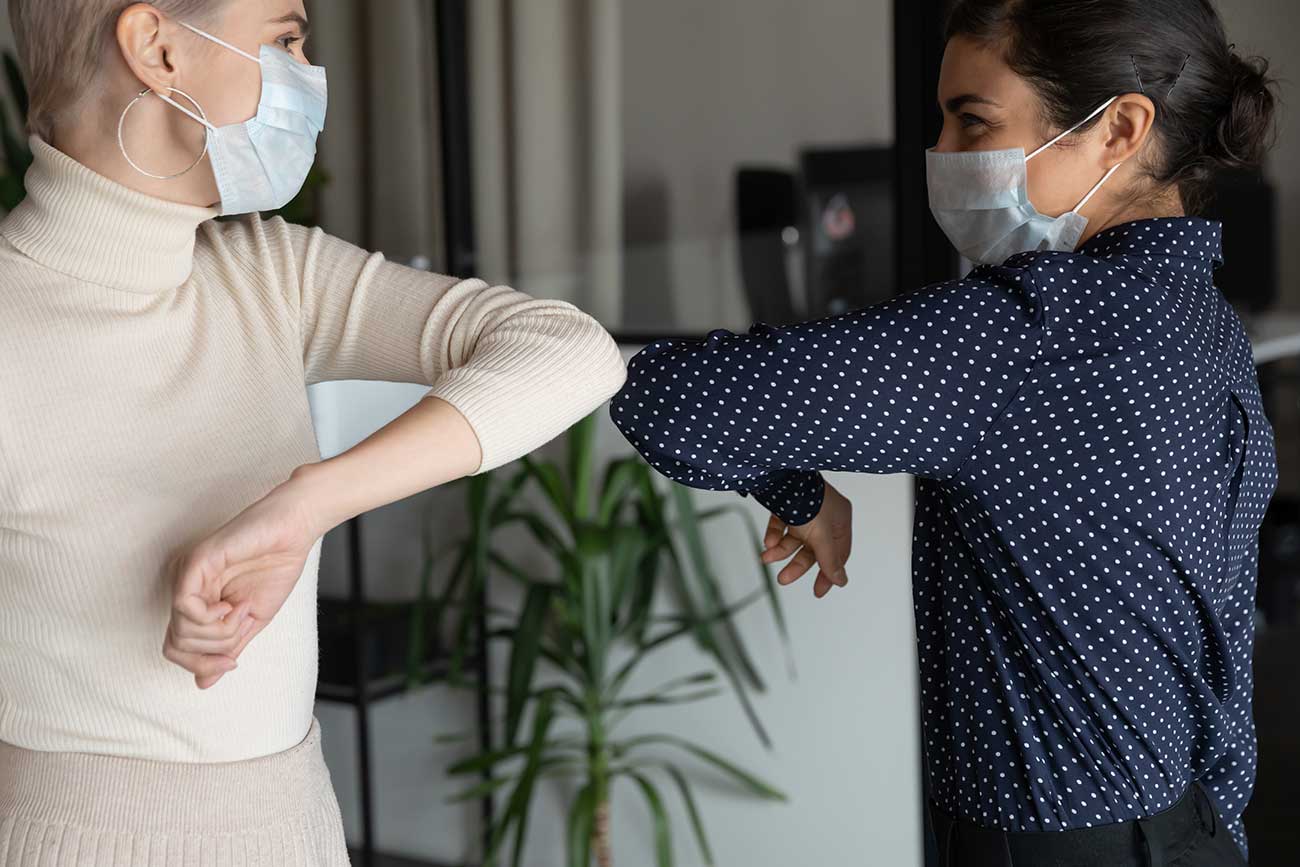 The year 2020 started on a tumultuous note, to say the least! But that does not stop us from celebrating our latest achievers. Their success assumes an even greater significance against the backdrop of these challenging times. Therefore, they deserve a huge applause, and this is our way of celebrating their efforts and talent!
The motivating factor
For many, the journey into international trade begins with the self-realization that they absolutely enjoy interacting with people from diverse cultures across the world. As they gather valuable experience in their respective fields, taking their career trajectory to new heights, most professionals increasingly feel the need to formalize their knowledge and fill in any gaps by acquiring holistic training in the many aspects of international business.
For others, FITT certification adds credibility to their skills and expertise, forming the perfect foundation on which to build a successful and fulfilling career. Whether opting for in-class training or the self-paced FITTskills online training, the comprehensive business education equips them with the confidence and credibility they need to broaden their professional horizons.
Impacts of achieving international business credentials
As our achievers accomplish the goal they had set for themselves, it's more than just a milestone or an extra qualification on their resume. The FITT credentials become testimony to their knowledge, skills and commitment to their craft, opening doors to greater possibilities in the form of job openings and promotions, networking opportunities, valuable mentorships and even new business contracts.
As we cross the half-way mark for 2020, let's highlight the latest credential holders. We're proud and delighted to have been a part of their journey and are eager to celebrate their success!
The Jan to Jun 2020 CITPs represent 43 different companies, working in an array of roles including:
Executives including founders, CEOs, directors, managers
Business Advisors including trade commissioners, economic development specialists, policy analysts, professors, consultants
Marketing, sales and advertising professionals including marketing associates, marketing coordinators, sales executives and sales representative
Global Value Chain professionals including logistics specialists, product specialists, customs analysts, freight coordinators, procurement administrator
Vital international business team members including import export coordinators, accounting technician, export specialists, vessel operator.
The extensive gamut of organizations our new CITPs come from include:
Government and Regional: Global Affairs Canada, Export Development Canada (EDC), Saskatchewan Trade and Export Partnership, Fisheries and Oceans Canada, Town of Halton Hills, Canadian Food Exporters Association, Trade Commission of Peru, ED&F MAN Egypt
Financial institutions: Banque Nationale du Canada
Big Corporations: Tecvalco Ltd, Lxr Canada Inc, Kuehne + Nagel Ltd, ETG Commodities, Honeywell International Incorporated, Liferaft Inc, Montebello Packaging, River Select Fisheries Cooperative – Okanagan Nation Alliance, Summit Tools, Barez Industrial Group, BGL Brokerage Limited, Soprema Canada, Livingston International, Agrocorp Processing Ltd., Grow Trade Consulting Inc., Natural Trade Ltd., Yamo import-export Afrique Amérique monde Inc., New Pacific Metals Corp., Asia Investment and Services Group Limited, Manitoulin Global Forwarding, Mckenna Distribution, FedEx, Pepsico, Flexport, 48e Nord International, Canpotex Limited, Misty Mountain Trade & Consulting
Startups and small businesses doing big things: T By Daniel Inc, Brand New Trading Inc., Bluecrown International Strategies,
The role of FITT's educational partners in ensuring that their educators continue to maintain the highest standards of professional competence is no less commendable. The last six months saw our partner institutions Algonquin College and George Brown College adding new CITPs to their teaching staff.
Daniel Lewis applied for the CITP designation to help equip him for the future as a small business owner and entrepreneur.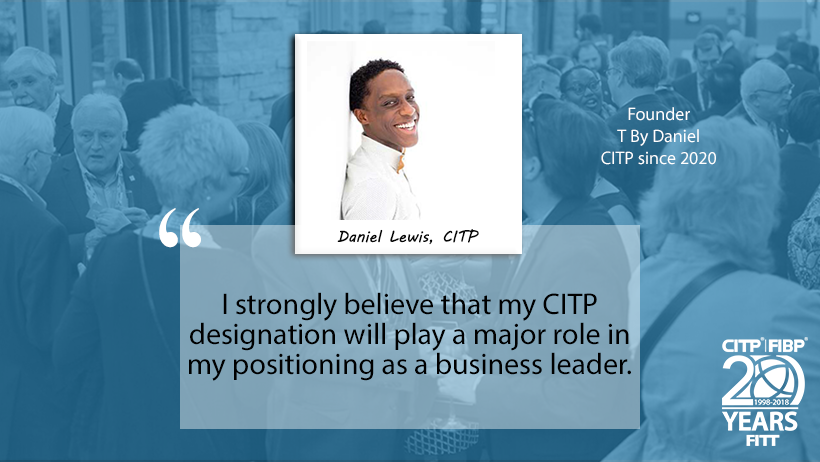 The CITP designation will be a very respectable addition to my business achievements when being considered for future opportunities. I think there are so many opportunities and networks that I can tap into because of this designation.
Developing a wholesome understanding of International trade  
In the first half of 2020, 131 individuals went on to complete the requisites to earn the FITT Diploma in International Trade. Candidates aspiring to earn a diploma must demonstrate knowledge in each of the broad categories that international trade comprises of – ranging from analyzing business readiness, finance, supply chain management and market entry to product development, sales and marketing. This familiarizes them with the various aspects of global trade and how the different processes need to work in sync in order to culminate in a successful business transaction.
Earning the FITT Diploma is an essential criterion to apply for the CITP designation and we are confident that many of our current diploma holders will go on to apply for and achieve the CITP stamp of excellence.
Those earning diplomas between January and June 2020 represent a plethora of roles across 21 companies of varying sizes. Besides those listed in the CITP category, our new diploma holders are integral members of teams from reputed organizations like Boréal Trading Company, ETG Commodities Inc, Diva International Inc., Cabot Community Business Development Corporation, and Ministère de l'Économie et de l'Innovation du Québec.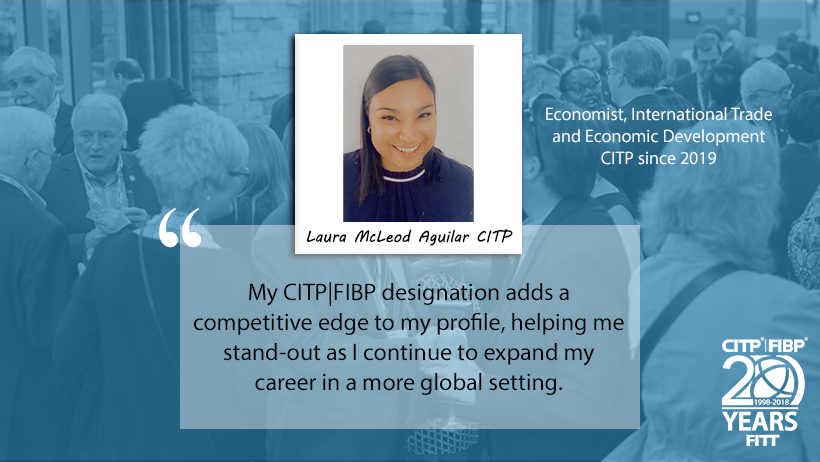 Getting an opportunity to work in both the public and private sectors has proved educational and fulfilling for Laura and has paved the way to her future success.
The FITTskills courses provided the base and foundation for my career. Completing the courses gave me and my future employers the confidence that I had the know-how and dedication that a career in international trade entailed.
Taking the first step to upgrading knowledge and skillset
Most professionals understand the importance of complementing their professional expertise with a solid and holistic know-how that is industry backed. Some embark on this path to upgrade their knowledge on a specific skillset and others consider the FITT certificate a first step towards earning the FITT Diploma, and ultimately the CITP designation.
Whatever their aim, we are proud to award the FITT Certificate in International Trade to 133 new recipients who have upskilled their proficiency. The certificate holders represent an array of roles across 29 companies that include: Mellion Synergy, University of Regina – UR International, Deloitte, Tambo Natural Foods Inc., Teck, SUMOL+COMPAL, Chemonics International, CentrePort Canada Inc., Thermtest Inc., WONA INTERNATIONAL TRADING LTD., The Corporation of the Municipality of Chatham-Kent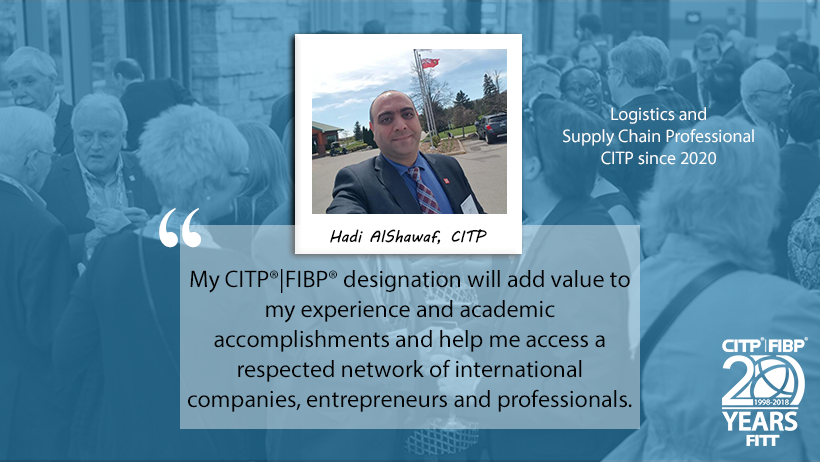 Hadi applied for and went on to be awarded the CITP in January 2020. He is immensely proud to have earned the elite designation, as it not only adds value to his knowledge and experience but distinguishes him as a an internationally certified trade practitioner.
"I see that the CITP®|FIBP® designation officially validates the level of professional competency of international trade professionals worldwide, which will give my employers, clients and colleagues additional confidence in my skills.
Hadi is confident that the designation will help him connect with entrepreneurs, trade professionals and reputed companies. This will broaden his horizons and open the doors to more possibilities for career growth.
We take this opportunity to heartily congratulate all our new FITT Certificate & Diploma holders and CITP|FIBPs, and wish them a bright and fulfilling future.