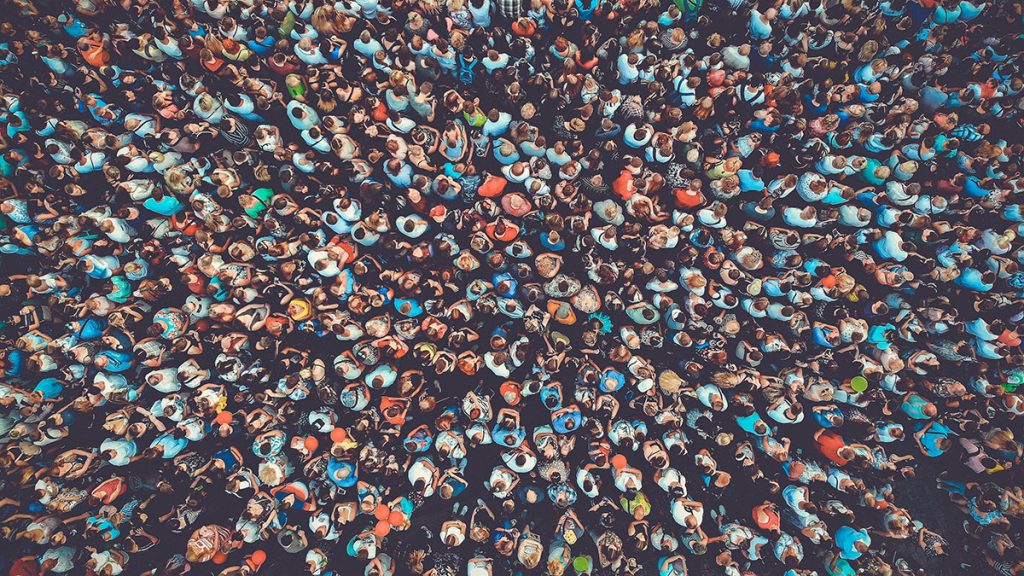 2019 was stacked with global business achievements and personal impact
It's easy to look at business training and certification as a series of pragmatic steps and achievements to check off a career "to-do" list. But when we ask our FITTskills participants, graduates and CITP|FIBPs why they took the training or applied for the designation, and how they feel about their experiences, we often get deeply personal answers.
It turns out, the learning, challenges and successes are part of a journey that can have an impact beyond a few extra letters on a CV (valuable though they are). For some, attending the in-class training led to valuable networking connections, mentorships and even direct business opportunities.
For others, the certification gave them the confidence and credibility to go after a job they'd been dreaming about for years, or land a contract with a big name client. And some were looking for more specific skills and knowledge to solve a problem or help achieve a business milestone, like taking their company into an international market for the first time. This is a huge step that they can now add to their growing lists of professional achievements.
In 2019, FITT connected hundreds of individuals and organizations with the skills, knowledge, confidence and credibility they needed to move forward with their goals. This is something we take immense pride in, so we couldn't resist taking the opportunity to celebrate those who earned FITT credentials this past year. Celebrate with us!
A new cohort of experts in dozens of fields
From January to December 2019 we welcomed 86 newly minted Certified International Trade Professionals (CITP|FIBP). Earning the CITP designation is a huge professional accolade that requires meeting rigorous, industry-backed competency standards, professional ethics, and a demonstrated commitment to international trade. The designation helps professionals in all different stages of their career get ready for the global business world, and this year we welcome CITPs in over 40 different roles including:
Executives including CEOs, COOs, directors, managers and VPs
Business advisors including financial advisors, export advisors, trade commissioners and consuls, policy advisors, consultants and professors
Marketing, sales and advertising professionals including marketing associates and directors, sales directors, and an account-based marketing manager
Global value chain professionals including procurement officers, supply chain managers, customs analysts, international logistics analysts, purchasing and operations managers, and a cross-border agent
Vital international business team members in roles including imports coordinator, accounts payable officer, business development coordinator, fraud officer, project assistant and plant superintendent
If your organization has a role that touches global commerce, there is a CITP ready to take it on!
Speaking of global organizations taking on CITPs, the newest CITPs come from an impressive array of both public and private sector companies across so many different industries, including:
Government and regional: Global Affairs Canada, Export Development Canada (EDC), Nova Scotia Business Inc (NSBI), Saskatchewan Trade and Export Partnership (STEP), NAV Canada, Polish Investment in Trade Agency
Financial institutions: Royal Bank of Canada, Scotiabank, Wells Fargo
Big corporations: 3M, UPS, Livingston International, C.H. Robinson, Orchard International, Skyfold, ART International, Global Appetite, HRA Group, Thai United Food Trading Ltd.
Startups: MediaSpark, Spoonity, Limesoft Inc.
FITT's educational partners also work hard to ensure they have the most knowledgeable, qualified individuals to guide their students to success. This year our partner institutions George Brown College, Fanshawe College, St. Clair College, Conestoga College and Brighton College all welcomed new CITPs to their staff.
Peter Gray applied for his CITP designation to formalize and certify his decades of international business experience and expertise.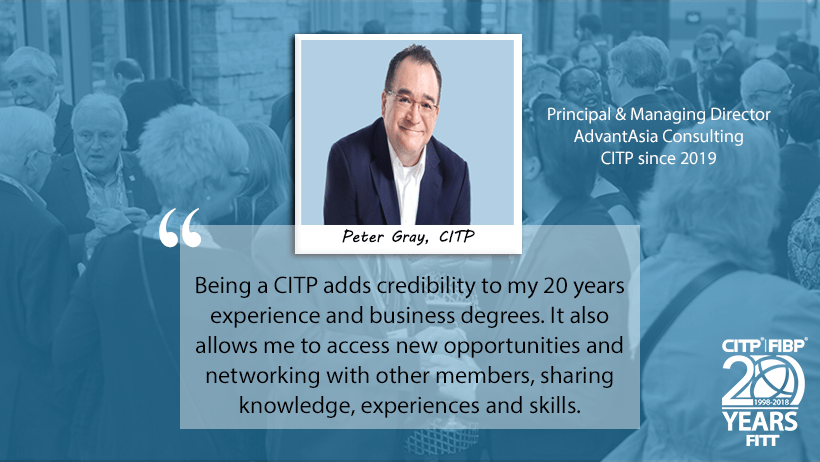 "Geopolitical shifting is transforming global markets. Nowhere is this more evident than in the Asia/ASEAN regions.
Growth minded companies need new skills and knowledge to expedite market entry and help build profitable, sustainable and scaleable businesses in the fastest growing region on the planet. FITT is emerging as the go to source for knowledge and people. I wanted to be a part of it.
I am absolutely delighted, not only with the designation but being part of an elite network of trade and investment professionals."
Putting together the building blocks of trade
In 2019, 257 individuals completed the requirements to earn the FITT Diploma in International Trade. In order to earn the diploma, a professional must demonstrate knowledge in each vital category that completes the full picture of international trade processes. These individuals know how all the different aspects of global business work together to complete trade transactions and they are trade ready!
The FITT Diploma makes up the educational component of the CITP requirements and many of this years diploma earners also went on to become CITPs last year.
Those that earned diplomas in 2019 represented over 50 different job titles, most of which are mentioned above, and dozens of companies big and small. On top of those represented in the CITP category (including Global Affairs Canada, EDC, STEP, NSBI, 3M, UPS, the financial institutions and educational partners), we saw professionals from big names like Starbucks and Pepsico, international trade organizations such as Export Quebec, 48e Nord International, Indonesia Export Training Centre, and CINT (Canadian International).
Remote monitoring technology company Rimot, Fisher King Seafoods, Canadian Rocky Mountain Resorts, Caron Hawco Group, and logistics companies ERB Transport and Laser Transport also have proud FITT diploma holders on their teams. As do homegrown Nova Box and Cedardog Distribution, who are now well-equipped to take on the challenges that come with international clients.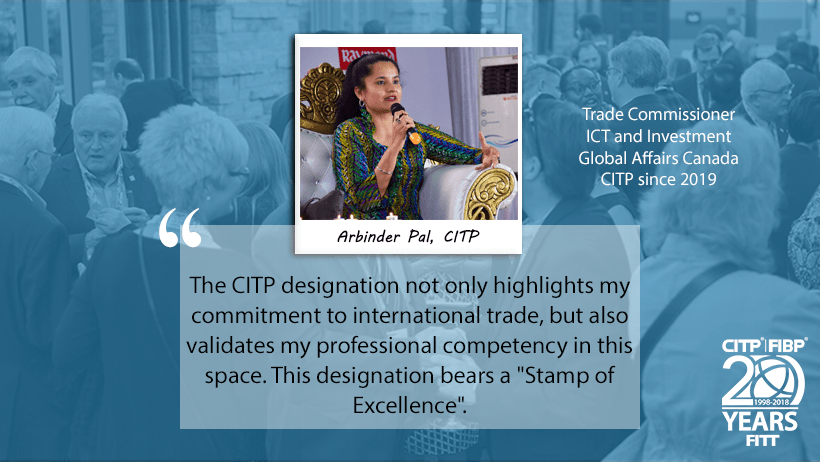 In her role as trade commissioner, Arbinder Pal has been all over the world and had some amazing experiences. These include a three week "around the world" trip to meet and interview key travel & tourism players in nine countries, flying across the Atlantic in the cockpit and viewing the Northern Lights up-close-and-personal, and participating in the Canadian Aviation delegation to discuss strategies with Indian Government officials. Though she already had such varied and valuable experience in her role, the FITTskills courses were an opportunity to build on that with practical skills.
Taking each FITTskills course was liking adding a building block. It kept adding on to my current skill and knowledge level. The linkages between the topics in different courses helped as an auto-revision.
Filling in knowledge gaps and tackling goals
Three hundred and four individuals said goodbye to gaps in their global business knowledge by completing three or more FITTskills courses and earned the FITT Certificate in International Trade. Whether they set out to learn a specific skillset to tackle a global goal head-on, or they are on their way to earning the FITT Diploma or CITP designation, over 100 companies now have upskilled international business professionals in more than 50 different roles.
Who are these lucky companies? They include:
Opportunities New Brunswick, Ontario Chamber of Commerce, DOT technology Corp (automated farming technology), Ministry of Economic Development, Innovation and Export Trade (Ministère de l'Économie et de l'Innovation), Alcohol Countermeasure Systems, Montebello Packaging, Halifax Partnership, U.S. Department of Commerce, OPHAM, Canadian Commercial Corporation (CCC), Halton Region, Pantos Logistics Canada, CBDC, Pro Gestion, Acadian Seaplants Limited, Du Nord Skincare, City Canabis Co, DIAGEO and Diva International.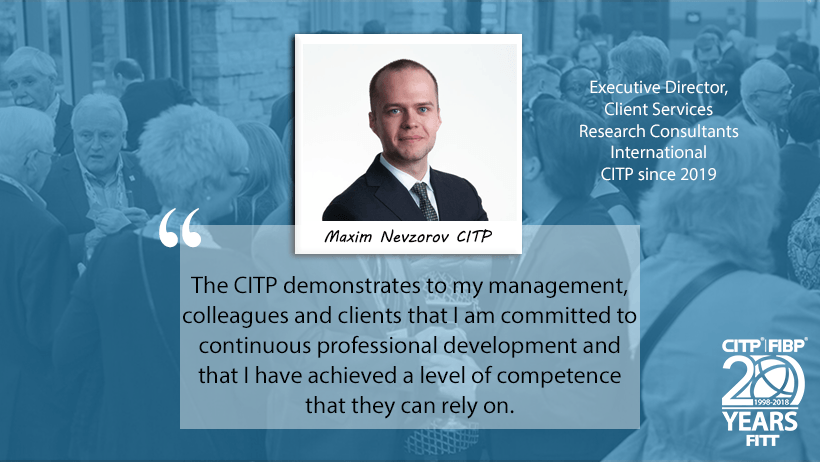 Maxim Nevzorov has worked with a large variety of economic development organizations, ranging from municipal level agencies representing small rural communities in Canada all the way up to a U.S. Governor's office and a national trade agency in Europe. Despite having a wealth of experience and expertise, the FITTskills courses offered him a chance to fill in some gaps.
"A political scientist by training, most of what I knew about international business and trade prior to taking FITTskills courses had come through my practical experience. However, as I was getting more and more involved in the field, I couldn't help but notice certain gaps in my knowledge that needed to be addressed if I wanted to advance my career."
FITTskills online courses were an excellent opportunity to not only improve my understanding of a variety of topics that I was already familiar with to different extents, but also to gain brand new knowledge, thus broadening my professional horizons.
To all of the new FITT Certificate and Diploma holders and CITP|FIBPs, we congratulate you on your hard work, dedication and ambition. Here's to a prosperous, global 2020!