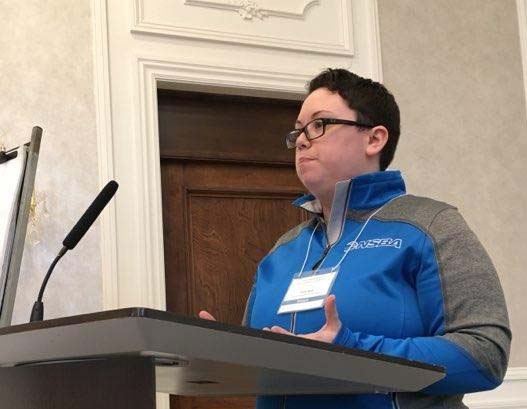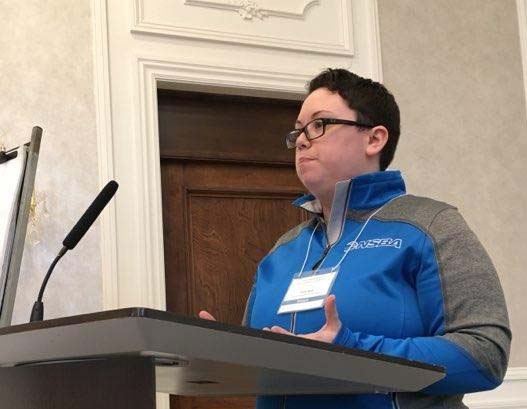 Earned her elite CITP®|FIBP® designation: Feb. 2019
When the call centre where she worked closed down, Kayla Beck knew she needed to invest in herself, and took the opportunity to go back to school.
She had always known that she belonged in the business world and found that the International Business Advanced Diploma program at NSCC was the right fit for her. Kayla loved travelling and the possibility of doing business abroad was intriguing. She also took advantage of a summer study abroad program in Scotland at the Robert Gordon University through NSCC, the summer between her first and second year.
FITTskills global trade training was a natural fit
Kayla then chose to join the school's FITT-accredited international business program to complete the rest of her education and further her career goals.
"The FITTskills courses had great information and my instructors made learning the material a breeze. I find myself thinking back to what I learned in class and applying it to my daily work, and that real-world examples were used, helps put the information into action when required."
The International Trade Finance course took pride of place for Kayla, who had been previously considering accounting as her chosen area of concentration. With a natural talent and interest in figuring out equations, Kayla was captivated with learning about how international transactions work and found it "eye opening and exciting".
She graduated with the NSCC International Business Advanced Diploma in June 2018.
Applying her education to establish her career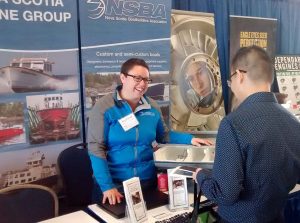 Kayla's current role is in online marketing and career promotion at Nova Scotia Boatbuilders Association, where she has worked since January 2018. While it's still relatively new, she has found her place in representing their membership at trade shows.
"One of my favourite things about my career so far is knowing that my marketing efforts are affecting our members in many ways, both here at home and abroad."
Kayla quickly learned the value of going with your gut in the business world, as well as taking the opportunity to add to your knowledge base any way you can.
"I've already learned that I need to trust my instincts more, and that I can learn from any situation I encounter during my work."
Over the last year she has relished the opportunities to attend the boat shows and trade shows, and with her career just beginning, she is looking forward to even more interesting projects in the future.
Adding trade certification to meet her personal and business goals
Kayla chose to pursue the CITP (Certified International Trade Professional) designation, knowing that as part of an association, having the designation would be valuable to have not just for herself, but for the organization's membership as well.
"I worked very hard over the past year and it paid off in the end with the excitement of becoming a CITP. Having my designation only helps our membership move forward in their international business ventures."
When the majority of their membership start focusing more on international trade, Kayla foresees that her CITP designation will help her connect to opportunities to help make their transition smoother and give her the tools she can use to help them achieve success.
Global trade can be complex and it's not all smooth sailing. Yet, with a good head on her shoulders, a solid education and her CITP designation, we just know that Kayla's embarked on a professional adventure of a lifetime.
Want to connect with Kayla?

LinkedIn: Kayla Beck
Company Website: Nova Scotia Boatbuilders Association
Learn more about the CITP®|FIBP® designation
INTERNATIONAL BUSINESS CERTIFICATION—CITP®|FIBP®
Advance your career and build your professional credibility in the field of global business by earning the Certified International Trade Professional (CITP) designation.
Why Earn the Certified International Trade Professional (CITP) Designation?
The Certified International Trade Professional (CITP) designation is the world's leading professional designation for the field of international business. So whether you're new to global trade or have over a decade of direct experience, you'll find the CITP designation can help advance your career and build your professional credibility.
The CITP designation sets you apart in the competitive international business industry because it's proof you possess the competencies global business experts have identified as being essential for a successful career in international trade. It also recognizes your dedication to ethical business practices and ongoing professional development—both of which are desirable traits for today's global business practitioners.