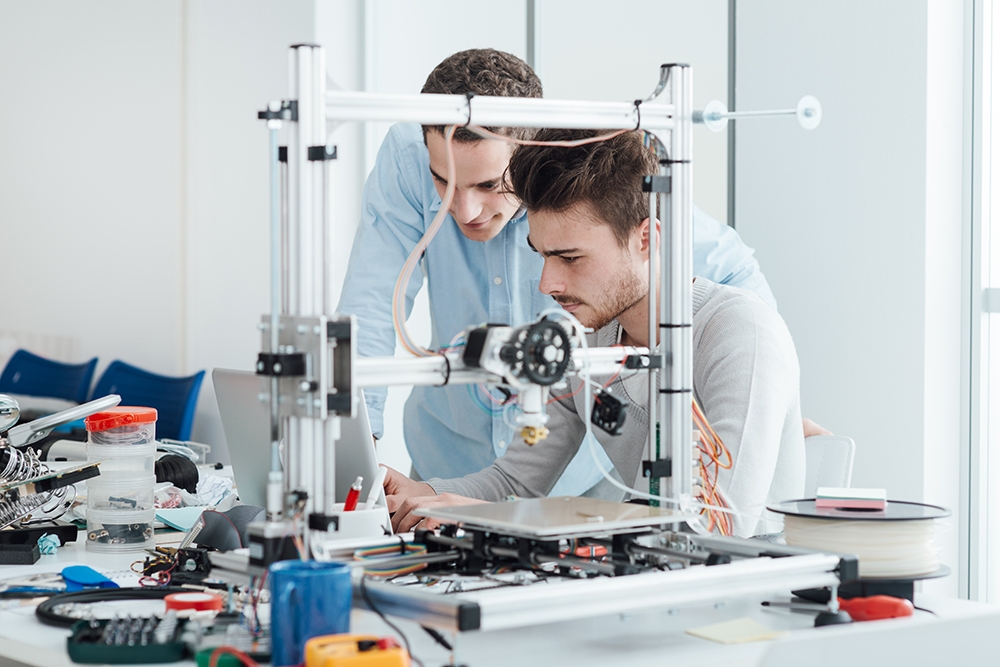 The Strategic Innovation Fund (SIF) is a new $1.26 billion Canadian government funding program supporting the improvement and advancement of groundbreaking products, processes, and services. The five-program (2017-2021) was created to fuel the growth of Canadian businesses and facilitate innovation in Canada.
SIF plays a critical role in driving Canada's industrial and technology-driven sector growth. It focuses on accelerating innovative, business expansion projects, which benefits companies, and helps secure competitiveness in both regional and national economies.
Eligible Canadian exporters may be able to reduce project costs by up to 50% to a maximum $50 million in government funding.
How the Strategic Innovation Fund Supports Businesses
The Strategic Innovation Fund is a government funding program targeted towards Canadian industrial and technology-related companies. It offers financial contributions (either repayable or non-repayable) valued up to 50% of project costs to a maximum of $50,000,000. The purpose of this fund is to promote investment into the types of activities driving sustainable productivity and economic benefits. SIF has four streams of project funding support.
Stream 1: Research, Development, and Commercialization
Stream 1 offers funding for the research, development, and market commercialization of innovative technologies. All activities performed must focus on progressing the innovation's development, which may have a current technology readiness level (TRL) of 1-9. Projects may include (but are not limited to):
Researching and testing the market potential of an early concept or finding;
Adapting research for commercial applications with the potential for market disruption;
Improving processes (by using new technology) to reduce the environmental footprint of production; and
Improving current products/processes by implementing new technologies aimed to enhance competitive capabilities.
Stream 2: Business Growth and Expansion
Stream 2 provides innovation funding for the expansion and material improvement of existing industrial or technological facilities. Activities should increase productivity and efficiencies, ultimately leading to higher competitiveness. At this stage, businesses should have well-developed products and processes and be performing activities within a TRL of 8-9. Projects may include (but are not limited to):
Increasing production capacity to meet a demonstrated market demand; and
Improving manufacturing efficiency through improvements to plant, equipment, or processes.
Stream 3: Investment Attraction and Retention
Stream 3 supports new investments in Canadian industrial or technological facilities. The main objective is to support large-scale investments that may have not otherwise been made in Canada. These investments will be used to support the continued development of Canada's most innovative businesses. Companies must achieve a TRL of 2 or higher to apply; projects may include (but are not limited to):
Establishing a new production facility, which did not previously exist in Canada;
Receiving a research and development mandate which is being established for the first time, or was previously held outside Canada; and
Obtaining a production mandate for products being produced for the first time, or those previously produced outside of Canada.
Stream 4: Collaborative Technology Development and Demonstration
Assisting in collaborative research, Stream 4 includes activities related to the discovery or demonstration of new knowledge. In partnership with academic institutions and non-profits, this stream provides funding for new technology-driven products, processes or services at a technology readiness level of 1-7. Projects may include (but are not limited to):
Developing and demonstrating pre-commercial technologies; and
Advancing new technologies into product-specific applications.
Do You Qualify for the Strategic Innovation Fund?
The Strategic Innovation Fund is inclusive towards a wide range of Canada's industrial and technology sectors. While an assortment of businesses are eligible, funding is only awarded to firms demonstrating strong project performance metrics. All projects must clearly demonstrate how the funding will be used to generate sustainable benefits for a broad range of stakeholders.
Overall eligibility, in addition to whether funding is repayable or non-repayable, is determined by the program's application review committee.
To be deemed eligible for the Strategic Innovation Fund, businesses must be:
A small, medium, or large company;
Incorporated; and
Operating within Canada.
How to Apply for the Strategic Innovation Fund
There is a two-stage application process for the Strategic Innovation Fund requiring:
Statement of Interest: A high-level overview of projects. Here, applicants can describe the project and explain how it meets SIF's objectives. Applicants are also asked to provide corporate information so basic corporate capability assessments can be completed.
Full Application: If advancing to step 2 is advisable, applicants will be contacted and invited to submit a detailed project application. This information is used to complete a due diligence and benefits assessment.
Given the size and complexity of Strategic Innovation Fund applications, Mentor Works recommends that interested parties use a government funding partner. This accelerates the process and helps ensure applications hit on all the factors government reviewers prioritize most heavily.
Please feel free to contact Mentor Works to learn more about SIF, and how to get started.
Disclaimer: The opinions expressed in this article are those of the contributing author, and do not necessarily reflect those of the Forum for International Trade Training.