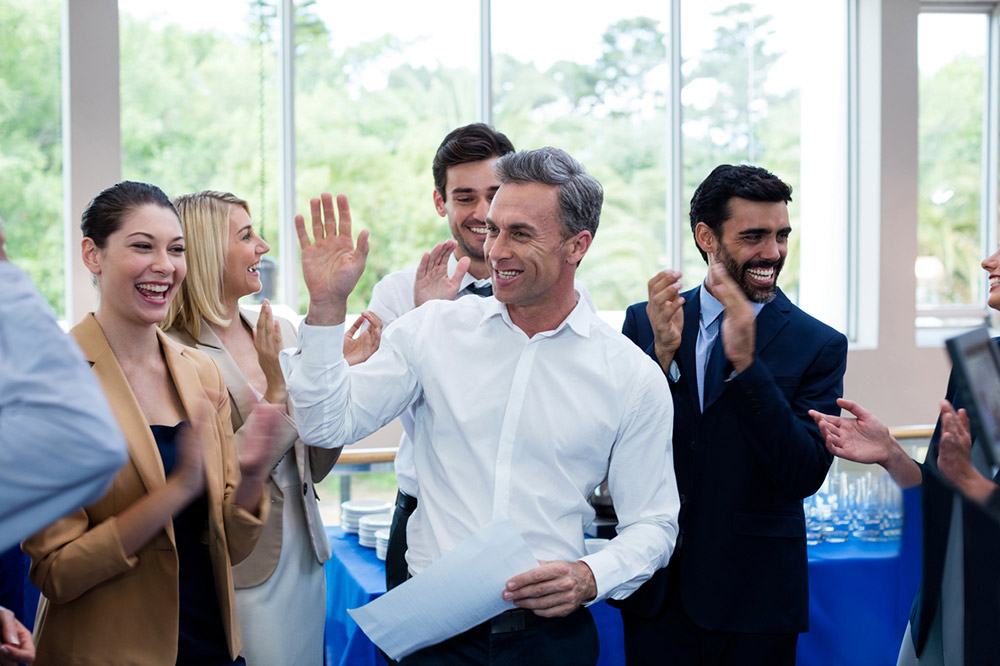 From October 2-4, FITT is hosting the Your Future in Global Markets international business conference in Canada's National Capital Region to celebrate its 25th anniversary.
You may be a student, veteran executive or somewhere in between. Perhaps you work in supply chain, finance, market entry, business development or own your own import/export business.  Whether you work in the public sector, in a private sector company, or work as a consultant, there's something at our conference just for you.
It's always fun to get out of the office for a couple of days and do something different, but here are five other reasons you should add this exciting event to your calendar and register to attend ASAP.
1. You're going to learn a lot – and so will your co-workers
Consider your organization's specific objectives and priorities, and consider how specific elements of the conference will help meet those needs. Which of the sessions are most relevant to your professional development goals or your organization's expectations of you? What new skills or approaches will you bring back?
Sessions are strategically focused to help you advance your relationship building skills, develop innovative solutions, reimagine business strategies and leverage emerging trends. Which keynotes or workshops have particular relevance to your organization's current priorities? Are there sessions that will provide insight into a particular challenge or your organization is facing right now, or expects to face in the next 12 months? Some session examples include The future frontiers of global business, How to take advantage of trade agreements in the 21st century and From AI to VR: the impacts of the latest technology on your business.
Identify specifically what you can use, and how. These sessions will not only help you in your own work, but help you advance your organization's long-term goals.
You can also visit our Justification Toolkit to help you explain to your manager or CEO how attending the conference will help you do just that.
When you return to the office, you can then offer to deliver a briefing to your colleagues and/or the management team to share what you've learned so that others in your organization will receive the benefits of your attendance, too. Share session takeaways and notes with your colleagues. As a delegate, you will have unlimited and free access to speakers' materials posted on a password-protected section of the FITT's website, FITTforTrade.com.
2. Take a step back and re-assess your strategy
The field of international trade is experiencing a period of volatility marked by rapid change. It is difficult to view the 'forest' when we're working at the 'tree' level. Your organization needs to anticipate, understand, and adapt to changes both in the policy environment and in professional practice.
Attending FITT's 25th anniversary conference, Your Future in Global Markets, will enable you to see how the field is changing and build a wide variety of important strategic competencies. As one example, you'll have the opportunity to assess the pros and cons of various modes of market entry strategies in the Choosing and excelling in your next international market session.
You could also identify the current and future challenges for trade at the Trade is Complicated! Overcoming the unique challenges of global business session, or attend others to evaluate industry trends in the wider global business environment, and examine the future impact of international business on internal operational functions.
3. Meet and talk to industry leaders and professionals face to face
This conference will enable you to meet and interact with hundreds of international businesspeople from both private and public sectors from across Canada and the international community. You will be able to take the pulse of what your peer organizations are talking about and planning for, and how they are accomplishing their specific goal or activities.
You'll have plenty of opportunities to do so with our opening reception, celebration dinner, lunches and networking breaks throughout the event.
Talking to other professionals in your industry can also spark a lot of new ideas – you never know who might introduce you to a revolutionary new idea, or suggest a way you can accomplish some of your objectives more efficiently or effectively than before!
Even if you're not the most naturally outgoing person, it's fun to grab some food or share a drink with colleagues, and chat about your work and life in general. You might get to catch up with friends you haven't seen in  years, or make valuable new friends and professional contacts along the way.
4. Bring some colleagues and build your entire team's capacity and connections
The conference will help  your team grow by providing a forum for team members to learn and discuss best practices, new tools, and emerging trends like AI, fintech and 3PL. Doing this together will build a shared knowledge base for applying this information to improve our strategies, programs, processes, and outcomes.
It can also build camaraderie between colleagues, and sometimes being out of the typical office setting is what you need to spark your team's next great idea.
Planning to attend the conference with one or more of your colleagues? Send us an email at marketing@fitt.ca – we might even be able to get you a special group rate!
5. Showcase your products or services while gathering valuable intelligence
This could be your opportunity to collect first-hand information and to compare competing firms. The conference will showcase international trade experts and companies who may be implementing the tools or services your business uses or is evaluating for potential future use, such as during the Secrets to success master class session.
This is your chance to collect information and evaluate multiple vendors for products, tools, or services you may need all at once, helping you make a more informed decision more quickly. You might even be able to get a business deal started while you're there, or be inspired to try a new product or service that will improve your business.
Will your company be hosting or running an event in the near future? Attending a conference is also a great way to get ideas for your own events, and see what works best.
Now's your chance to sign up!
Ready to register for the conference? Sign up by September 15 to save with our early bird pricing, and to get a discounted hotel room as part of our reserved block.
Just go to the conference page to learn more about the event, review the list of speakers and the program, and to register to attend the conference. Hope to see you there!