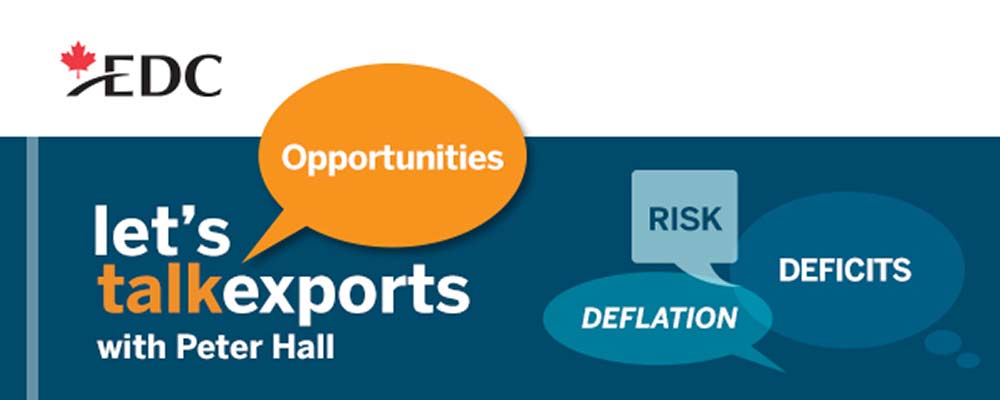 Export Development Canada is about to embark on their annual "Let's Talk Exports" tour, and you won't want to miss it.
Peter Hall, EDC's Chief Economist will talk about succeeding in the global marketplace amid volatile markets and falling commodity prices.
The tour is designed to benefit businesses involved in product export, financial institutions and various industry associations as well as those servicing the export community.
The idea behind 'Let's Talk Exports' is to provide the Canadian export community with the most up-to-date trends in the global economy, and how they will affect exporting businesses of all sizes, in all sectors.
The main theme of this year's tour is the volatility that struck global commodity and financial marketing in the beginning of 2016.
Some pressing questions that will be addressed include:
Are the wheels of the world economy getting loose?
Is this the natural point for another global recession, or is the cyclone contained?
And will there be an end to the commodity price plunge?
Is Canada's winning streak at an end, or are there opportunities to pursue?
The cross-Canada tour will span 11 cities from April 26 – June 1, 2016.
Those unable to attend personally can join the tour virtually via an online webinar that will be held on June 2, 2016. Twitter users are encouraged to join tour by following #LetsTalkExports / @PeterGHallXIII.
This year's 'Let's Talk Exports' Tour features Peter G. Hall, Vice-President & Chief Economist at Export Development Canada. Peter has over 25 years of experience in economic analysis and forecasting.
He is responsible for overseeing EDC's economic analysis, country risk assessment and corporate research groups.
During the tour Peter will provide his insight on the current global economy and its effects on Canada, along with forecasts for the Canadian dollar, commodity prices and growth in particular industries.
Will you be attending one of this years events? Let us know what you think and send us your event photos, comments.