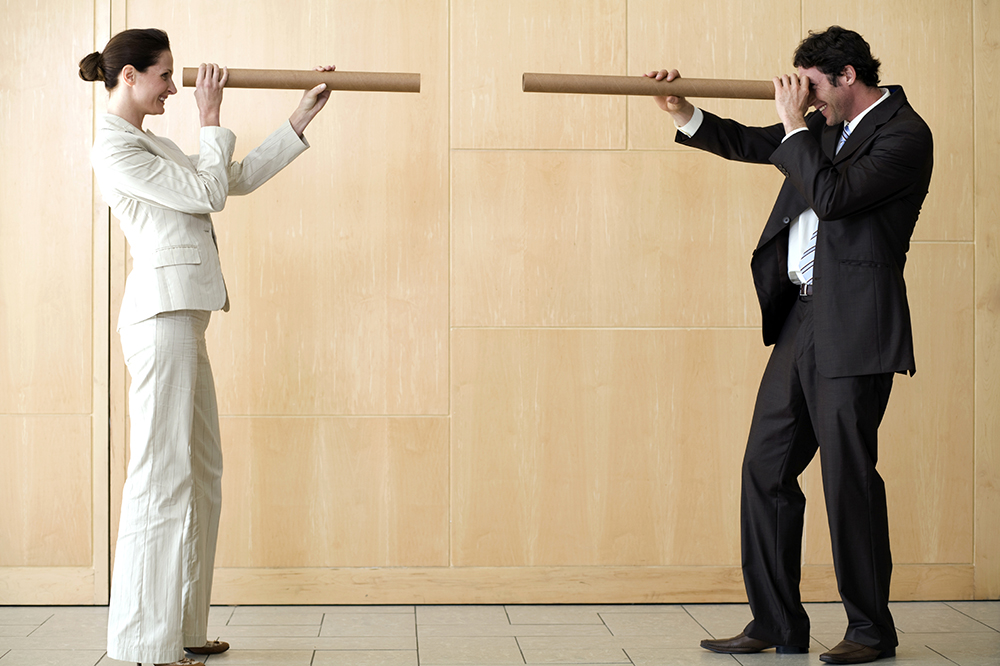 "Finding a new opportunity abroad, whether you're selling or buying, is like having a new girlfriend," says Alberto Quiroz, CITP®|FIBP® and Regional VP of Sales at CES Inc. "There's a period of courtship. You have to tell her who you are, why you're interested in doing business with her, and convince her of why she should want what you have to offer."
While technology can be helpful in the initial stages of the courtship, be it communicating through email, video conferencing or even the old-fashioned telephone, it's the addition of the human element that will help you succeed in global trade.
The same holds as true for your new gal as it does with your potential clients or business partners.
Building strong global relationships means wooing with your time
It's this extra effort and human contact that Alberto fears is becoming less of a given in today's global business environment with the advancements and ease of technology.
You can write beautiful things, and you can send pictures or videos through email, but in the end, there's no getting around it. You've got to take her out for dinner
Anyone can send a gift card for the best restaurant in the city, but if you're not there, the value is lost. Taking them for dinner or drinks shows a level of commitment, and it displays that you're willing to offer them that which is most valuable to you in order to build a strong relationship—your time.
Alberto elaborates, "I don't think you can form a strong long-lasting relationship without the personal element. People need to see you face-to-face to have that real human connection and to establish a level of trust."
Technology has its perks in terms of developing global business
Don't get him wrong though. Alberto obviously uses technology in his everyday business, and sees the incredible value it has brought to his industry in terms of saving businesses time and money.
"I'm really going to date myself, but I think about email," Alberto admits. "We used to have to send catalogues and binders through the mail with product specifications for our customers. And when I used to travel, I'd have to bring a suitcase filled with binders and catalogues. Nowadays, we don't do those things. People can look it up on the internet, and we can distribute product information through email to multiple people at the same time."
Technology has also been great for international trade in terms of research and communications.
"There's so much information available, and it's fast and easy to find. We have seen how many transactions can be done over the internet, and how telephone technology has shortened distances. Now we can have a video conference via Skype or GoToMeeting with another person on the other side of the world, and it mean that we don't even have to be there in front of our customer."
But in the end there's this element that we really have to address, and that's the human element, he says.
"It really makes all the difference."
The human element helps establish trust on BOTH sides
Perhaps you're trying to find a local agent to represent you abroad, or maybe a reliable supplier of products or components. You've got to go and see what's going on with your own eyes.
 If I'm here in Canada and I want to import widgets from China because they're going to be part of a component in my equipment, I'm responsible for the end quality of what I'm going to give to my customers. I have to make sure it's the right widget and that it's going to work. This is where it's important to have that human element.
Not only does Alberto want to see and touch the component he'll be purchasing, but he also wants to spend some time with the people with whom he'll be conducting business. You can learn a lot about someone by meeting them in person, he stresses.
Alberto stresses the importance of assessing the situation and the potential when you're considering if and how much of the human element is necessary for moving ahead with your global business endeavors.
For example, if you're selling lamps online directly to international customers, you obviously don't need to meet with each of them to make individual sales. Your customers can search for your product online, and they'll make the small investment to purchase. They may even buy multiple times over the years and build trust for your product and company, through your consistent service.
However, if you'll regularly be purchasing and importing hundreds of those lamps from a supplier in Sweden, or if you are hoping to distribute your product in bulk to home décor stores in England, it may be worth your while to build those business connections with personal visits.
When dealing with high-value products or high volumes of products, people need to talk and have that real human-connection in order to establish trust, says Alberto.
The thing that's going to make you stand out in the crowd
The human element of doing business is almost becoming a differentiator on the global stage. If you're the type of company that takes time and invests in building strong person-to-person business relationships, people will take notice.
Alberto's company recently set up a meeting with a potential new client, and gave a presentation on their machinery using Webex. They showed photos and gave a detailed explanation of their product. For all intents and purposes, the presentation went very well. Despite that, they still weren't closing the deal.
They finally decided the best thing to do would be to just bring the machine to the client so they could meet and see the machinery firsthand.
To be honest, I was against the idea in the beginning because I thought it was going to be a waste of money.
The process would involve exporting the machinery to Mexico, getting it across the border, paying a bond, paying someone to be the importer of record, and getting a warehouse in which to store it once it made it into the country and a truck on which to ship it around.
There were going to be a lot of logistics involved, and a sale in the end wasn't a given.
"But our customers' reaction when they saw the machinery was magnificent," asserts Alberto. "I would do it again in a heartbeat."
They invited the people who work in management to view the machinery, and also the people who would be doing maintenance so they could see it, ask questions, and get a better understanding of how it could really work for them.
It came to a point where we had to make the effort and we had to make the investment, and it paid off
The pendulum is going to swing back.
Are personal meetings part of your global strategy?