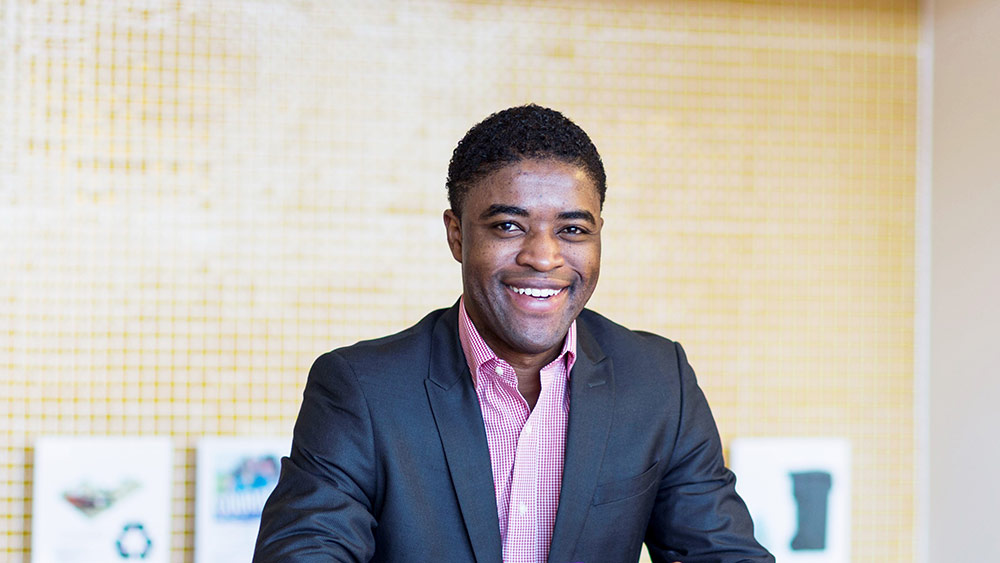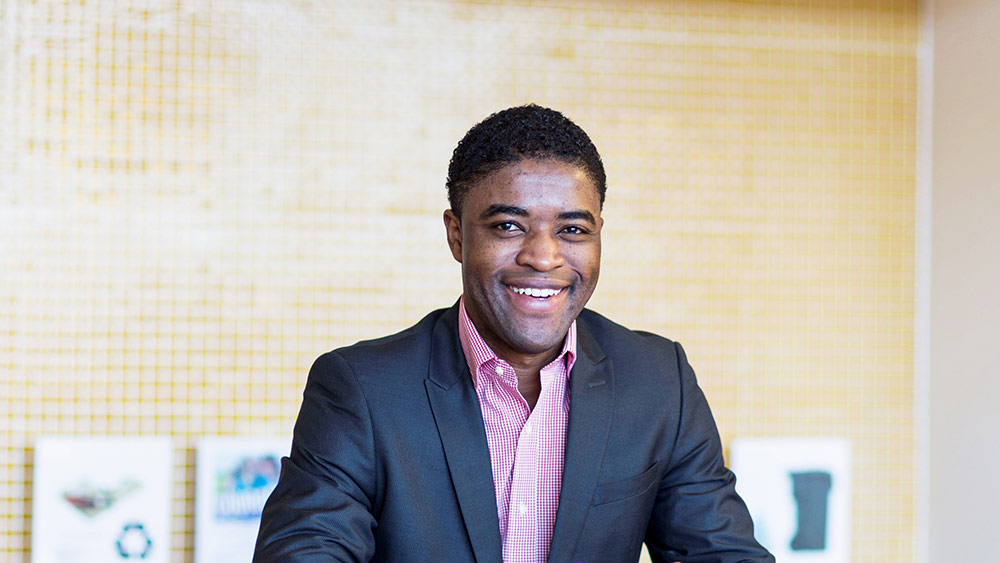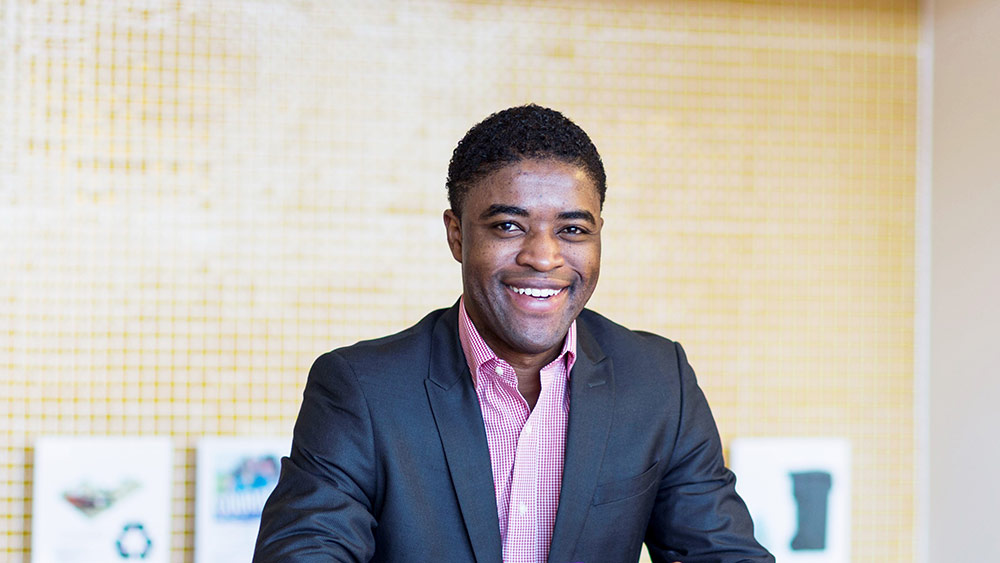 Earned his elite CITP®|FIBP® designation: May 2015
Eric Agyemang, CITP|FIBP, is a Small Business Account Manager at Export Development Canada (EDC), where he manages an active portfolio of exporting companies in Southwestern Ontario, helping them find ways to access financing and safeguard their foreign sales.
Helping people through international projects is a life-long pastime
International work has been part of Eric's life since he was very young. He grew up in Ghana, first setting foot in Canada in Prince Edward Island back in 2004.
He was there as part of a mission with a program called Canada World Youth, where he worked with local youth, encouraging them to live more active lifestyles. He also started his own organization to recruit international volunteers for Ghanaian schools and clinics.
At FITT, we have been watching Eric's international trade career first take off and then flourish. Eric had an admirable student career, achieving multiple awards and accolades, including the School of Business Award at Algonquin College, and was named one of Canada's Top 25 International Business Students in 2013.
We had the honour to present him with the FITT International Business Plan award in 2012, and the EDC-FITT Internship in 2014, where he quickly impressed his colleagues and became a member of the staff.
Finding a place to put his skills to use at EDC
"Though my career in international trade started back in 2005, when I co-founded an international volunteer placement organization in Ghana, it was the EDC-FITT internship that really honed my interest in international business," Eric says of the experience.
He was taken with the variety in tasks, clients and sectors he would get to work with on a daily basis, as well as the chance to make a real difference in the international trade industry.
Working with such a diverse group of companies showed me the vast plethora of opportunities out there for Canadian entrepreneurs wanting to expand their global business footprint.
"The internship also afforded me the unique chance to learn and understand some of the challenges faced by many small-and-medium-sized businesses, from Vancouver to St. John's. And the support provided by EDC can be truly a game-changer for many of these companies."
"All these, I believe, have greatly set me up for success for both my current role and beyond."
Every day, a new adventure
Eric enjoys and excels in his role at EDC, where he manages a highly diversified portfolio of companies across many industries and dealing with different countries, which he says means there is never a "typical" day.
Every day is different, customized to the client and their current needs. Every transaction is particularly unique, which has been a very exciting part of my job.
"In essence, as part of the greater Southwestern Ontario team of Commercial Market and Small Business Account Managers, my role is really to serve as a trusted partner in finding creative ways to help Canadian exporters."
Whether it's through dealing with the businesses directly, or their banks, Eric connects them with EDC's suite of solutions to ultimately help foster and facilitate trade.
After his success in the FITT program and his internship with EDC, Eric decided it was a natural next step to apply for the CITP®|FIBP® designation to cement his position among the global trade elite.
Clearing the last official hurdle to join the international trade elite
"Without a doubt, the FITT program really gave me the right tools and a solid platform to give my career in international business a boost. The courses were focused and practical and allowed me to hit the ground running once I was hired."
I chose to apply for the CITP®|FIBP® designation because, frankly, there is really no other accreditation as widely respected and more broadly recognized by business professionals around the world.
"Being a CITP®|FIBP® genuinely enhances my credibility with business leaders and demonstrates my dedication to the profession. After years of hard-work, I am absolutely thrilled to earn my designation. Joining the membership of Canada's growing elite network of international trade professionals has been a tremendous honour."
Eric recently had the opportunity to be part of an interesting project promoting the importance of ethics, sustainability and social responsibility for young people looking to start their professional journeys.
"Earlier this year I got to be a part of EDC's 2014 CSR Report project; speaking on the importance of corporate social responsibility for young professionals, especially when it comes to choosing where to start a career."
If you check out the video he participated in here, you will see the passion and enthusiasm Eric has for EDC, and the opportunities that exist for young people to engage in sustainable, community building positions.
Want to connect with Eric?

LinkedIn: Eric Agyemang

Twitter: @EricAgyemang1
Learn more about the CITP®|FIBP® designation
INTERNATIONAL BUSINESS CERTIFICATION—CITP®|FIBP®
Advance your career and build your professional credibility in the field of global business by earning the Certified International Trade Professional (CITP) designation.
Why Earn the Certified International Trade Professional (CITP) Designation?
The Certified International Trade Professional (CITP) designation is the world's leading professional designation for the field of international business. So whether you're new to global trade or have over a decade of direct experience, you'll find the CITP designation can help advance your career and build your professional credibility.
The CITP designation sets you apart in the competitive international business industry because it's proof you possess the competencies global business experts have identified as being essential for a successful career in international trade. It also recognizes your dedication to ethical business practices and ongoing professional development—both of which are desirable traits for today's global business practitioners.