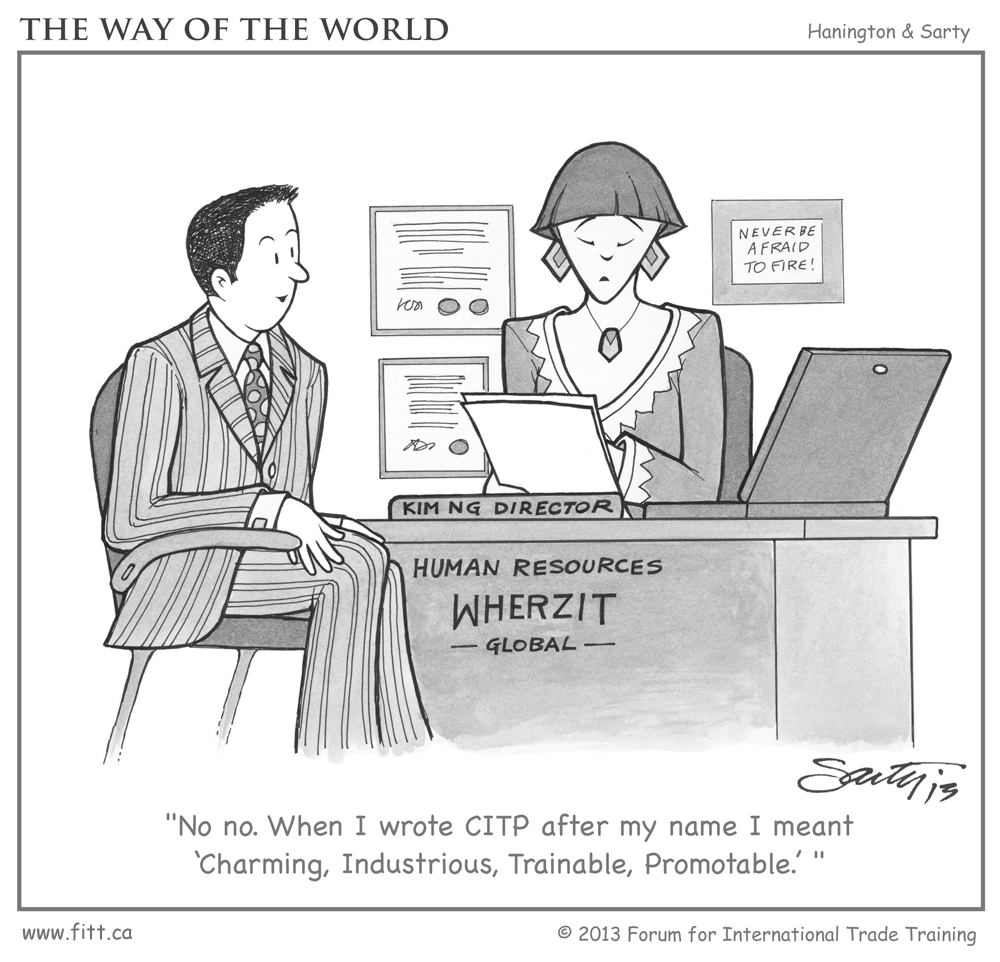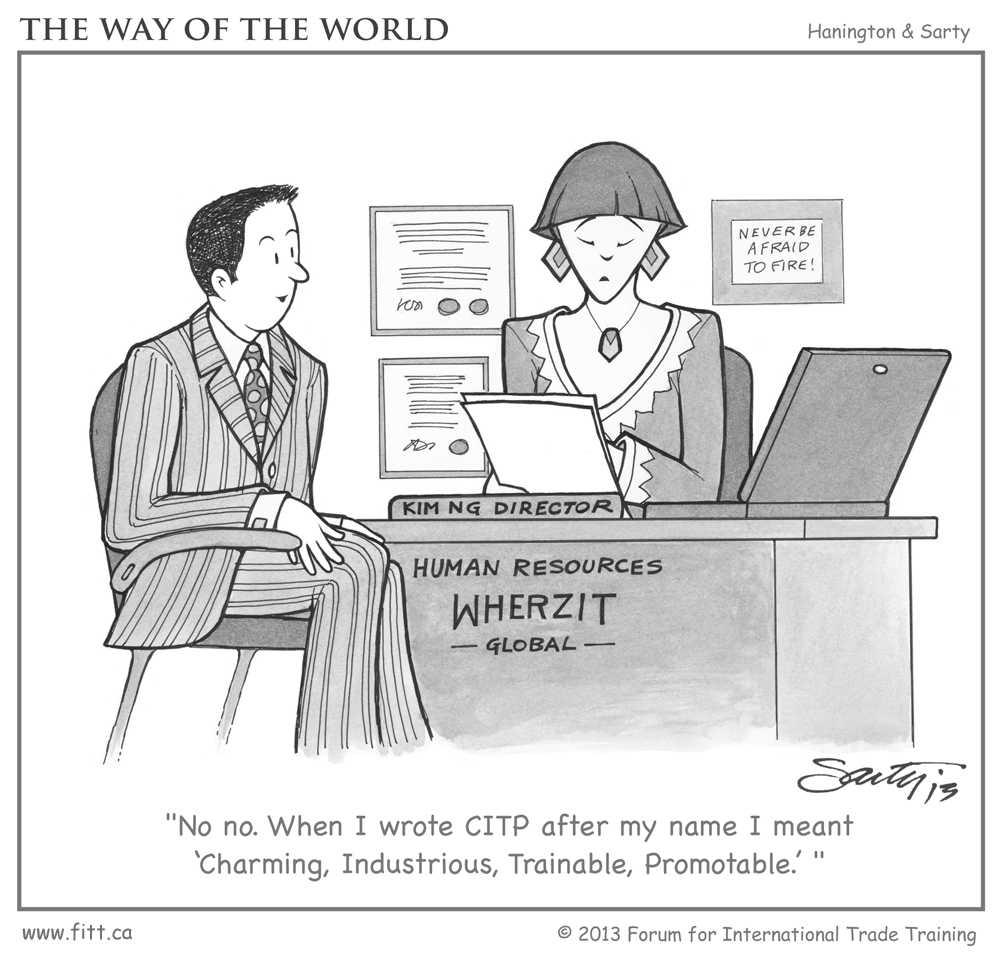 The Certified International Trade Professional (CITP®) designation has been around for more than 15 years. It was the first professional designation in the world created to prove an individual's level of competency and experience in international trade.
It remains the only designation of its kind to be recognized by the Canadian government and the World Trade Centers Association.
But what does it really mean to be a CITP®?
We recently spoke with several of these global-business-savvy individuals to find out what the designation has meant to them. Here's what they had to say:
"The CITP designation was the natural educational choice to ensure distinction for my personal career.  It was the perfect addition to being a certified freight forwarder and both certified/licensed Canadian Customs Broker.   Being recognized as a CITP requires both textbook education and practical international trade experience.  This noted designation has assisted to create the confidence required to smoothly manage the complex logistics required in my current position needed for creating, implementing and maintaining international trade processes and programs.
The CITP designation has supported and enabled my successful promotion to the position of Logistics Manager for a Crown Corporation.
By holding the CITP designation I am able to understand international trade from all possible trade partner aspect to include but not limited to:  procurement, legal contracting, customs compliance, risk management, freight forwarding via all modes of transport for both import/exporting, distribution and manufacturing processes."
Mike Au, CITP, CCLP, CMILT, P.Log
"Being a CITP means that I possess the core competencies needed to compete in today's global business environment, and that I value continuous learning and professional development in international trade.
The CITP designation is about mastering international trade skills and business knowledge. 
Having the CITP designation has further validated my commitment to engaging with organizations of integrity with ethical business practices, which is essential when conducting international business."
"In 2003, I started working as an intern at the World Trade Centre Atlantic Canada and was offered a chance to complete the FITTskills training. This gave me the necessary knowledge and helped me  understand how international business is done in Canada, and subsequently acquiring the CITP designation provided me with the confidence to perform quality business services for Atlantic Canadian companies involved in international trade.
As part of the CITP network, I have gained professional recognition and respect of my colleagues.
Also, being a CITP provides me with access to Harvard ManageMentor as a valuable tool for continuing education and further career development."
"The CITP designation was crucial for obtaining my current teaching position and also for adding to my credibility with my students. The CITP helps to convince them from the start, even before they have had a chance to work with me, that I have the skills required to help them understand the complexities of international business as it is today.
The CITP designation has enabled me to achieve a strategic position in the international trade industry.
In my personal case, my experience and diploma in international business have made it possible for me to offer my professional services to educational institutions and SMEs. In my current job as a professor, the CITP has given me official recognition of my level of professional competency.
Actually, I am very happy because I have the opportunity to apply my educational background and professional experience to collaborate in the formation of future Canadian business leaders. I have also recently started my own consulting company, IBS. Prospective customers have said they would like to work with a CITP because it guarantees you are a serious professional."
[learn_more caption="Learn more about the elite CITP® designation"]
International Business Certification—CITP®/FIBP®
Advance your career and build your professional credibility in the field of global business by earning the Certified International Trade Professional (CITP) designation.
Why Earn the Certified International Trade Professional (CITP®) Designation?
The Certified International Trade Professional (CITP®) designation is the world's leading professional designation for the field of international business. So whether you're new to global trade or have over a decade of direct experience, you'll find the CITP® designation can help advance your career and build your professional credibility.
The CITP® designation sets you apart in the competitive international business industry because it's proof you possess the competencies global business experts have identified as being essential for a successful career in international trade. It also recognizes your dedication to ethical business practices and ongoing professional development—both of which are desirable traits for today's global business practitioners.
[/learn_more]