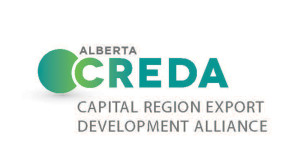 Company: Capital Region Export Development Alliance (CREDA)
Position: Export Consultant
Location: St. Albert, AB
The (Alberta) Capital Region Export Development Alliance (CREDA) encourages regional businesses to increase their export sales thereby expanding the regional economy and creating high value jobs. CREDA is a municipality-led regional economic development initiative, leveraging the combined export knowledge and resources of the Federal and Alberta Governments, the partner municipalities and key non-profit organizations for the benefit of regional businesses. Currently CREDA partners include: City of Edmonton, Town of Bon Accord and the City of St. Albert.
CREDA is seeking an Export Consultant to develop a model(s) to achieve the objective above.  The model will be developed in collaboration with CREDA's existing municipal partners.
CREDA is intended to be a virtual organization that will be self-sustaining.
The model should contain an action plan/strategies that include the following:
Recruitment of members; both municipalities and individual businesses
A recommended sustainable financial model
A recommended governance model
Processes and accountabilities for CREDA's budget and financial management activities
Development of an Export Readiness Assessment toolkit. Toolkit would help businesses determine whether they are ready for exporting by examining critical human, financial, legal and distribution issues
Processes and responsibilities for the development of marketing materials
Research framework in order to conduct research on the export market
Development of export seminars on relevant topics by being a subject expert or connecting the membership with a subject expert
Organization of annual foreign trade delegations
Qualifications:
Expertise in exporting
Sound knowledge of existing programs (Provincial/Federal)
Ability to build rapport with municipalities and businesses
Highly developed writing and editing skills and excellent verbal communication skills and presentation skills
Able to work autonomously and find innovative solutions to exporting issues
Once the model is developed the consultant will be required to test model through implementation. An administrative resource (limited) will be available through the City of St. Albert; as well office space may be available.
On behalf of CREDA, the City of St. Albert will be accepting proposals.  A maximum amount of $60,000.00 has been allotted to this project; this must include the development and implementation of model; however, implementation of model may be proposed as a separate contract. Proposals will be accepted until 5 p.m. November 19, 2014 and should be sent to jbarber@stalbert.ca. Please mention the job posting on the FITT online network in your application.
Any questions regarding this project should be directed to:
Joan Barber
Manager, Business Retention & Expansion
City of St. Albert
780.459.1725