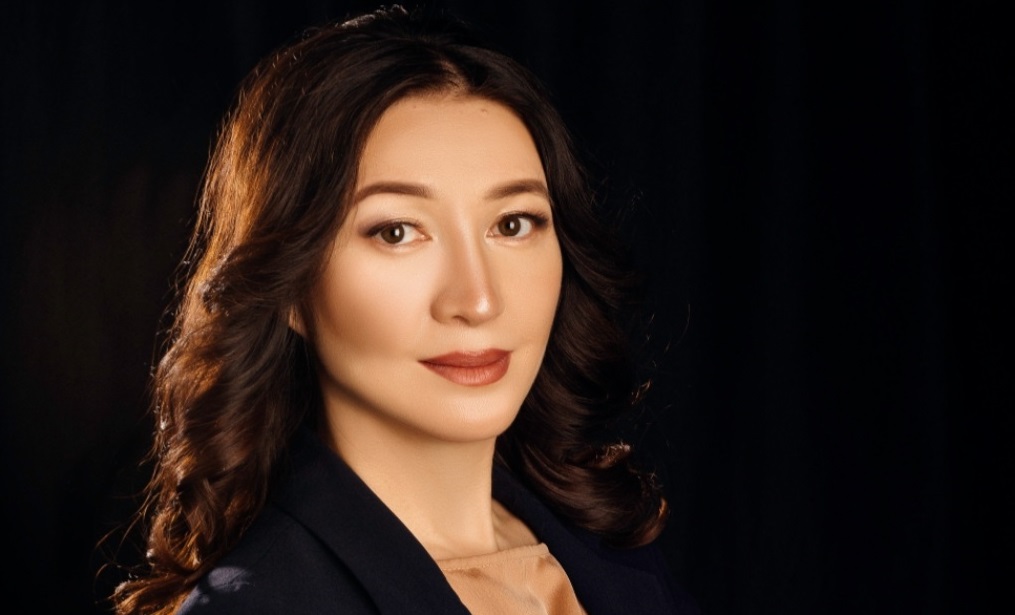 Earned her elite CITP®|FIBP® designation: Oct 2021
Gaukhar Kydrykhanova's fascination with international trade began when, as a thirteen-year-old, she developed an interest in the problems caused by illicit cross-border trade. This spurred her to devote many of her initial years as a student to doing intensive research on the issue of international drug trafficking.  
"I learned about the important impact that international trade is making on the regional development and reduced transnational crime. But research was not enough. I wanted to bring in practical change." 
Gaukhar earned the Presidential Scholarship to complete her Master's program from the University of Birmingham, UK. Upon her return to Kazakhstan from the UK, she was recommended by the scholarship administration team to be considered for an expert job role at the Kazakhstani Ministry of Industry and Trade. Gaukhar joined Kazakhstan's WTO accession team on a cold February day, which marked the beginning of an incredible career full of exciting adventures and interesting discoveries.   
Playing a lead role in organizing the women leadership initiative 
Women's leadership is an essential topic in both Canada and Kazakhstan. Therefore, it was a matter of pride for Gaukhar to allocate her efforts and resources to plan and organize a visit with prominent women in business and female policy-makers from Canada. It was equally fulfilling to see well-known and inspiring women from Kazakhstan come to the event in huge numbers to support the round-table discussions. What followed was a series of illuminating speeches, debates, and an exchange of ideas centered around women's leadership in Canada and Kazakhstan.  
"Many of the interactions went on to result in interesting projects. But, more importantly, I witnessed a broader change in the wider public consciousness that continues the trend towards progressive and inclusive transformation." 
Another exciting task she was involved in was building a project with the British Gas company. It was a complex and impactful learning experience as supporting large transnational corporations required a meticulous, all-around approach.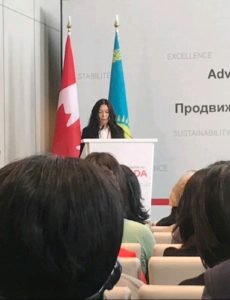 Facilitating many official visits from Canadian ministers to Kazakhstan 
With Canadian-Kazhakstani relations having significantly expanded over the last decade in multiple sectors, such as IT, Fintech, consumer goods, life sciences, and many others, Gaukhar feels proud to have been a part of this growth. She has played an instrumental role in facilitating many official visits of Canadian ministers to Kazhakstan. Coordinating these visits was often a challenge as it entailed multitasking, attention to detail, strong analytical, organizational, and troubleshooting skills. 
These experiences encouraged her to tap deeper into potential and grow professionally.  
"A few years ago, I was selected for an assignment in the regional offices in Canada. I had an exclusive chance to get exposure to the work delivered by the regional offices in several provinces across Canada. It was an interesting project that has helped me to learn about and take part in the processes that are developed in Canada, before clients' expansion to the export markets." 
Follow your inspiration in International Trade 
In her fifteen years of experience in the profession, Gaukhar has learned to persevere in the face of difficulties and always to have faith in her abilities. Her valuable nugget of advice to those just starting their careers is to believe in their talents and face the challenges head-on with confidence and determination. 
Also, coming from a country that is home to diverse cultures, Gaukhar has had vast experience in dealing with people from varied backgrounds. However, taking the FITTskills courses helped her broaden her knowledge on the different cultures and equipped her with the practical skills to hone her interpersonal abilities.  
"I now feel empowered in facilitating more CSR projects and bringing my stakeholders to a new level of success." 
Understanding international trade finance from a new perspective
Although she found each of the FITTskills courses informative and illuminating, her favourite is the "International Trade Finance" course, as international banking has always been a topic of particular interest for her. The course helped her develop a better understanding of the work that she had been facilitating for many years in partnership with her colleagues from Export Development Canada. 
"This course has helped me understand the processes from the perspective of a bank officer. My interactions and meetings with EDC colleagues in Ottawa, close in-person work with my colleagues from EDC in Moscow, and this course have helped me to understand the perspective of an international banker." 
Learn how to properly manage your cash flow and mitigate financial risk by selecting appropriate transaction methods and tools for international trade activities. It's all in the FITTskills online International Trade Finance course.


Becoming a part of a community with shared professional interests, values, and passions 
Gaukhar decided to formalize her knowledge and expertise in international trade by applying for the Certified International Trade Professional (CITP) designation, a globally recognized competency benchmark for business professionals. It would allow her to both learn from a vast network of seasoned international trade professionals and share her own expertise culminated from her decade and a half-long tenure in the profession. 
When Gaukhar's application was approved in October 2022, she felt truly honoured to join this elite group. Not only would she stay up-to-date with the latest business skills and industry-leading knowledge, but it would grant her greater professional credibility on a new global level. 
"It felt like an important milestone opening the door to take part in connecting with like-minded counterparts, who just like me are deeply passionate in international trade, developing and sharing the best approaches and practices of our profession." 
Spurred on by her achievement of earning the prestigious designation, Gaukhar is excited at the prospect of new business opportunities coming her way. The credential also inspires her to take on a new level of responsibility and understanding while approaching her clients. It is motivating her to work harder on all her projects. 
We're excited to see Gaukhar forge ahead with confidence and determination, scaling new heights of success as she achieves all the goals she has set for herself—and more! 
Learn more about the CITP®|FIBP® designation
INTERNATIONAL BUSINESS CERTIFICATION—CITP®|FIBP®
Advance your career and build your professional credibility in the field of global business by earning the Certified International Trade Professional (CITP) designation.
Why Earn the Certified International Trade Professional (CITP) Designation?
The Certified International Trade Professional (CITP) designation is the world's leading professional designation for the field of international business. So whether you're new to global trade or have over a decade of direct experience, you'll find the CITP designation can help advance your career and build your professional credibility.
The CITP designation sets you apart in the competitive international business industry because it's proof you possess the competencies global business experts have identified as being essential for a successful career in international trade. It also recognizes your dedication to ethical business practices and ongoing professional development—both of which are desirable traits for today's global business practitioners.
*Certified International Trade Professional (CITP) is trademarked for use within Canada. FITT International Business Professional (FIBP) is trademarked for use internationally. Both reflect the same FITT-certified designation. 
**Note: This represents one of the current pathways to the CITP. Based on FITT's application for ISO 17024 accreditation, this process will change as of January 1, 2023