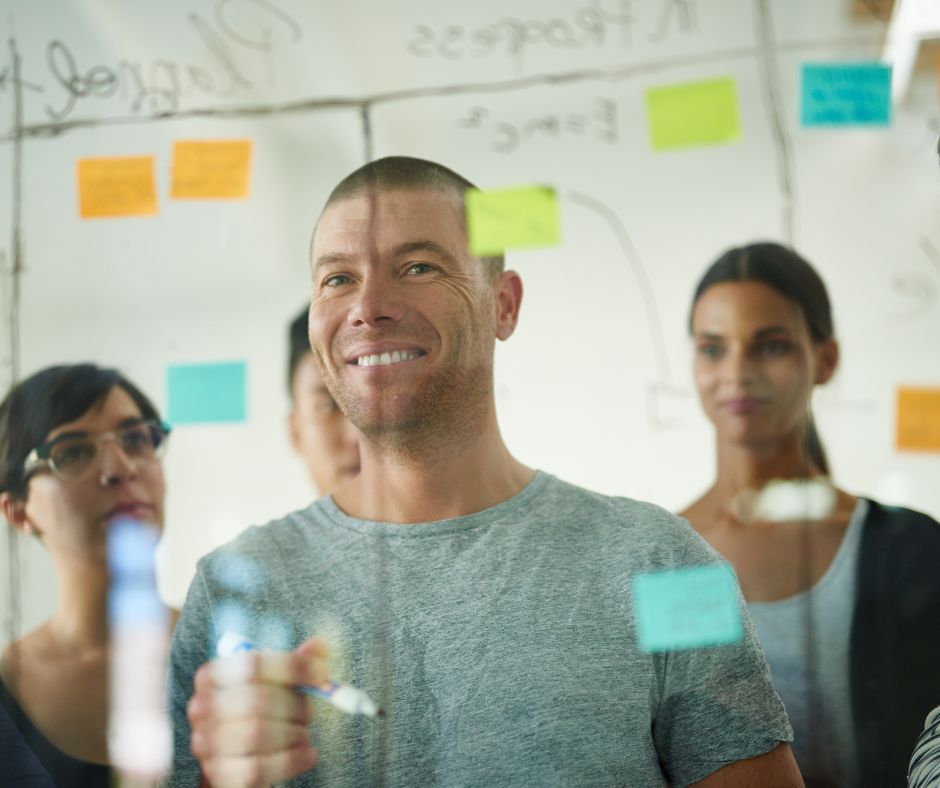 An international business plan acts as a framework that identifies goals and objectives, specific target markets and clients, resources required and strategies to be developed in pursuit of international business opportunities. The plan allows for the monitoring of progress via metrics against which success and failure can be measured. A comprehensive international business plan will be comprised of a number of integrated strategies related to business functions, including communications, sales and marketing, finance and production.
What Is an International Business Plan?
An international business plan is a valuable management tool that describes who a business is, what it plans to achieve and how it plans to overcome risks and provide anticipated returns. It can be used for a wide variety of purposes, such as to:
Set goals and objectives for the organization's performance.
Provide a basis for evaluating and controlling the organization's performance.
Communicate an organization's message to managers and staff, outside directors, suppliers, lenders and potential investors.
Help the planner identify the cash needs of the business.
Provide benchmarks against which to compare the progress and performance of the business over time.
A comprehensive and detailed plan forces the planner to look at an organization's operations and re-evaluate the assumptions on which the business was founded. In doing so, strengths and weaknesses can be identified.
Although highly dependent on the individual business case, on average it takes a three-year commitment to establish a successful presence in a foreign market. This process may require tremendous human, technical and financial resources during the developmental period.
Want to learn more about conducting proper research, selecting the most effective entry strategy and implementing it efficiently? Check out the FITTskills International Market Entries Strategy online course!

The Planning Process
An international business plan is subject to repeated adjustment and revision to keep it current with the changing circumstances of the organization. The plan is a feedback mechanism through which new information is continually incorporated into the organization's operations. Planning always precedes action. Therefore, planning must be thought of as a continuous cycle. The analytical tools presented here are not intended to be used just once. If they are to be useful, they should be used repeatedly as part of a process of improvement and incremental adjustment.
Plan Preparation Guidelines
These 7 guidelines will help in preparing a comprehensive international business plan:
Clearly define the objectives for producing the plan: Who is going to read the plan, and what will they need to do? These objectives can help you decide how much emphasis to put on various sections.
Allocate sufficient time and resources to thoroughly research the plan: A plan is only as good as the research that went into producing it.
Show drafts of the plan to others: It can be very useful to obtain feedback from others, both inside and outside the business.
Create an original plan that is done specifically for each business case: A common mistake entrepreneurs make is to borrow heavily from a sample plan and simply change the names and some of the numbers. There are two big problems with this approach. First, the emphasis placed on various sections of the plan must reflect what is important to the particular business in question. Second, a good plan should flow like a story, with the sections working together to demonstrate why the business will succeed. Plans that borrow too heavily from other plans tend to be disjointed, with some sections contradicting others and various key issues left unaddressed.
Outline the key points in each section before the writing starts: These points must then be reviewed to ensure the sections are consistent with each other, there is little duplication and all key issues have been addressed.
Ensure financial projections are believable: For many readers, the financial section is the most important part of the plan because it identifies the financing needs and shows the profit potential of the business. In addition, a good financial plan will give the reader confidence that the author really understands the business.
Consider writing the executive summary as the last step in the process: It is usually easier to provide a concise overview after the detailed content has been created.
If you're having trouble getting started with your business plan, try writing like it's a series of tweets—one for every section of your business plan. To get your point across, 140 characters is all you need.
Forcing yourself to boil each section of your business plan down to one main point is an exercise in decision making and strategy all in itself. When you're done, you'll have everything you need to take your next step, whether that's practicing your pitch to potential investors or a business partner, or sitting down to expand each tweet into a full section of a more traditional business plan.
Core Content
The international business plan is the culmination of all of the work done to determine the appropriate venture for the organization's growth. As part of the feasibility process, the organization will have determined its own internal readiness, conducted comprehensive target market research and carefully analyzed any relevant risks.
For more information on this topic, see the FITTskills Feasibility of International Trade online course.

At this point, the organization can take all of this information and analysis and formally document the plan for moving forward. There are many different models and examples of how to put together a formal business plan, rather than one correct way.
The right format will depend on the organization, the venture being pursued and who will be accessing the business plan and for what purpose. However, there are some basic guidelines to follow.
One of the reasons business plans are developed is to convince investors and/or bankers to invest in the venture.
Increasingly, they are looking for a business plan to include two sections: one relating to online strategy (in terms of e-marketing, social media and ROI) and the second relating to corporate social responsibility (including quality, health, safety and environment policies).
The inclusion of these topics gives more credibility to the company by demonstrating its commitment to the community and to employees' well-being.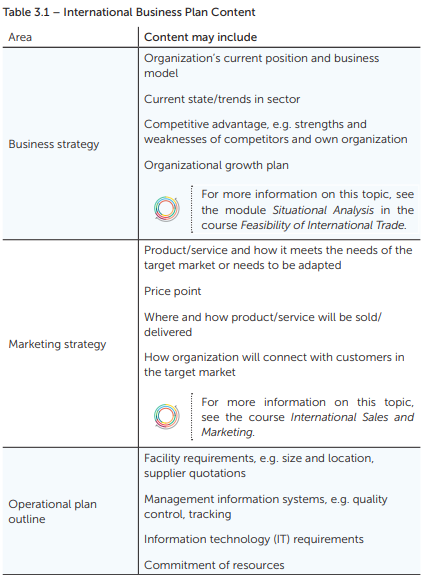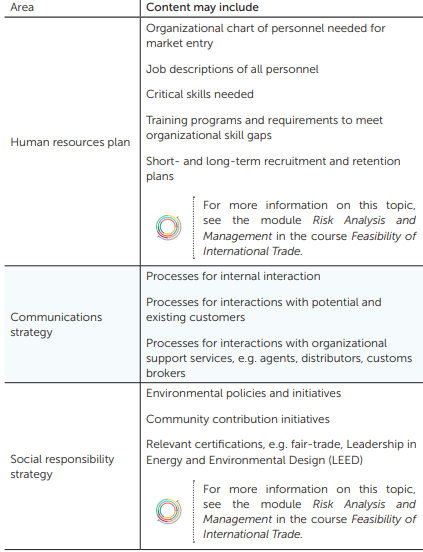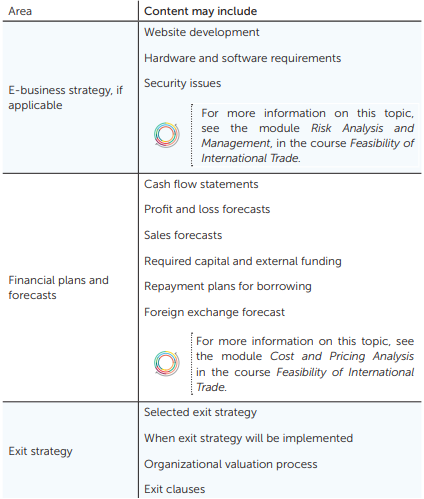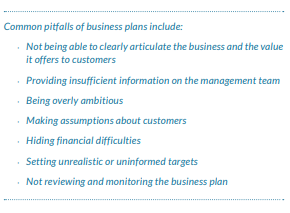 Telling a Story 
One trend in business planning is to use a narrative structure in the document, rather than traditional technical writing techniques. Storytelling techniques are increasingly being used throughout the business world to create personal and organizational brands, deliver marketing messages and develop persuasive plans.
Stories make presentations better. Stories make ideas stick. Stories help us persuade. Savvy leaders tell stories to inspire us, motivate us. That's why so many politicians tell stories in their speeches. They realize that "what you say" is often moot compared to "how you say it.
Instead of using bulleted points and cold, technical language, organizations employ a "beginning, middle and end" narrative style. This engages the audience by establishing the context, describing the conflict or obstacles and arriving at a successful resolution.
The Executive Summary
Usually the last step of preparing the international business plan is to develop the executive summary, a short overview of what the plan proposes to accomplish. For some purposes, a one-page business plan can also be useful.
There is not a great deal of difference between an executive summary and a one-page business plan. The most significant distinction is the one-page plan must completely fit on one page in a readable font, while an executive summary may spread over two or three pages.
One-Page Business Plan
There is a trend towards the one-page business plan, especially if the plan is to be presented to potential partners for their consideration. Audiences for the one-page plan will be looking for a "quick hit": a clear and concise description of what the opportunity is and how it is being pursued.
For example, a one-page business plan might include the following topics, as described in Noah Parson's article "How to Write a One-Page Business Plan" on the website Bplans:
Customer problem/opportunity
Your solution/approach
Business model (how you make money)
Target market (who is the customer and how many are there)
Competitive advantage
Management team
Financial summary
Funding required
The one-page plan (or the executive summary, if used in place of the one-page plan) may provide the first impression the audience has of the business. This is the most important document generated out of the business planning process, and significant effort and care should be taken in its creation.
There are many websites the provide blank samples of one-page business plans, including Bplans, the GoForth Institute and Startup.com.
A Note on Strategic Plans
A strategic plan covers many of the same points as a business plan. However, a strategic plan sets out the detailed action plan to be followed to achieve the objectives of the international business plan.
It must outline specific activities, their due dates and who is responsible for each activity. It is a project plan with a critical path. A strategic plan ensures any venture is carried out in a coordinated, informed and systematic way.
A key consideration in action planning is how quickly to enter the market, which is driven by the chosen market entry strategy. If market entry is done too quickly, the potential for costly mistakes increases. However, if it is completed too slowly, opportunities may be missed and competitors will have more time to react.
The Planning Cycle
Attaching the word "cycle" to planning implies that it happens more than once. International business plans need to be reviewed periodically because new information that has an impact on both planning and operations is continually coming in.
All plans, including international business plans and strategic plans, need to be reviewed every time there is a major event impacting the business, such as civil unrest, a currency fluctuation or the presence of a new competitor.
This article is an excerpt from the
FITTskills International Market Entry Strategies course
. Excel in new markets by establishing and managing strategic global business alliances through use of research, evaluation, negotiation and continued communication.
Learn more!