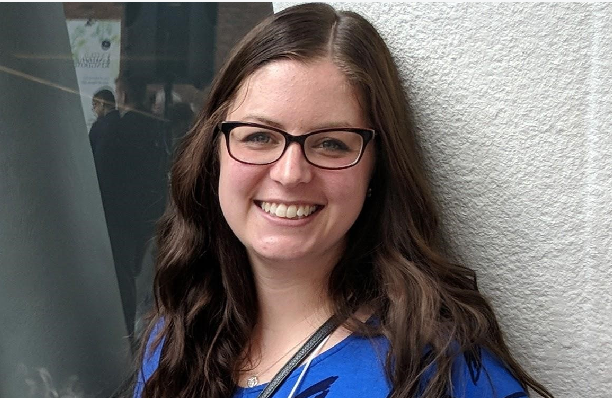 Earned her elite CITP®|FIBP® designation: June 2021
Laura Pixley always knew she wanted a career in international business. Based on her lifelong passion for travel and trade, she enrolled in the Bachelor of Commerce program for International Business at Humber College in 2008. After earning her degree, she worked a variety of jobs that led her closer to her goal.
Her path has led her to her self-proclaimed dream job working as a trade officer for the UK Department for International Trade. The job has given her a front-row seat for important trade talks and trade deals at a crucial time in British politics.
Making connections around the world
Laura's role as a senior trade officer for food and drink takes her around the world to international food and drink trade shows. At the same time, she gets to host foreign visitors in the UK, giving them access to the specialty foods and beverages that UK sellers have to offer. Those opportunities allow her to connect with people over their common interests
"It's incredible meeting with so many brilliant people—suppliers and buyers alike— and forming new relationships with people you would've never met otherwise if you weren't all working in the same field."
Playing a part in historic trade deals
Working with the UK Department for International Trade while the British government navigates its exit from the European Union has given Laura a front-row seat to new trade relations and regulations. Within just a few years, she has witnessed new trade agreements, trade negotiations, regulatory changes and more, while still playing an important role in bringing new goods to British markets and introducing British goods to foreign markets.
"I'm very proud of how much I've learned about international trade policy, technical regulations, Incoterms®, agricultural products, and many other regulations since graduation. It's also incredibly rewarding walking through a grocery store or liquor store and seeing an imported product on the shelf that I helped bring to market."
The importance of dedication
Throughout her career, Laura said the one thing she has learned is that building a career in international trade takes hard work and dedication. Most of what takes place in international trade doesn't come easily, and professionals in the field must be willing to put in plenty of hard work, time, and dedication to achieving their goals.
Demonstrating a commitment to the field with the CITP|FIBP designation
Earning the CITP designation had been a goal of Laura's since she first learned about it as a university student studying international business. "To me, it's a testament of dedication to international trade and a badge of honor within the industry."
FITT's program allowed her to work at her own pace while earning the designation, and the coursework provided her with practical knowledge and real-world case studies. The knowledge she gained gives her a foundation that she can refer back to as needed and opens doors to further her career.
"The CITP designation will help open new doors for me when I decide to take the next steps in my career by providing to potential employers or stakeholders that I have the knowledge and the skills to succeed in the field of international business."
Her favourite FITTskills course
Laura enjoyed learning about all the areas of international business throughout her training, but she did have one particular course that stood above the rest:
"My favourite FITTskills course was Products & Services for a Global Market because I'm a regulatory nerd and I enjoy learning about technical compliance, labelling, laws, regulations, etc., as well as the human side of the business, like understanding consumer demand and cultural preferences.

Learn how to adapt your products and services to the regulations and requirements for selling in international markets with the FITTskills Online Course: Products & Services for a Global Market.
With so much accomplished already, we know Laura is bound for seemingly limitless possibilities on the horizon. There's no doubt that the future will bring exceptional success to this young and talented rising star.
Learn more about the CITP®|FIBP® designation
INTERNATIONAL BUSINESS CERTIFICATION—CITP®|FIBP®
Advance your career and build your professional credibility in the field of global business by earning the Certified International Trade Professional (CITP) designation.
Why Earn the Certified International Trade Professional (CITP) Designation?
The Certified International Trade Professional (CITP) designation is the world's leading professional designation for the field of international business. So whether you're new to global trade or have over a decade of direct experience, you'll find the CITP designation can help advance your career and build your professional credibility.
The CITP designation sets you apart in the competitive international business industry because it's proof you possess the competencies global business experts have identified as being essential for a successful career in international trade. It also recognizes your dedication to ethical business practices and ongoing professional development—both of which are desirable traits for today's global business practitioners.
*Certified International Trade Professional (CITP) is trademarked for use within Canada. FITT International Business Professional (FIBP) is trademarked for use internationally. Both reflect the same FITT-certified designation.
**Note: This represents one of the current pathways to the CITP. Based on FITT's application for ISO 17024 accreditation, this process will change as of January 1, 2023