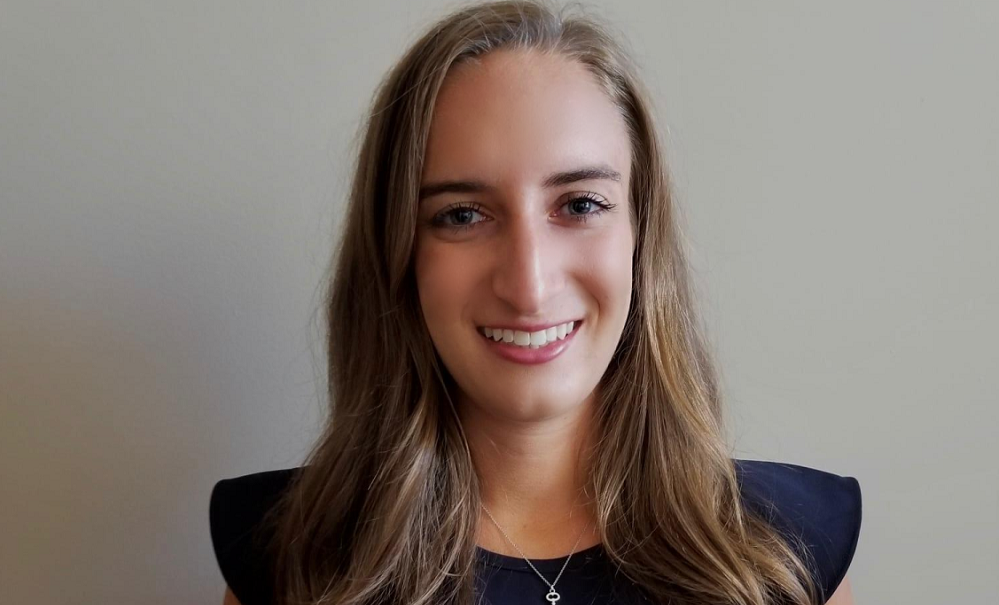 Earned her elite CITP®|FIBP® designation: Nov 2020
If there was one field that offered a stimulating blend of Kristyn Hribar's fascination for learning about different cultures and her keen interest in the various aspects of trade, it was international business. The coming together of her two top passions led her to pursue the International Business Program at Algonquin College and complete her Bachelor of Commerce degree from Carleton University. 
Kristyn's work experiences at Global Affairs Canada, an Ottawa-based International Advisory and Consulting firm, and Agriculture and Agri-Food Canada left no room for doubt that international trade was indeed her true calling. 
An opportunity to work with 

trade commissioners early on in her career
As someone who got to work with trade commissioners early on in her career, Kristyn believes she has been lucky—especially when working with trade commissioners located abroad. While most of her communication with them had previously been through emails and phone calls, she had the good fortune of interacting with them in-person in the winter of 2019 during their cross Canada tour. It was a wonderful networking experience for her to be able to personally meet and greet her "long-distance" colleagues.   
The fulfillment of taking an idea from concept to fruition 
The nature of Kristyn's work presents her with the opportunity to handle projects across a wide range of areas in the agriculture and agri-food sector. Working with various government departments, industry associations and international promotional agencies to accelerate the development of foreign direct investment into Canada has given her the chance to learn about different sectors, markets and companies. She feels a sense of immense satisfaction while watching her efforts with foreign investments progress from the idea to the realization stage. 
"Knowing that my work has an impact on the lives of Canadians across the value chain, including farmers, producers and consumers, drives me to provide clients with world-class service. I am passionate about supporting FDI efforts to help make foreign investments a reality."
Kristyn is currently working on analysis for the venture capital market for Canadian agri-food and technology, where she has been attending various virtual webinars, pitch sessions and conferences.  
"I enjoy learning about the various companies in this space and have also had the opportunity to work with some unique businesses. I'm excited to see how the market evolves."
The value of networking and mentorship 
Kristyn says she is lucky to have understood the importance of building professional networks very early on in her career journey. The pandemic hasn't made it any easier, however, she believes it's still possible to network in these difficult times if you can add a bit of creativity to it. Also, with the virtual environment having almost become the norm these days, it presents opportunities to network with people across the globe—something we may never have had the chance or felt the need to do before. 
"I can testify that without networking I wouldn't be where I am today."
Another crucial bit of advice Kristyn would like to share with budding international business people is to seek out many mentors in your field. Speak to them about your career aspirations, ask questions and gain different perspectives from them. She firmly believes that she has been fortunate to find mentors who have been able to stimulate her growth professionally as well as personally, helping her build valuable connections and shaping her career graph to what it is today.  
Trade training that explores the myriad dimensions of International business
Kristyn took FITTskills courses through Algonquin College and believes that the training has added a great deal of value to her knowledge—both practical and theoretical. She also believes that this training will keep her in excellent stead throughout her career.  
"I have learned so much and continually apply the things I have learned in my day-to-day work. I believe learning terms like greenfield and brownfield investments and how to properly conduct an International Marketing strategy has put me at an advantage."
Her favourite course was International Market Entry Strategies because it taught her to make an informed decision by identifying and evaluating strengths, opportunities, weaknesses and threats. Working on the project related to this course helped her develop her research and analytical thinking skills, along with getting an opportunity to connect with trade commissioners while collecting market information.  
"For this project, I felt like I was a trade commissioner myself and now feel prepared and equipped to be one in the future."
For Kristyn, it was a logical culmination of her trade education to apply for the CITP®|FIBP® designation as soon as she fulfilled the professional experience requirements for the same. She was awarded with the esteemed certification in November 2020 and feels confident in the added credibility it lends to her professional profile. For Kristyn, earning the credential evokes a sense of pride and excitement, and adds to her happiness at being in a promising career that she is so passionate about.
"As I aspire to be a trade commissioner abroad, I have no doubt that the CITP designation will present me with opportunities that I couldn't even imagine. I believe the CITP will add credibility when applying for jobs and when working with international clients."
Propelled by her desire to make a positive impact on Canadian and global economies, and equipped with the expertise to match, Kristyn seems poised for an exciting and fulfilling career ahead.  
Learn more about the CITP®|FIBP® designation
INTERNATIONAL BUSINESS CERTIFICATION—CITP®|FIBP®
Advance your career and build your professional credibility in the field of global business by earning the Certified International Trade Professional (CITP) designation.
Why Earn the Certified International Trade Professional (CITP) Designation?
The Certified International Trade Professional (CITP) designation is the world's leading professional designation for the field of international business. So whether you're new to global trade or have over a decade of direct experience, you'll find the CITP designation can help advance your career and build your professional credibility.
The CITP designation sets you apart in the competitive international business industry because it's proof you possess the competencies global business experts have identified as being essential for a successful career in international trade. It also recognizes your dedication to ethical business practices and ongoing professional development—both of which are desirable traits for today's global business practitioners.