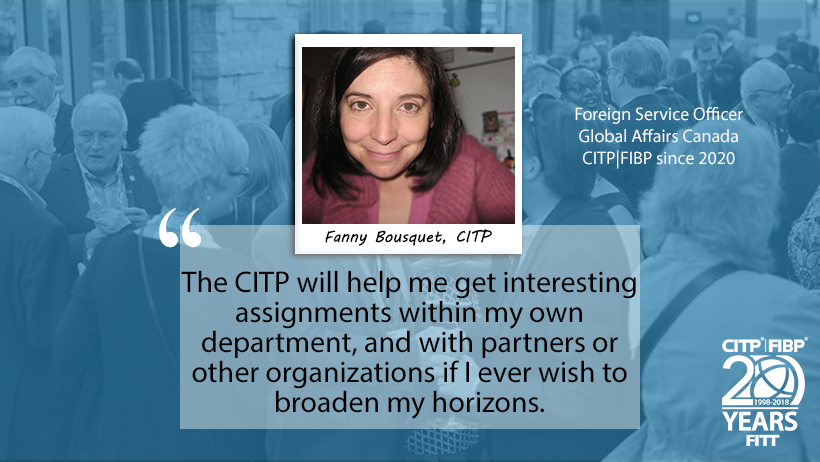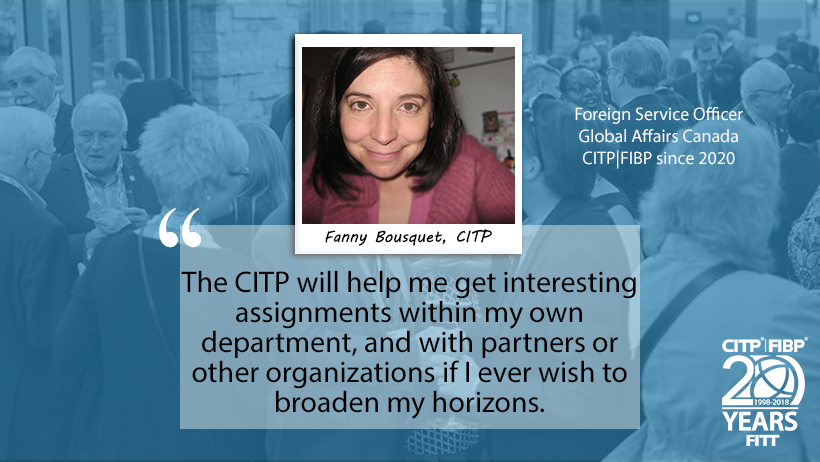 Earned her elite CITP®|FIBP® designation: Oct 2020
It was a combination of chance and realizing where her calling lay that led Fanny Bousquet to pursue a career in international trade. She had joined Global Affairs in 2011, but in more of a policy role. One of her assignments there was a posting to Dusseldorf, Germany as a trade officer. That experience was to prove to be a turning point in Fanny's professional journey as it showed her where her inclination lay. 
I enjoyed my experience so much that I decide to keep working in that stream when I came back to Ottawa and landed a very interesting job in the cleantech sector.
Deciphering complicated technological terminology in German
An unforgettable incident is also one of her favourite career stories from the time of her first trade show in Stuttgart, Germany. The trade show took place only two months after she had joined that post and focused on hydrogen and fuel cells. Fanny was expecting everyone to speak English but soon realized that most companies were far more comfortable speaking German. This meant that during the event she had to put in that extra bit of effort in trying to figure out what all those long and technical German words really meant.  
Organizing trade shows and overseeing Canadian participation at International events
Fanny's career highs include coordinating the Canadian presence at IFAT, the largest European cleantech trade show taking place in Munich every alternate year. She worked with her provincial counterparts to organize a B2B program for the dynamic cohort of Canadian cleantech SMEs participating in the event. 
More recently in 2017, Fanny also organized a Canadian information stand at LIGNA, a large wood-related machinery show in Hanover. 
Learn something from every individual you meet
A valuable nugget of advice she would like to share with us is the importance of talking to everyone and of being a good listener. Even though not everyone is necessarily a prime contact, they could still possess knowledge about some key sectors or end up introducing you to some interesting people. Therefore, each person you interact with can potentially help you widen your network and uncover new opportunities.  
Fanny recommends you avoid limiting your participation only to high profile events, as you can learn a lot from attending technical workshops, seminars and conferences. These events help broaden your skills and perspectives and expose you to different schools of thought and action. 
And another practical piece of advice… always wear comfortable shoes when you walk the
 floor of a trade show in Germany!
Acquiring a more wholesome understanding of international trade
Fanny was looking to gain a well-rounded knowledge of global business when she signed up for FITTskills training. The courses enabled her to get a greater insight into the workings of international trade and a better understanding of the problems she had experienced during her professional journey so far.  
The
FITTskills courses helped me acquire a deeper knowledge and understanding of issues I had encountered during my work but I had not fully understood at the time.
"My favourite FITTskills course was International Trade Finance. It helped me to understand more about the payment and insurance options available to exporters." 
Adding credibility to her resume and broadening her horizons
Earning the elite CITP®|FIBP® designation was next on Fanny's agenda. As international trade had not been her original field of study, she knew that this qualification would add credibility to her professional credentials. 
I thought the CITP designation would help validate my experience in international trade, especially that I did not study in that field originally.
Fanny completed all the FITTskills training she needed to apply for the CITP®|FIBP® designation and earned the globally recognized stamp of excellence in international trade in October 2020.  
"I am proud I was able to complete the required courses in two years, while working full-time and being a mother of two still relatively young children!"  
Fanny believes that the designation is sure to bring other exciting opportunities her way. 
"It will certainly help me get other interesting assignments within my own department, or with partners or other organizations if I ever wish to broaden my horizons." 
With energy, expertise and experience on her side, we have no doubt Fanny will continue to achieve everything she aspires for. 
Learn more about the CITP®|FIBP® designation
INTERNATIONAL BUSINESS CERTIFICATION—CITP®|FIBP®
Advance your career and build your professional credibility in the field of global business by earning the Certified International Trade Professional (CITP) designation.
Why Earn the Certified International Trade Professional (CITP) Designation?
The Certified International Trade Professional (CITP) designation is the world's leading professional designation for the field of international business. So whether you're new to global trade or have over a decade of direct experience, you'll find the CITP designation can help advance your career and build your professional credibility.
The CITP designation sets you apart in the competitive international business industry because it's proof you possess the competencies global business experts have identified as being essential for a successful career in international trade. It also recognizes your dedication to ethical business practices and ongoing professional development—both of which are desirable traits for today's global business practitioners.