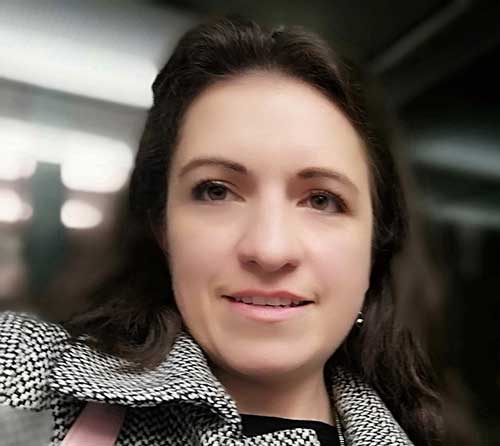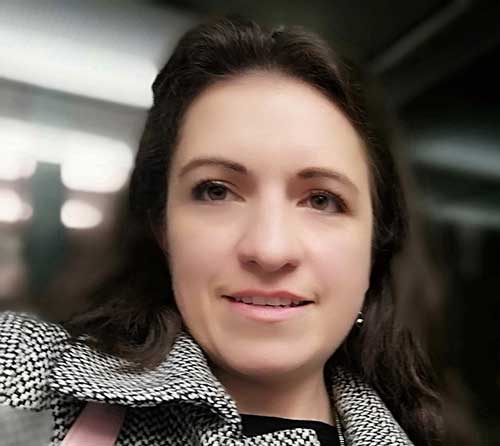 Earned her elite CITP®|FIBP® designation: July 2020
Esmeralda Rodriguez Arias embarked on her professional journey with full gusto and big dreams of being successful in her career. Her first job in 2009 was at the United States Embassy in Colombia, where she soon got promoted to the position of Visa Specialist in the Immigrant Visa unit of the Consular section. 
From the moment she started, she knew that this would mark the beginning of her foray into international trade, as it would give her a better understanding of the nuances of international business and how she could do her bit to further its cause.  
An impromptu decision on the spur of the moment
Esmeralda remembers with amusement the time she made a decision on an impulse, without having consulted her supervisors, only because she wanted to offer timely help to people who most needed it. It was the December of 2017, which is normally a holiday in Colombia. Esmeralda had been in charge of shipping 7 boxes with 300 immigrant visa cases to Cuba to be dispatched that very day. She had prepared and packed the boxes which were to be collected by the courier. At the last minute, due to some unforeseen payment issue, the boxes were not picked up from the embassy as planned. There was only an hour left before the flight would depart, so Esmeralda tried to call her supervisor. There was no response, so without wasting further time, she loaded the boxes into her car and dropped them at the courier service. Fortunately she made it there on time, and the flight left ten minutes later.   
This experience was funny, because I thought that I would be
fired for making a decision without any authorization, but my sense of responsibility told me that I needed to take an immediate action to help all those families.
At the end of the day, Esmeralda's act of going over and above the call of duty to deal with an unexpected situation  spoke volumes of her commitment to her job.  
Career highs and achievements to be proud of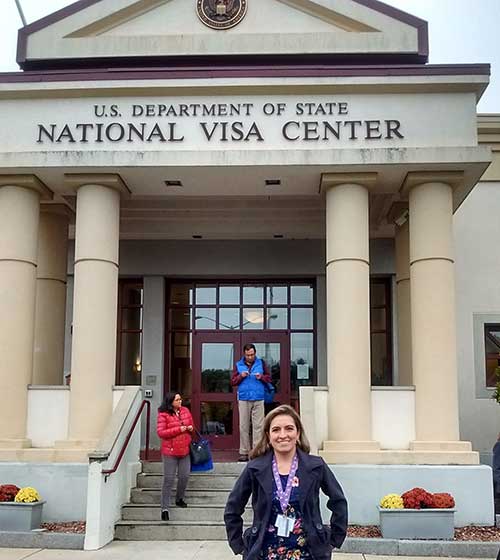 Travelling to Guyana to train the Immigrant Visa Unit in that country is a task that Esmeralda counts among her most memorable ones. She was pleasantly surprised to learn that she also had the ability to train them in Spanish, her native language. This proved to be a fulfilling experience for her as she was able to share her knowledge with her counterparts in another country. 
They were so nice
to me, and I felt that at that moment I was transferring part of my knowledge to them, which made me feel proud and happy.
Esmeralda was also in charge of organizing an Adoption Conference for International Adoption Service Providers with the participation of ICBF (Instituto Colombiano de Bienestar Familiar). It entailed building a strong network with applicants and familiarizing them with the services offered. The event was a success as it gave her team an opportunity to secure applicant contact details and open doors to nurture future communication with them. 
Esmeralda's proudest accomplishment so far has been winning the Employee of the Quarter award.  This is one of the most coveted forms of recognition that an employee for the Department of State can aspire for. 
Flexibility and adaptability are key attributes for a business professional
During the time she worked for the embassy and when she began studying for her International Business Post Graduate Program, Esmeralda learned the importance of molding one's habits and behaviors to match with those of your international clients. 
I learned that when you are dealing with businesses in di
fferent countries you need to adapt to them not only culturally, but also in the way you deal with documents, customers and communication.
International trade training that helped discover her strengths
For Esmeralda, signing up for FITTskills training was an unforgettable experience as these courses helped her to discover something that went on to become her greatest passion – the importance for companies to include the principle of Corporate Social Responsibility (CSR) in their core objectives.   
Her favourite courses are Global Value Chain, International Market Entry Strategies and International Sales and Marketing. 
I liked Global Value Chain because I learned
how to handle inventories, supply and management inside of the businesses; International Market Entry Strategies and International Sales & Marketing because these courses taught me that different products and different customers will need different approaches and marketing strategies to enter into the market.
Esmeralda went ahead with applying for the CITP designation because she wanted to combine her experience and expertise with the validation that the credential brings with it. She is excited about the prospects of new and challenging professional opportunities coming her way with the addition of the elite designation after her name.  
I felt excited, happy and proud of all the e
fforts and challenges I had to overcome before getting this designation. For me, this is proof that all the things that you do with dedication and commitment are possible. I really think that this designation will definitely open doors to a new world and will help me to constitute a successful career.
We absolutely second Esmeralda's confidence and are certain that her professional journey is all set to lead her from one success to the next. 
Learn more about the CITP®|FIBP® designation
INTERNATIONAL BUSINESS CERTIFICATION—CITP®|FIBP®
Advance your career and build your professional credibility in the field of global business by earning the Certified International Trade Professional (CITP) designation.
Why Earn the Certified International Trade Professional (CITP) Designation?
The Certified International Trade Professional (CITP) designation is the world's leading professional designation for the field of international business. So whether you're new to global trade or have over a decade of direct experience, you'll find the CITP designation can help advance your career and build your professional credibility.
The CITP designation sets you apart in the competitive international business industry because it's proof you possess the competencies global business experts have identified as being essential for a successful career in international trade. It also recognizes your dedication to ethical business practices and ongoing professional development—both of which are desirable traits for today's global business practitioners.