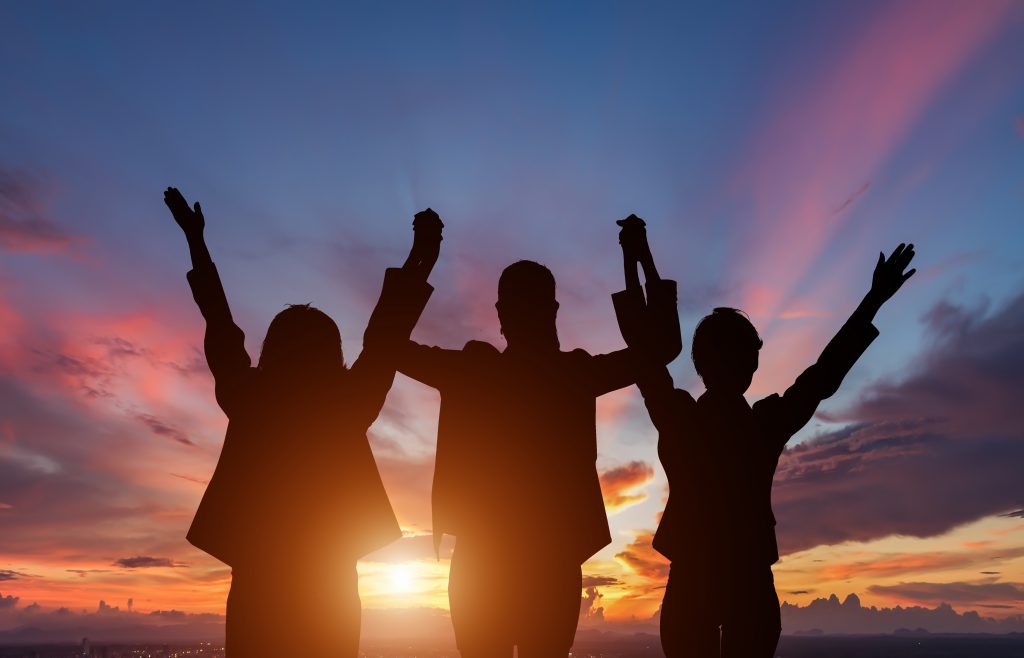 Taking place every year in the third week of October, Small Business Week celebrates Canadian entrepreneurs and their immense contribution to the Canadian economy with nationwide events that offer them opportunities to learn, network, share ideas, and grow their ventures.
To add to these celebrations, recognize the efforts of Canadian entrepreneurs, and make knowledge more accessible to them, FITT dedicated an entire month to celebrating the event. The FITT Small Business Month consisted of an array of activities, from exclusive access to free training opportunities, exciting giveaways and awesome discounts, to an opportunity to get trade-related queries resolved by an expert.
Through these activities, we also received a lot of great advice, tips and insights that can help entrepreneurs in their business journeys.
As a bonus, all newsletter subscribers in the month of October received a free copy of the FITT Small Business Guide: The Scaling Up Edition – a resource providing great insights into launching and expanding a business.
Here's a summary of all the activities, special giveaways and advice for entrepreneurs that marked the month-long celebrations:
1. Facebook giveaway – advice on starting a business
Launched in the first week of October, the Facebook giveaway asked entrepreneurs the one thing they wish they had known before they launched their business.
The question elicited several honest and sincere replies, and three winners were selected to receive the prize of one free FITTskills online workshop each, based on the originality of their answers and other campaign criteria.
Here was the winning advice we received:
Livia Pellerin Carrière, Owner, MobilityJunkie – "I wish I had known how to narrow down my big dream into something scalable instead of launching myself in pursuits of ridiculous grandiose labour I couldn't even work with."
MobilityJunkie helps weightlifters and CrossFit athletes get past the stigma that the sport creates injury by arming them with effective mobility tactics to keep them injury free, increase ROM, keep joints healthy and STABLE.
To connect with her business on Facebook and Instagram, look for @mobilityjunkie.
Nourhan Hashem, Owner, AITYF (Africa Intra Trade Youth Forum), wishes she had known more about "business networking in new markets, planning, monitoring and evaluation."
AITYF is an organization aims at developing the capabilities and skills of African youths on the international trade field to contribute effectively to the Intra Trade growth in Africa.
Dale Schaub, Business Advisor at Business Link says that "Market research/designing products and services with clients' wishes in mind, and proper accounting practices" were the topics he wished he knew more about prior to setting up his venture.
Business Link is a non-profit that helps people start businesses in Alberta. Connect with them on Twitter by looking for @BusinessLinkAB, or with Dale by looking for @daleschaub1.
2. LinkedIn giveaway – advice learned the hard way as an entrepreneur
The following week, entrepreneurs had another chance to win by answering the following question on LinkedIn: What did you learn "the hard way" as an entrepreneur?
The winning response was from Roy Pereira, a serial entrepreneur and tech executive, who offered the following advice:
"Revenue is the best metric for success."
"Your vision is long-term, not the current tactics."
"Fire fast, hire slow."
3. An opportunity to receive free business training
Businesses were invited to apply for free online workshops for a chance to be selected as one of three winners to receive two workshops of their choice each.
The lucky winners were:
Louis Benatshipama, Owner, Impetus Africa| Corporate Sourcing Solutions and Foreign Investment Facilitation – "We make it easy, efficient and risk free for Canadian companies to do business with Africa". Connect with Louis on LinkedIn and Twitter.               
Allan Nichols, President of the Global Canadian Business Forum (@CanadianForum) – "Working with Canadian business organizations abroad, Global Affairs Canada, foreign diplomatic offices and other stakeholders, the GCB Forum provides inspiration, information, and networking opportunities for entrepreneurs looking to grow their business abroad."
Badamtsetset Altansogt
4. To celebrate Small Business Week, all FITTskills online training was 50% off from October 21-25.
5. Twitter pitch event
On October 22, business owners pitched their businesses on Twitter in 280 characters or less for a chance to win one of three free EDC-FITT online workshops to boost their business knowledge and skills.
Here are the three winners along with their pitches:
Peter Deitz, UnWrapIt (@unwrapit)
UnWrapIt is #zerowaste corporate gifting that delivers results. We specialize in creating high-volume & personalized gift experiences that engage and inspire any number of event attendees before, during, or after an event. Reveal anything as a gift with @UnWrapIt_ #eventprofs pic.twitter.com/vhIo6GUjV6

— UnWrapIt (@UnWrapIt_) October 22, 2019
Cozy Intentions (@cozyintentions)
We are a Clothing brand with a cause. Canadian Made, Soft Bamboo Jersey ladies pyjamas. A portion of our sales supports local women's shelters in our province. As an e-commerce store with upcoming opportunity for retail Here & US sales. #womenhelpingwomen pic.twitter.com/mAIhRqPnHG

— Cozy Intentions Clothing (@cozyintentions) October 22, 2019
Doug Lessing, Phin (@phinforgood)
What if you could use your time online and on #socialmedia to create a positive impact? Now you can. Phin offers a new way to incorporate #social causes into your daily online life making it easy to do your part to create a #betterworld.#FITTsmallbizmonth #globalentrepreneur

— PHIN (@phinforgood) October 22, 2019
Doug explains that "Phin is a Pending BCorp which helps companies build relationships with people and meaningful causes by connecting them through sponsored donations." #PhinForGood #BtheChange".
6. Free tickets to the Startup Canada Canadian Export Challenge Event
Interested entrepreneurs could register for and receive, on a first come first serve basis, a limited number of complimentary passes, arranged for by FITT, to the final Canadian Export Challenge event in Toronto.
7. LinkedIn Ask Me Anything (AMA) with Igor Chigrin CITP|FIBP
The AMA session offered entrepreneurs and business enthusiasts a unique opportunity to get their trade-related queries answered by an expert. The session was a huge success with questions pouring in from across Canada and the world. Igor Chigrin, CITP, Export and Import Consultant at Win Global Partners, offered informative solutions and sound advice to every participant, lending a helping hand with some of their most pressing concerns.
Some excerpts from the session: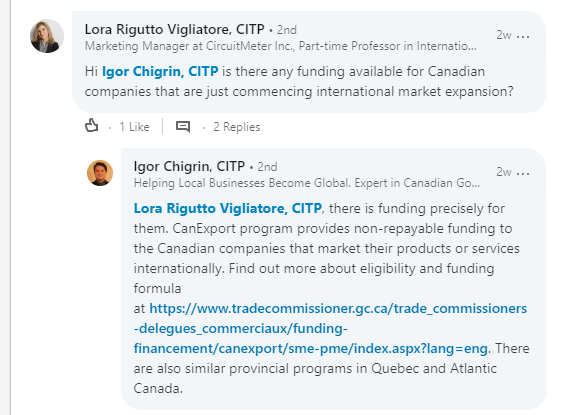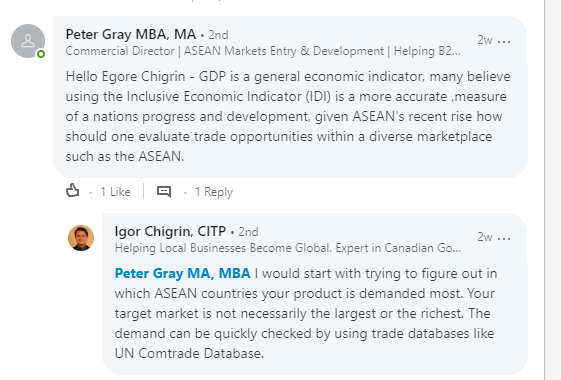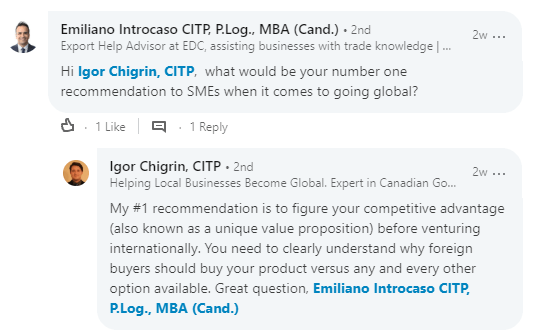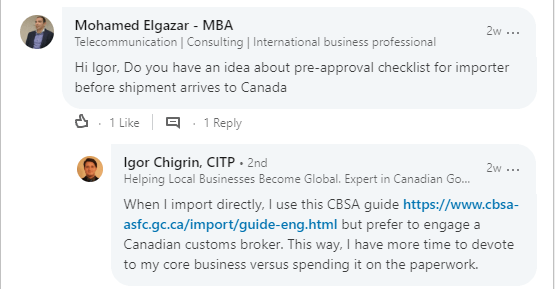 The FITT Small Business Month campaign ended on a successful note and proved to be a win-win for aspiring entrepreneurs, small business owners and their employees, and others in need of accessible, quality business training.
Looking to expand your business? Here are some pointers to help you with your next steps.
Stay connected with FITT on: