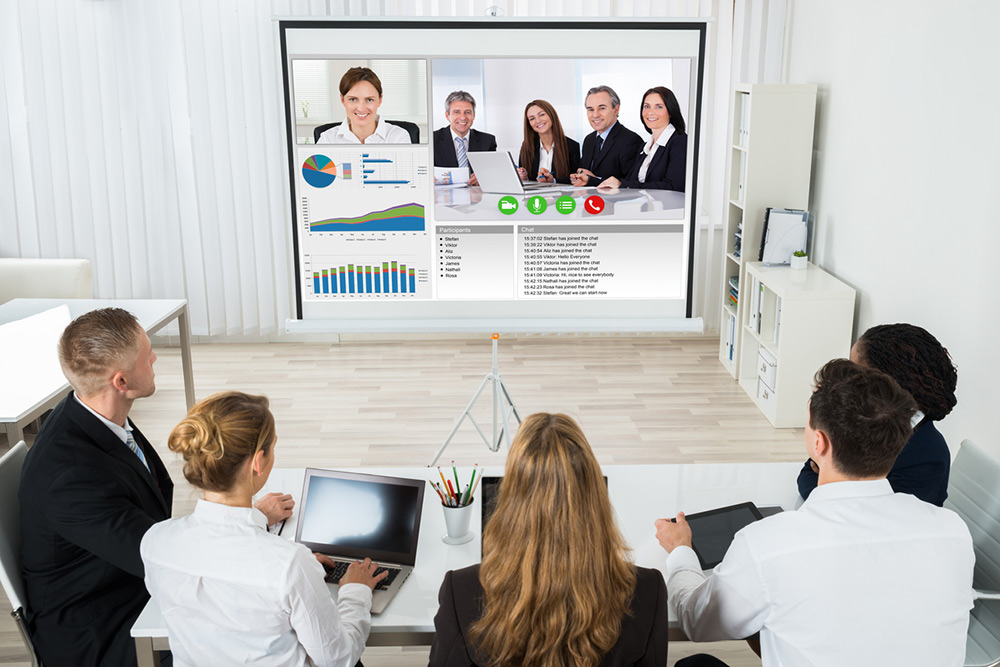 Communication is one of the most challenging aspects of dealing with international partners, especially when the partner companies use different languages and are located vast distances apart. Fortunately, there are several ways for partners to communicate in real time and conduct face-to face meetings without having to travel.
Before finalizing a partnership agreement, companies should discuss a communications plan. Basically, a business partner communications plan contains the following features:
Objectives: What will communication achieve? Objectives might include team building, discussion of progress or collaboration on a project.
Messages: What information will be communicated?
Audience: Who will be communicated with? Will partners communicate solely through senior management or will all employees receive some or all partnership communications? Will the communications plan be solely internal to the partnership, or will information be passed to external parties, such as stakeholders?
Schedule: When will communications take place? For example, a communications plan might schedule a regular progress update meeting once a month, with a partnership review annually.
Method: What methods will be used for communication? These can include Electronic Data Interchange (EDI) for real-time inventory and shipping communications, e-mail or regular mail for business communications, telephone or web conferences for meetings, and a website to post information for employees. Different methods should be used for different audiences. Companies should assess which methods will be most cost effective and timely for each message that must be communicated.
Plan how to share information to keep everyone informed
As well as a business partner communications plan, companies should agree on three other plans with their partners. These are a documentation plan, a shared information plan, and a reporting plan.
Documentation plans detail what documentation partners must prepare, what formats must be used, when and how it must be shared with partner companies and the length of time that documents must be stored. Companies might also include provisions for ensuring that documentation is stored securely off-site.
A shared information plan details what information must be shared between partners, and what information can be kept private. It also documents how often this information must be shared. For example, a supplier might request inventory information for a product to be supplied on a weekly basis, or they might request instant and continuous access to inventory level information.
A reporting plan documents how and when partners should report to each other. Reports will usually include information about marketing and sales, profit levels, expenditures, project progress, new market opportunities or quality targets.
Set up regular meetings to stay in touch and monitor progress
Regular interaction between partners is essential to monitor the progress of the partnership. Assigned communication team members from each partner company should meet regularly to consider obstacles and celebrate successes. Regular meetings also enable potential problems to be identified early enough to take remedial action. Group communications between partners also help to develop a team spirit.
The most cost-effective and efficient ways of conducting such meetings internationally are telephone conference calls. There are hundreds of companies that offer telephone conference services. With these, companies are given a phone number and a pass code to distribute to partners for a meeting scheduled at a certain time. An administrator code ensures that only an authorized team member can set up and host a call. Calls can be configured so that people dialling in can use a free phone number or a low-cost number.
When all partners have access to reliable, high-speed Internet, web conference services also provide an ideal meeting forum. Participants can use web cams so that partners can become more familiar with members of the partner companies, or can present information using PowerPoint, animated presentations or whiteboards. Again, there are hundreds of companies that provide low-cost web conferencing services. They are easy to use, although companies should always conduct a trial run before holding an important meeting.
Executives who are experienced in operating strategic alliances stress that there can never be too much communication. A failure in communication leads to backtracking and loss of enthusiasm. It also weakens the inherent synergy between the parties that is the rationale underlying the partnership.
This content is an excerpt from the FITTskills
International Market Entry Strategies
 textbook. Enhance your knowledge and credibility with the leading international trade training and certification experts.