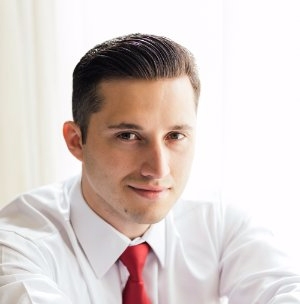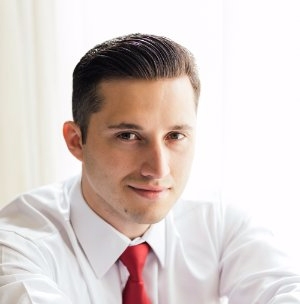 Earned his elite CITP®|FIBP® designation: May 2017
Dmitri Tchernychov can't remember a time when he was not fascinated by the sheer volume of goods constantly in transit all over the word in ships, planes, trains and trucks. He would think about what must go on behind the scenes to keep all of those vehicles and shipments moving and knew he wanted to be a part of it.
Dmitri discovered the International Trade and Transportation Logistics program at the British Columbia Institute of Technology (BCIT), where he connected with knowledgeable instructors who inspired him further to pursue a career in global transportation.
"During my years at BCIT, I had great instructors who helped me truly understand the full spectrum of the transportation industry, as well as international trade. As a result, I have developed a true passion and admiration for the industry."
The quest to become a logistics expert
While completing his studies, Dmitri was able to get a foot in the door of his chosen career at Perishables International Transportation, where he gained experience handling logistics operations for fresh and frozen perishable goods.
After graduating from BCIT in 2008, Dmitri was already on his way to a successful logistics career, armed with his FITT diploma in International Trade and his proficiency for languages, including fluency in Russian, English and French. Dmitri also completed the Logistics, Materials, and Supply Chain Management program at the Canadian Institute of Traffic and Transportation (CITT) in 2009.
"The FITT-accredited courses that I took helped me tremendously to expand my vision in the transportation industry throughout all modes of transportation," Dmitri says.  "Understanding the financial aspects of ocean freight and foreign investments really helped put things into perspective."
I want to encourage other individuals that are new to the transportation industry to acquire their knowledge through the FITTskills program, as I am confident enough to say that it is an important step in gaining an understanding of the industry," Dmitri says.  "It's part of being knowledgeable and providing great value to my company's customers, and it helps those customers to be confident in what we say or do for their businesses."
"While I was studying I had to get really deep into the chapters about some of the modes of transportation that I'm not familiar with. The FITTskills program prepared me well, particularly in both legal aspects of international trade and international trade research. I found those two courses very helpful in my day- to-day tasks, considering that liability is a huge factor of our business."
Handling chaos with a cool head
He soon landed the position of 3PL Manager for CSA transportation where he was responsible for less than truckload (LTL) cross-border service on Canada's west coast. The four years Dmitri spent in this role prepared him well for tackling his next position as Logistics Manager at Moto Transportation Services, a move he made in 2012.
"To me every load and every shipment that I work on is interesting and special in its own way. It can get pretty crazy if something very simple is not being addressed properly. It can really turn into a nightmare. Those who are in the transportation industry will understand fully what I'm talking about, and that is what makes us the transportation experts. We can't expect our valued customers to know everything, otherwise they'd be doing it on their own."
Dmitri handled any twists and turns that came his way with practicality and empathy for his company's clients, and was recognized for his abilities in 2015 with a promotion to Operations Manager.
"As an operations manager at Moto Transportation Services, based out of Vancouver, my day consists of paying careful attention to a lot of intricate details, as they can be very costly if missed."
Planning ahead and thinking of any potential consequences that could trigger an entire chain reaction is a big part of my day-to-day duties.
In the shipping industry Dmitri and his team operate in a rigorous competitive environment. He is constantly reviewing the cost benefit analysis for each project and putting a priority on providing top-notch customer service to all his clients. He says this approach is what keeps him and Moto Transportation Services above water in the current logistics environment.
Despite their best efforts, unexpected things happen and can affect deliveries, such as weather delays, forced detours and truck breakdowns. The challenge is in keeping a cool head and doing whatever they can to problem-solve and get their shipments where they need to go.
"Patience and control of the situation, in regards to logistics, and acting under the core values of the company are tenets that I act by. Integrity, transparency, honesty and efficiency are my main guidelines that I go by when dealing with customers and colleagues on a daily basis."
In an industry as fast-paced and subject to acts of nature and unexpected challenges as international transportation, Dmitri finds enjoyment in the variety and satisfaction in a job well done.
"What also attracted me to this industry is the fact that it's never monotonous. There is always something going on, something unusual and different, thanks to our customers and changing policy and regulations. Interesting projects are always happening on the internal level as well, trying to work out how big volumes of freight can be controlled efficiently, and putting the right individuals on the job."
Taking his rightful place with the experts in his field
Being knowledgeable and creditable in his industry is something that is very important to Dmitri and his clients. During his time at BCIT, some of his instructors had recommended he apply for the elite CITP®|FIBP® designation, to join the network of highly recognized international trade practitioners in Canada and abroad. Dmitri agreed and applied for his designation this spring, earning it in May, 2017.
Now that I have my designation, I will approach some of my tasks differently and look at some projects from a different perspective. I believe that I will be able to provide a better value to my company and coworkers.
"And I'll be able to educate some of our clients to help them with their day-to-day business by reducing their cost and increasing freight volumes. I also believe that it will help me manage my company's operations department and secure market share in the industry."

Learn more about the CITP®|FIBP® designation
INTERNATIONAL BUSINESS CERTIFICATION—CITP®|FIBP®
Advance your career and build your professional credibility in the field of global business by earning the Certified International Trade Professional (CITP) designation.
Why Earn the Certified International Trade Professional (CITP) Designation?
The Certified International Trade Professional (CITP) designation is the world's leading professional designation for the field of international business. So whether you're new to global trade or have over a decade of direct experience, you'll find the CITP designation can help advance your career and build your professional credibility.
The CITP designation sets you apart in the competitive international business industry because it's proof you possess the competencies global business experts have identified as being essential for a successful career in international trade. It also recognizes your dedication to ethical business practices and ongoing professional development—both of which are desirable traits for today's global business practitioners.