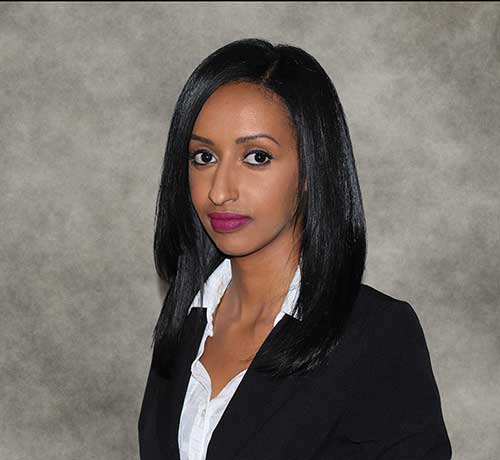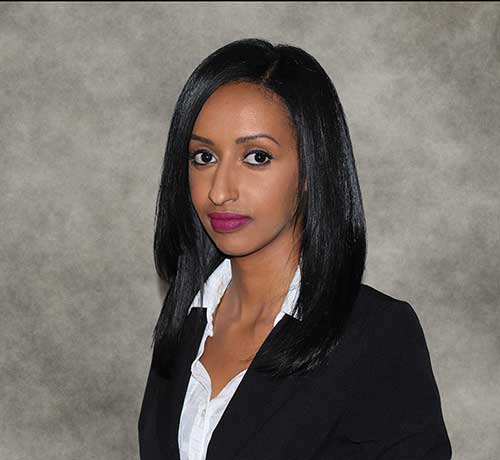 Earned her elite CITP®|FIBP® designation: September 2016
Hiwot Regasa, CITP|FIBP developed a curiosity for international travel and culture at a very young age. She was born in Addis Ababa, the capital city of Ethiopia, and moved to Nairobi, Kenya during her childhood years. This background allowed her to learn three languages – English, Swahili, and Amharic.
"Growing up in Nairobi, I was exposed to the city's diverse culture. I went to school with students from all over the world. I really enjoyed learning about my classmates' cultural backgrounds and trying cuisine from different regions."
A completely international education
Hiwot came to Calgary as an international student pursuing a Bachelor of Business Administration degree at Mount Royal University. At MRU, she had the opportunity to study and work with other international students, which amplified her interest in international business.
"I declared my minor in international business  and started taking FITT-accredited courses as part of my degree. Once I graduated from MRU I got a position in international relations, which reinforced my commitment to international business and pursuing the CITP®|FIBP® designation," Hiwot explains.
She decided to continue taking FITTskills courses online in order to earn her FITT diploma and increase her knowledge in importing and exporting. Hiwot enjoyed taking the courses at her own pace, enabling her to take in a lot of detailed information without interfering with her busy work and social schedules. Learning about how different cultures conduct business around the world was a thrilling extension of what she'd learned from her fellow international students and the dynamic regions she grew up in.
The FITTskills courses were very informative and enjoyable. Some of my favorite courses were International Trade Research and International Market Entry Strategies.
"The online courses were very convenient for me. I was able to pace myself and complete my courses during my free time while working. The course content gave me a broader understanding of the potential risks that could arise when doing business internationally and how to mitigate them. The program sharpened my knowledge of different cultures' unique methods of conducting business."
Channeling a childhood passion every day
Hiwot's combined international background, education and passion for international cultures made her a perfect fit for her role as Student Liaison and Project Administrator at SAIT Polytechnic in Calgary.
Her primary duty is to provide continuous, comprehensive support to students and instructors overseas. This covers a wide range of international activities including supporting study tours, assessing students for enrolment, coordinating in-country training and global education initiatives.
"My current role has allowed me to meet and work with students, teachers and administrators from schools around the world, including Kazakhstan, Indonesia, India, China, Mozambique and Equatorial Guinea."
Hiwot collaborates on detailed research for future international projects and contributes to proposals to build institutional capacity and workforce nationalization. Another important aspect of her job is delivering outstanding support to her company's existing international clients, a task that allows her to make use of her multilingualism.
Joining peers with international recognition
After completing her education, Hiwot decided to develop her reputation as an expert in international trade by earning the CITP®|FIBP® designation.
I decided to apply for the CITP®|FIBP® designation to set myself apart, and show my commitment to this profession. I am excited to be a member of this select group of elite global trade professionals.
"I hope my designation will help me to connect with other international business professionals and grow my network and career."
Hiwot also loves to give back to the international community and has helped new international students settle in to the right program for them by volunteering at study abroad orientations for both MRU and SAIT Polytechnic.
She is looking for new opportunities to do more to help international students as they make the same journey she once took, from international student to global business professional.
Learn more about the CITP®|FIBP® designation
International Business Certification—CITP®|FIBP®
Advance your career and build your professional credibility in the field of global business by earning the Certified International Trade Professional (CITP) designation.
Why Earn the Certified International Trade Professional (CITP) Designation?
The Certified International Trade Professional (CITP) designation is the world's leading professional designation for the field of international business. So whether you're new to global trade or have over a decade of direct experience, you'll find the CITP designation can help advance your career and build your professional credibility.
The CITP designation sets you apart in the competitive international business industry because it's proof you possess the competencies global business experts have identified as being essential for a successful career in international trade. It also recognizes your dedication to ethical business practices and ongoing professional development—both of which are desirable traits for today's global business practitioners.