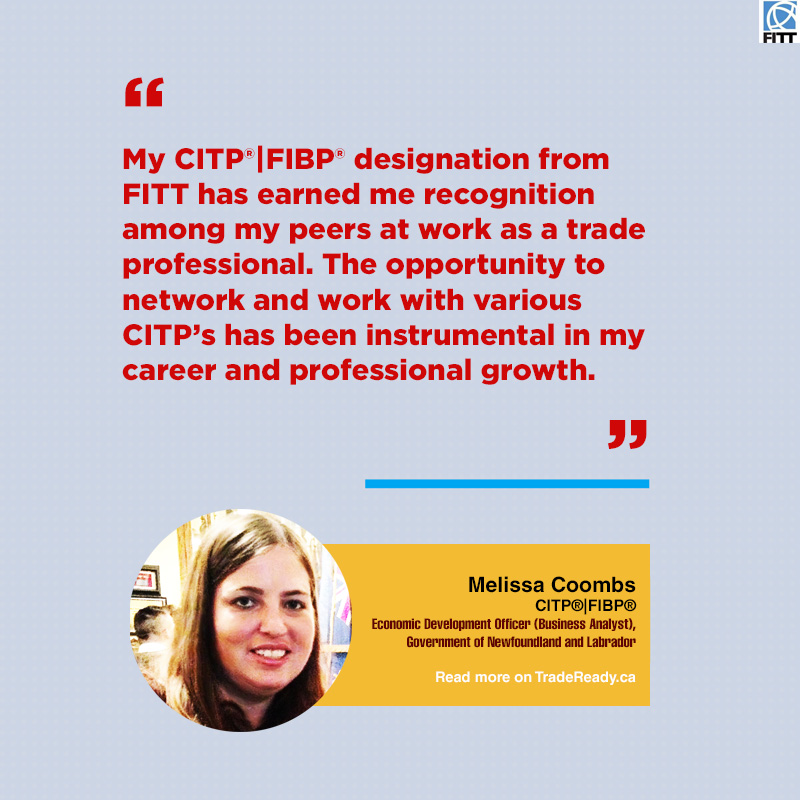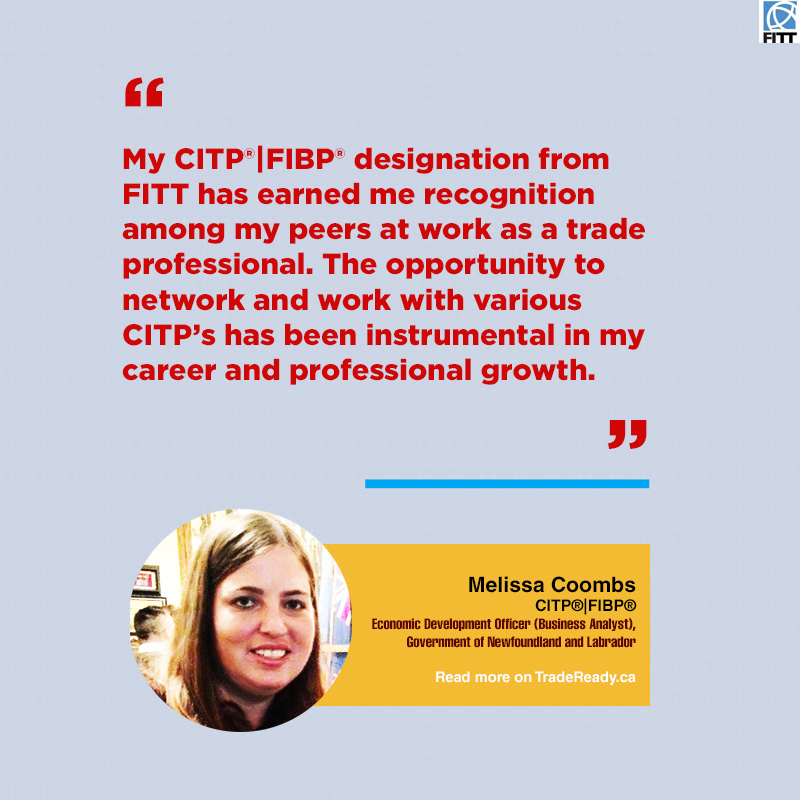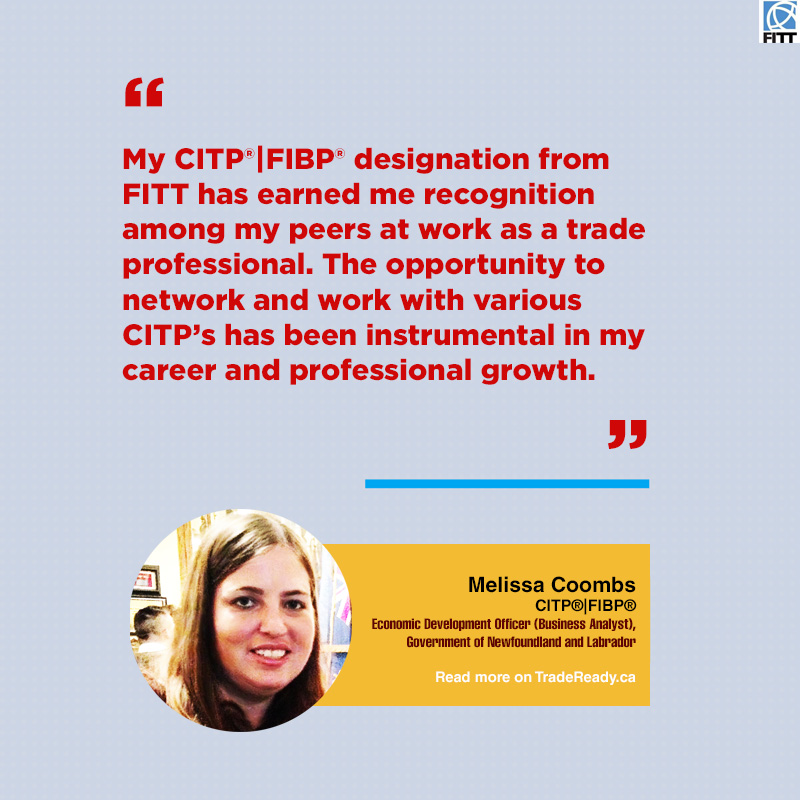 Earned her elite CITP®|FIBP® designation: March 2014
Melissa Coombs, CITP®|FIBP®, is an Economic Development Officer (Business Analyst) with the Government of Newfoundland's Department of Innovation, Business and Rural Development.
Throughout her career, Melissa has consistently combined her business expertise with a desire to help others in a number of different ways. She has been involved in initiatives that vary from volunteering with several youth programs to creating provincial strategies for Newfoundland's manufacturers to export internationally.
She has now had her designation for over a year, and enjoys the prestige and respect the designation brings her, as well as the opportunities to meet and learn from other CITP®|FIBP®s.
Accumulating and applying her entrepreneurship skills
Melissa began her international trade career with a marine equipment company in a small fishing community close to St. John's called Bay Bulls, Newfoundland.
Her tasks included liaising with government officials, applying for grant programs, market research, working on their marketing plan, and planning business trips and trade show booths.
From there, Melissa joined the RED Ochre Regional Board in Parsons Pond, a non-profit association set up by the provincial government to improve regional economic development.
Her proudest accomplishment in the role was launching the Youth Venture program to encourage teenagers to become entrepreneurs.
Since 2007, she has also been a member of Junior Achievement, who offer youth education programs on entrepreneurship.
I believe that it is important that youth are given the opportunity to experience what it is like operating a business, which will help them decide in the future if they would like to own their own business.
Helping Newfoundland and Labrador businesses export internationally
In 2007, Melissa became an Economic Development Officer with the Department of Innovation, Business and Rural Development in Labrador City.
She received and analyzed business plans and proposals for funding, helped businesses establish these plans, and worked with various community groups and levels of government to implement economic development plans.
She then moved to St. John's in 2009 to become an Industry Development Officer for the government's Department of Business.
There she researched and developed a plan to attract more foreign direct investment (FDI) to the province, and then worked closely with various stakeholders to move the plan forward through its stages.
Melissa took on her current role in St. John's in 2011. Building on her FDI project, she focuses on developing the province's entire manufacturing strategy, from surveying craft producers to developing a strategy RFP, new logic models for the province's key industries and a Manufacturing Profile for the province.
She has aided Newfoundland companies to successfully become part of the supply chain of companies like Damen Shipyards, from the Netherlands, who are currently constructing the two new provincial ferries.
Melissa also serves on the Building Products Committee for Atlantic Canada's International Business Development Agreement (IBDA).
She analyzes applications from businesses to access funding and other assistance from the agreement, and makes recommendations.
Becoming an expert in her field through FITTskills courses and the elite CITP®|FIBP® designation
Melissa first heard about FITT from her colleagues, and she was eager to take the courses to build upon her earlier education and get up-to-date on everything she needed to know in international trade.
She took a mix of in-class and online courses, and enjoyed the opportunity to learn from, and network with, more experienced professionals in the classroom.
She also benefited from the flexibility and convenience of online courses.
The FITT online courses were beneficial, as they allowed me to complete my studies while in Labrador and also at my own pace.
Once she completed her courses, Melissa wanted to apply for her designation because she felt it would bring greater credibility to her international trade expertise. She says that being a CITP®|FIBP® is one of her proudest accomplishments.
A few months after earning it, she also took the opportunity to be part of one of our International Trade Competency Standards (ICS) Project focus groups, in Halifax. She enjoyed getting to be part of the development of the project, and to meet and connect with other trade professionals across Atlantic Canada.
Melissa is very pleased with the benefits she has enjoyed as a CITP®|FIBP® since receiving her designation over a year ago.
"My CITP®|FIBP® designation from FITT has earned me recognition among my peers at work as a trade professional. The opportunity to network and work with various CITP's has been instrumental in my career and professional growth."
Learn more about the CITP®|FIBP® designation
INTERNATIONAL BUSINESS CERTIFICATION—CITP®|FIBP®
Advance your career and build your professional credibility in the field of global business by earning the Certified International Trade Professional (CITP) designation.
Why Earn the Certified International Trade Professional (CITP) Designation?
The Certified International Trade Professional (CITP) designation is the world's leading professional designation for the field of international business. So whether you're new to global trade or have over a decade of direct experience, you'll find the CITP designation can help advance your career and build your professional credibility.
The CITP designation sets you apart in the competitive international business industry because it's proof you possess the competencies global business experts have identified as being essential for a successful career in international trade. It also recognizes your dedication to ethical business practices and ongoing professional development—both of which are desirable traits for today's global business practitioners.