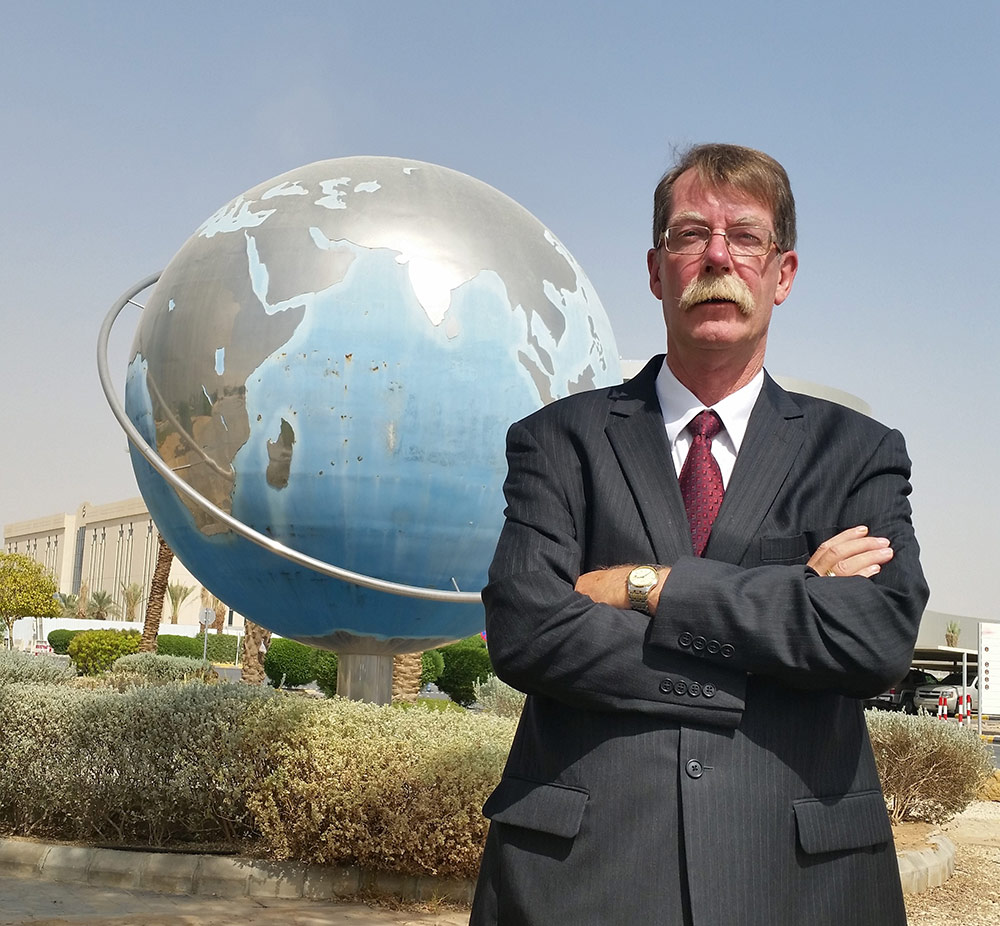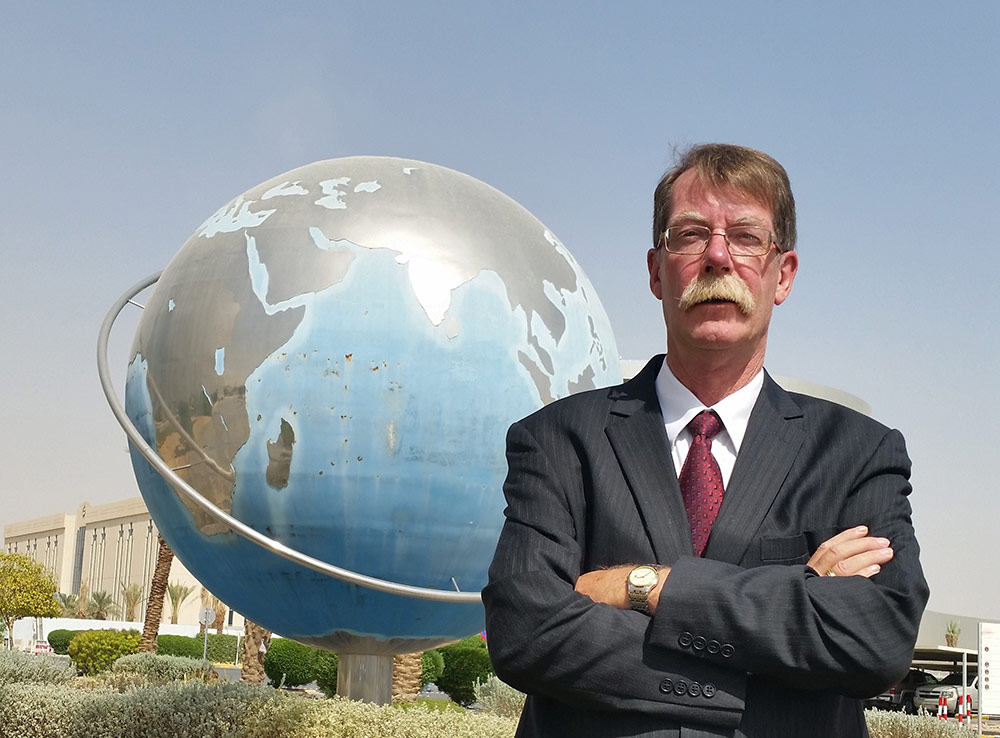 Earned his elite CITP®|FIBP® designation: Aug. 1999
David Shaw, Senior Advisor at Saudi Telecom Company, has held the CITP®|FIBP® designation for over 15 years, dating back to the early days of FITT.
David has been working for the telecommunications industry from the very outset of his professional career. After a brief stint in mining technology and geology, he switched gears to become a graphic designer, joining the Bell Canada staff at the age of 19.
David's telecom destiny
"I am not sure if Telecom chose me, or I chose it!"
He quickly moved to management in the company and journeyed through positions in IT and market research, eventually ending up in international marketing. The latter position was what initially sparked David's interest in international trade.
Following the liberalization of the Canadian telecom market, Bell Canada aimed to fight competition by forming the Stentor Alliance of incumbent operators, focusing on a united approach for marketing and engineering functions across Canada. David was involved in this initiative and was soon recognized for his efforts.
"I was awarded the Andy McMahon Trophy for Innovative Thinking and Teamwork. This is Bell Canada's highest award."
The Alliance eventually gave way to competition and David parted ways with Bell after 24 years with the company.
But soon his training and experience in international trade paid off with an opportunity to work for a telecommunications vendor company in the UK, where David holds dual citizenship and dual security clearance.
Surviving the "tech wreck of 2001" by becoming a CITP
"My international trade training opened the door to an opportunity for me to work for Lucent Technologies in the UK, working on the International Prepaid platform until the 'tech wreck of 2001'."
The "tech wreck of 2001" refers to the dotcom bubble burst after the meteoric rise of internet-based businesses in the late 1990's.
"The tech wreck left me swimming upstream until taking on a greenfield build of a mobile operator for process and structure in Pakistan, out of Dubai. My CITP designation was instrumental in gaining this opportunity."
David spent seven years working on marketing and brand strategies for the Saudi Telecommunications Company, the leading national provider of telecom services in the GCC, Indonesia, Malaysia, India, Bahrain, Kuwait, Turkey and Lebanon.
He then moved into advising on consumer marketing, communications and service development, and is now transitioning into quality management in the Enterprise business unit, helping the company to be more responsive and customer-focused.
Transitioning from the consumer to business side of marketing for the largest telecommunications operator in the Middle East is not an unambitious feat. David's primary role as a senior advisor is to mentor, coach and advise the marketing team in product marketing strategies and tactics.
"I draw on my extensive experience in the business to best advise the team, as well as my FITTskills training, which has enabled me to adapt to the different cultural aspects of business in Saudi Arabia."
"In the Arab world, business culture is very formal – with the exception of punctuality. Western business people should be prepared for there to be changes to the final contract at all stages of the approval process and long invoice payment delays, especially in government where there are many ministries of approval of expenditure."
"The best way for western business people to solve this, is through a detailed knowledge of your tolerances, built-in contingencies, and work the bill terms to maintain cash flow throughout the contract  – not just at the end."
The FITT training of structural Business Plans has assisted me in doing the due diligence to ensure understanding of contingency tolerances for these quick decisions at signing.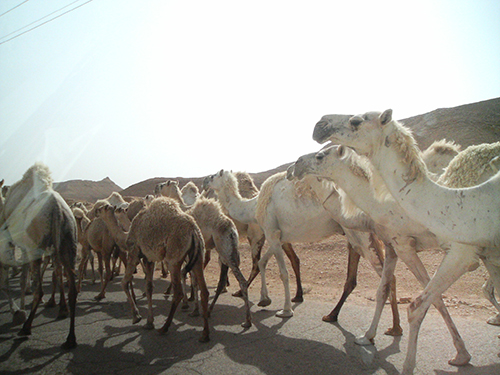 Getting major recognition for innovative strategies
Over the course of his career, David has worked on several major projects that had a strong impact on the business he was working for at the time.
While working with the Stentor Alliance international marketing group for inbound calling to Canada from the number one inbound UK market, David collaboratively spearheaded an integrated direct mail/telemarketing initiative that had never been undertaken before in the Canadian/UK telecom industry.
"This direct marketing project was designed to identify key UK callers to Canada through the Canadian overseas callers to the UK. The offer returned a remarkable 35% response rate and generated over 35,000 qualified contacts in the targeted area."
These efforts generated new product revenues of over $6 million in the first year. The innovative program was recognized with the runner-up award from International Association of Business Communicators (IABC) for "most effective small business marketing campaign" in 2002, and two products from this campaign received "Product of the Year" awards from Internet Telephony magazine in 2001.
More recently, David has been a key player in the creation and implementation of two high-impact projects with the Saudi Telecom Company.
He led the repositioning of the "Marhaba (Welcome)" prepaid calling platform, aimed at 6 million people in a more price-conscious demographic of callers. This long-established platform for international calling was in decline due to competition from other telecom leaders and mobile substitution.
David helped to reposition the service with a stronger customer focus, innovative promotions and improved delivery networks. In the end, approximately $30 million in revenue was protected.
David used his unique insight into the flourishing expats market in Saudi Arabia. He put his Canadian and British background, as well as his experience working with embassy businesses and social organizations, to work, leading a strategic project to build a business model for the company's fiber optic technology rollout at 1,000 western compounds in Saudi Arabia. The project was worth upwards of $500 million.
He was successful in coordinating the efforts of many departments including network, field services, marketing, sales and customer support to give a seamless offer to clients in this niche market.
In my role I always need to encourage the team to push the limits and apply more customer focus for better success.
Committing to international trade was a turning point
When David set his sights on a more international career, he decided to supplement his experience with FITTskills courses and enrolled in the program delivered at Carleton University. He soon realized where his areas of interest and expertise in the program resided.
"I excelled in the International Trade Research, Strategic Marketing and Business Planning areas. The classes were always taught by excellent knowledgeable instructors, in good facilities. What I enjoyed most of all was all of the interesting people taking the courses and delivering them."
After earning the educational and work experience requirements, David applied for his CITP®|FIBP® designation. At the time the designation was brand new.
"I felt good about obtaining my goal and being more knowledgeable to add value to the international marketing roles. I have had the designation for 15 years now and it has always been of value for advancing my career, providing best practice direction and techniques for success."
Over the last 9 years I have played an active role in the British and Canadian investment and trade groups based on my good foundation from my CITP®|FIBP® designation.
David's career has taken him in many different directions, industries, and locations throughout the world, and throughout it all it's clear that international trade was the right choice for him.
"I have always enjoyed the diversity of people and travel. Being a CITP®|FIBP® and living the expat life has enabled me to pursue my passions of meeting diverse people, travel and provided content for my hobby of fine art and cartooning."
You read that right. In his spare time, David is an accomplished, self-taught graphic designer and cartoonist, a skill he has been nurturing since his early days at Bell Canada.
Of his time developing new marketing strategies for Saudi Telecom Company David says,
"It has been a wonderful learning journey, one that will come to an end in the next year."
We can't wait to see what he does next.
Want to connect with David?

LinkedIn: David A. Shaw
Learn more about the CITP®|FIBP® designation
INTERNATIONAL BUSINESS CERTIFICATION—CITP®|FIBP®
Advance your career and build your professional credibility in the field of global business by earning the Certified International Trade Professional (CITP) designation.
Why Earn the Certified International Trade Professional (CITP) Designation?
The Certified International Trade Professional (CITP) designation is the world's leading professional designation for the field of international business. So whether you're new to global trade or have over a decade of direct experience, you'll find the CITP designation can help advance your career and build your professional credibility.
The CITP designation sets you apart in the competitive international business industry because it's proof you possess the competencies global business experts have identified as being essential for a successful career in international trade. It also recognizes your dedication to ethical business practices and ongoing professional development—both of which are desirable traits for today's global business practitioners.