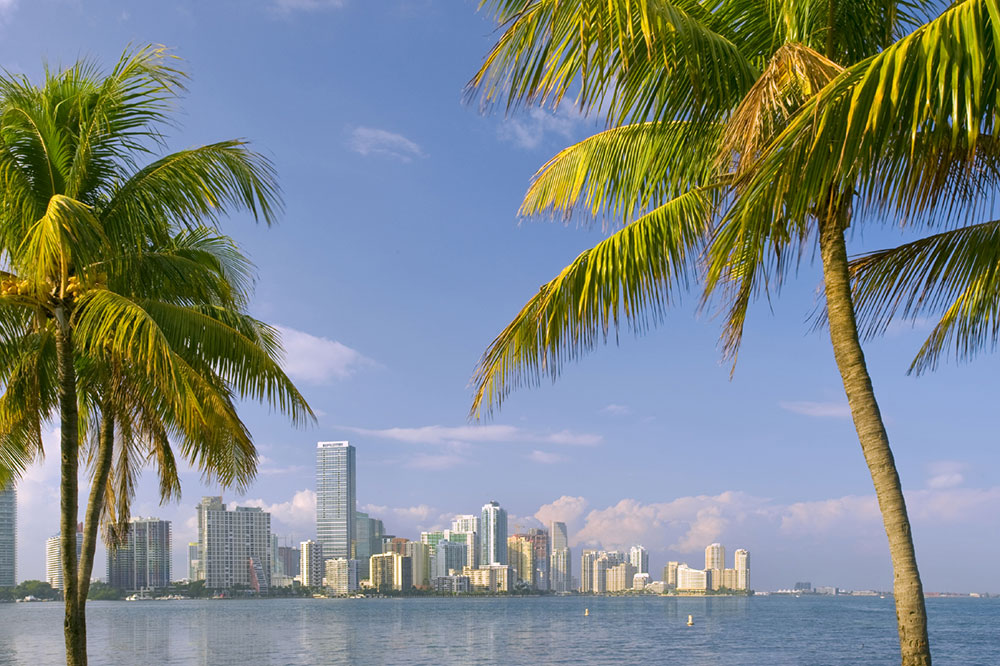 "The trade and investment strengths of South Florida as a gateway to Latin America and the Caribbean are significant, with major opportunities including expanding Latin American trade and a thriving IT industry," says Matthew Waldron, trade commissioner of the Consulate General of Canada in Miami.
Service, Cultural and other Strengths
South Florida possesses a high level of industrial and economic talent, including a bilingual (Spanish/English) work-force and qualified experts in Latin American and Caribbean (LAC) trade. It also benefits from excellent support from LAC-focused services such as legal, consulting, accounting, headhunting, etc. It has a strong cultural and linguistic affinity with LAC as well as cultural and regional neutrality. The Latin American population offers extended personal networks of contacts in LAC region supplemented by ease of travel to Latin America and the Caribbean.
South Florida also boasts the largest cargo airport in the United States, and large, efficient ports undergoing constant investment. And its pro-business government and tax structure is extremely beneficial to companies seeking to do business in this thriving market.
Opportunities (for Canadian companies)
Miami's trade with Latin America is growing at 10.3 percent per year. Its fastest-growing industries include mobile phones and components, computers and parts, other high-tech goods, and medical instruments. Rising consumption and urbanization in Latin America will also translate to increasing demand for better ICT and energy infrastructure, waste management systems, and transportation logistics in the region.
"Miami is the best city for doing business in Latin America"
"Growing venture capital and support for IT start-ups" Fast Company's #1 State for Innovation (
May 2013
)
Gateway strategies for Canadian Business
The role of Miami as a gateway hub
Exporters of both goods and services consider Miami to be superior to any other city as a regional hub. Canadian exporters find it beneficial to launch a sales office from Miami because it is easy to recruit well-connected sales staff to service LAC markets. As well, salespeople can easily and inexpensively fly in and out of LAC markets, and buyers, particularly from the Caribbean basin, often come to Miami to source products. The bureaucracy and costs of setting up a sales office connected virtually to HQ in Canada is minimal, and for small and medium exporters who cannot afford to fund a full Latin American sales team, Miami is an ideal place to find regional agents and representatives.
Tier I markets – Brazil and Mexico
Brazil and Mexico represent approximately 70 to 80 percent of LAC demand, depending upon specific products. The two countries also represent huge markets with big internal regional differences that warrant multiple local distributors or points of sale.
"You should, however, keep in mind that local customers expect international suppliers to establish a supporting office in the country at a minimum," adds Matthew.
Tier II markets – Colombia, Argentina, Chile, Peru, Venezuela
These Tier II markets represent 15 to 20 percent of LAC demand, again depending upon specific products. All of these countries (except Colombia) can be serviced from either a single administration office in the capital city or a strong national distributor in the capital. Colombia may need up to three distributors. Tier II markets usually report to a Miami-based LAC office, but sometimes to sub-regional offices in Mexico City, Bogota, Sao Paulo, Buenos Aires or Santiago de Chile.
Caribbean and Central American markets
These markets represent 3 to 5 percent of LAC demand. They can be serviced by a sales team or regional distributor based in South Florida. Many companies keep inventory stocked in South Florida and ship directly to large customers or local dealers, bypassing a national distributor in these markets. These markets usually report to a sub-regional division office in Miami.
ROSA markets (Rest of South America) – Uruguay, Paraguay, Bolivia, Ecuador, Guyana, Suriname, French Guiana
These countries represent 4 to 6 percent of LAC demand, and are often structured as sub-regions of a neighbouring market (e.g. Ecuador reports to Lima, Peru office). A sales team in Miami can service customers for high-value export strategies (e.g. aerospace equipment).
Key and emerging industries
Growing Latin American purchasing power is fueling demand for high-added-value imports.
Cellular phones and equipment
This sector experienced 17 percent export growth in 2011-2012. The Latin American middle-class purchasing power grew 50 percent in the last decade, increasing people's access to mobile phones, and by 2020, mobile subscriptions in Latin America will increase from its current penetration of 810 per 1,000 people to 1,170 per 1,000 people. Also, by 2020, the largest mobile markets in Latin America will be Brazil, with 259 million subscriptions, Mexico with 135 million and Colombia with 61 million.
Aviation
Export growth in the aviation sector in LAC grew 11.7 percent in 2011-2012. Miami is home to over 400 aircraft parts manufacturing and maintenance, repair and operations (MRO) companies. As well, analysts predict airline traffic to, from and within Latin America and the Caribbean to grow by more than 6 percent annually for the next 20 years. To meet this demand, Latin America will need more than 2,000 new passenger aircrafts in the next 20 years, fueling demand for Miami-based MRO companies.
Healthcare
Medical equipment export demand rose by 7.6 percent in 2011-2012, and 20 percent in pharmaceuticals. In the last 10 years, 73 million people have joined the middle class in Latin America, and are now able to afford private medical services for the first time. By 2020, Latin America's population of seniors is expected to double to 83 million, increasing the demand for treatment of chronic diseases.
Physical infrastructure
Boasting the largest cargo airport in the United States and a combined 3,000+ annual ship-calls make South Florida an undisputed logistics hub.
South Florida as an advantage is indisputable
According to experts, Miami beats out all others. Consider the following, approximately 650 multi-nationals have established their Latin American headquarters in South Florida, more than any other city in the Americas. Miami is an extension of Latin America in terms of its demographics. Approximately 1,300,000 Latin Americans call Miami home, more than 50 percent of the city's total population. Latin American professionals in Miami cross the cultural bridge between North and Latin America, are bilingual, and have experience working in the region.
In terms of logistics connectivity and trade, Miami has the greatest number of flights to LAC and flies directly to more LAC cities than any other regional city. Miami International Airport is the largest cargo airport in the US. Trade with LAC represents 72 percent of Miami air freight and 62 percent of all Miami port freight.
Local resources help companies succeed in South Florida, including the fact that Miami has a wealth of professionals — lawyers, accountants, consultants, etc. — who are experts in Latin America. Miami is also home to 26 Latin American consulates. Finally, Florida provides a business-friendly and low-cost environment with tax incentives for investors, no state income tax, employer protections, and an infrastructure to help companies thrive.
Have you ever had trade and investment dealings in Florida? What was your experience? Leave us a comment below!
Next Steps:
If you're a Canadian company that wants to leverage Florida to sell to Latin America and the Caribbean, please contact the Canadian Trade Commissioner Service in Miami for information:
Consulate General of Canada
200 South Biscayne Blvd.,
Suite 1600 Miami, FL 33131
Phone: (305) 579-1600
 Fax: (305) 579-1631
Email: Infocentre.miami@international.gc.ca
Contact: Mr. Matthew Waldron, Trade Commissioner The Consulate General of Canada, Miami.