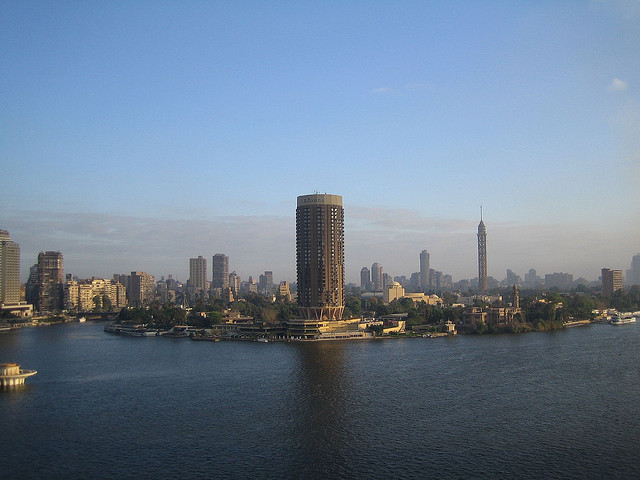 Joseph Tadros has been with the Canadian Trade Commissioner Service (TCS) for 29 years, and currently works in Cairo, Egypt. It's his job to work with both Canadian and Egyptian companies to create connections and foster international trade opportunities.
Joseph achieved his CITP designation at the beginning of 2012 after completing the FITTskills Program through FITT and eConcordia. Not only did he want the challenge of going back to school, but he also wanted to update his international business knowledge.

The CITP designation has helped me better understand the needs of my clients," says Joseph. "It has helped me open new horizons, think outside the box, and adopt a more structured approach to certain global trade topics.
"In a nutshell, I'm a matchmaker," he says.
In-market intelligence and networks
Canadian businesses thinking about exporting their products and services into international markets such as Egypt often wonder where to begin, says Joseph. And the TCS can be a great starting point.
If you're looking to find a partner in an international country, Canadian Trade Commissioners working in that country can help connect you with qualified options. This can be very hard to do on your own if you have no experience in that market. It can be difficult to find opportunities, and even more difficult to find opportunities you can trust. Trade Commissioners can also introduce you to companies with which they've already established relationships.
"As a Trade Commissioner, I have to be aware of what's going on in Egypt as well as what's going on in Canada in terms of the economy, the different sectors and the general business environment," says Joseph. "Trade Commissioners have intelligence in both markets, which is what makes us so valuable to people trying to expand globally."
The process Trade Commissioners walk their clients through depends on the clients' sector and the opportunities available, he says. But the best place to start is always with research. The TCS website offers access to in-depth market reports and country information to help Canadian businesses narrow their options and begin creating an export plan. And once they've done their homework they can reach out to a local TCS office in their market of interest.
Fostering cross-cultural business negotiations
Another part of Joseph's job is to prepare Canadian businesses for the different cultural aspects involved in conducting business in Egypt. Trade Commissioners can overcome cultural obstacles for their client companies by helping them to understand and bridge cultural differences in a timely fashion.
"Some Canadian companies export to the U.S. so they think they can export anywhere," he says. "But what they don't realize is that exporting to the U.S. is a lot more like exporting within Canada than it is like exporting internationally because of the cultural similarities. When you begin exporting to countries other than the U.S. you realize it's totally different."
Tadros says he often has to manage the business expectations of Canadian companies trying to break in to the Egyptian market. For example, there's a difference between how business people value time and relationship building in Egypt versus North America.
Building working relationships with Egyptian companies is a much longer process than most Canadian companies are used to, he says. And even small business matters can make a huge difference if they aren't done correctly. For example, if you don't have the correct label or document, you can find yourself experiencing huge challenges.
"By knowing small details and really understanding your target market, you can start to mitigate your risks and minimize your challenges," says Joseph. And this is how Trade Commissioners like him who are embedded and engaged in international markets can really make a difference.
But there are still many companies that aren't aware of the services Trade Commissioners can offer to Canadian companies looking to go global.
Why contact a Trade Commissioner?
"A lot of people ask, 'what can the Trade Commissioner Service do for me'," says Joseph.
Trade Commissioners are relationship builders and knowledge brokers. We provide market intelligence and build key relationships between our Canadian clients and our foreign contacts, and being present in more than 150 countries world-wide definitely helps us provide an added value.
At the end of the day, his favourite part of the job is getting to work with various companies in a wide spectrum of industries. He also enjoys the satisfaction of helping businesses in both Canada and Egypt work together to create successful international business partnerships.