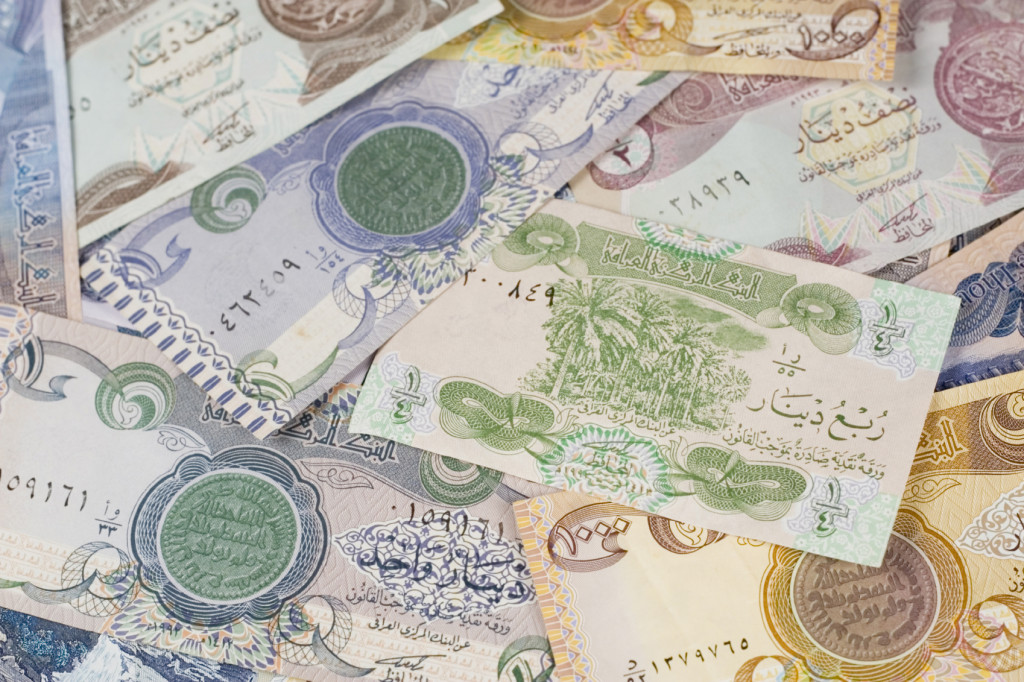 Since the UN has lifted most international sanctions imposed on Iraq during the Saddam Hussein era, Professor Bill Kosar's (CITP) FITTskills students were keen to learn about how their local banking systems are revolutionizing to catch up with the rest of the world. And they were excited to start applying their newly acquired knowledge to their own jobs in the banking industry.
Seventeen local professionals completed the International Trade Finance course that Bill held at the end of June, and he has since begun preparing course materials and recruiting for his next group of participants. Having started as part of USAID's work to develop the Iraqi economy, Legal Aspects of International Trade will be the second course he'll be teaching at the Central Bank of Iraq's Banking Studies Center in Baghdad.
In addition to offering FITT's international business courses, USAID's Financial Development Project is working to set up a retail payment infrastructure in Iraq. This includes interconnecting ATMs, enabling credit cards and mobile banking, and establishing a credit bureau – modern banking services that do not exist in the country.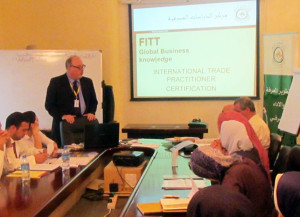 Creating a credit culture
The borrowing culture that exists in North America and many other parts of the world doesn't exist in Iraq. As a result, the citizens have no real concept of it. So during the International Trade Finance course, Bill along with Phil Corper, a senior banking consultant working on the retail payment system infrastructure of USAID's financial development project, explained credit in the context of business, as well as other new concepts such as cash-flow planning, and technology and trade finance.
Up until now, if Iraqis wanted to purchase big ticket items, such as a vehicle or a home, they would either borrow from family or wait until they had the capital to do so.
In contrast to the home-building process in North America, whereby houses are slapped together in 12 to 14 weeks and then buyers take on a mortgage, in Iraq you would save until you could afford to buy a plot of land. When you had the money, you might build a wall around that plot, and then put in the foundation. You'd buy a load of bricks, you'd buy a load of dirt, and in time you'd put in the first floor and a roof. And after that was all done, you'd wait until you could afford to purchase windows. All said, it might take you 8 to 10 years to build a home, but you wouldn't owe on it.
While there have been nay-sayers in Iraq who aren't comfortable with where the banking sector is headed, the majority of people understand that the changes will help their country to become a more accessible market for foreign buyers, sellers and investors. These changes will also simplify a lot of previously complex banking processes and bring banking to the village level.
FITTskills set to expand
The two-week long Legal Aspects of International Trade course is set to start mid-September, followed by Global Supply Chain Management and then International Trade Management.
Is the FITTskills program for you?
Developed by business for business, FITTskills meets the needs of those who are
seeking to enhance their import-export career standing,
new to exporting or importing,
and those who simply want add to their expertise or gain valuable educational credits.
The positive feedback from participants has garnered interest for the courses from individuals in northern Iraq as well. Bill recently taught a pilot course in International Trade Finance in the northern city of Erbil at the Banking and Finance Academy located at the University of Kurdistan-Hewlêr and has noted a great demand for international trade training in the "other Iraq," as the Kurdistan Region likes to call itself.
We're excited to hear about the how the next courses go!
The next big emerging market?
Iraq's population of over 31 million people—more than 90 percent of which are under the age of 55—is working to rebuild the post-war country. In 2012, Bank of America Merrill Lynch touted Iraq as the world's fastest growing economy, driven largely by rising oil production. Furthermore, UK-based bank Standard Chartered plans to open branches in Iraq by the end of the year, and U.S. banks Citibank and JPMorgan Chase both recently announced investments in the country.
With improvements being made in terms of security, and the country's young population having a drive to learn and develop, the possibilities for economic growth and foreign trade are looking more positive.
With new financial processes and infrastructure being constructed in Iraq, do you think it could soon become the next big emerging market?