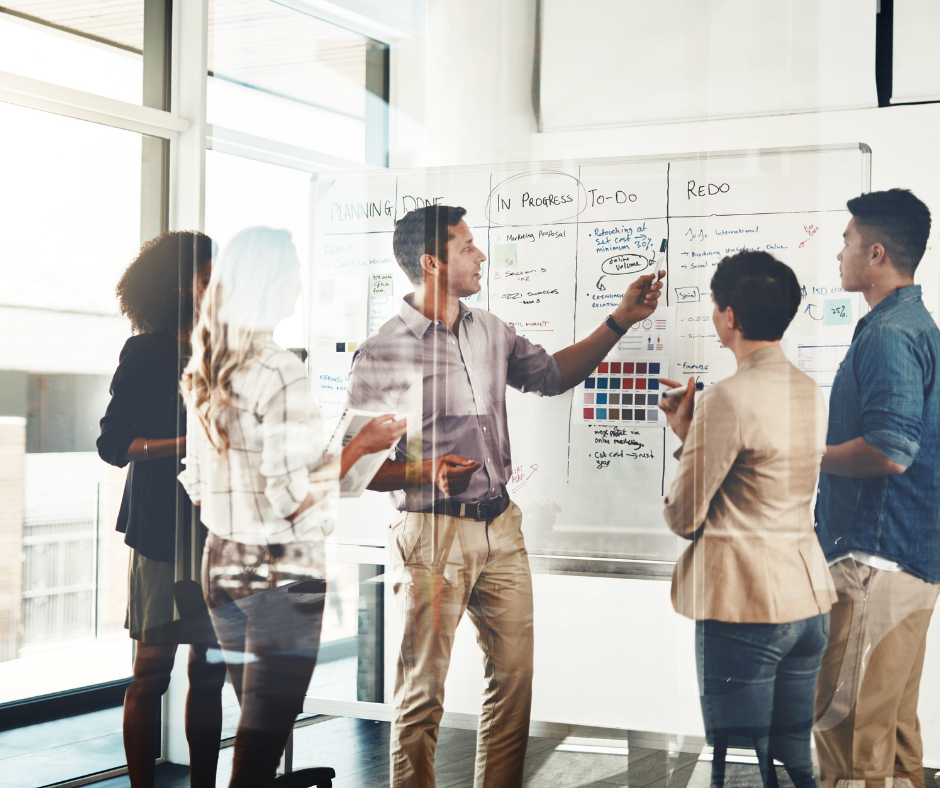 A typical strategic procurement process involves seven major steps. Organizations will adapt this process based on the type of competitive advantage strategy they are implementing, the international procurement activity they are undertaking and their own comfort level with the applicable risk.
To be effective and minimize risk, organizations must be able to conduct their sourcing process in an organized and systematic fashion that is repeatable for all procurement decisions. 
This article series will outline each step in detail, for this article we are covering the last step, Step 7: Implement a Transition Plan or Contractual Supply Chain Improvements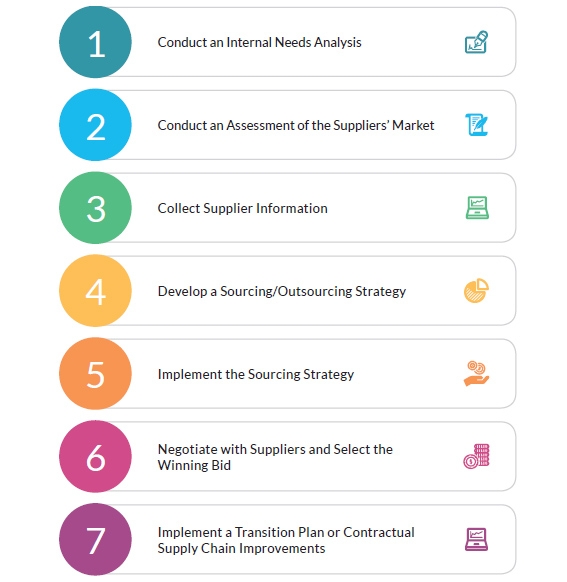 You can read about steps 1, 2, 3, 4, 5 & 6
Step 1 of the procurement process: Conducting an internal needs assessment – Trade Ready
Step 2 of the procurement process: Conducting an assessment of the suppliers' market – Trade Ready
Step 3 of the Procurement Process: Collect Supplier Information  – Trade Ready
Step 4 of the procurement process: Develop a Sourcing/Outsourcing Strategy – Trade Ready
Step 5 of the procurement process: Implement a Sourcing Strategy – Trade Ready
Step 6 of the procurement process: Negotiate with Suppliers and Select the Winning Bid
Winning suppliers should be invited to participate in implementing improvements. A communication plan must be developed and a system for measuring and evaluating  performance  will  need  to  be  devised  using measurable  Key  Performance Indicators (KPIs). This is especially true in the early stages of using a new supplier. Transition plans are especially important when switching suppliers.
KPIs are metrics that are determined by the buyer. These are used to measure performance in a wide variety of situations, such as rates of timely deliveries, number of rejects, technology development or service errors. KPIs are helpful in determining the costs each supplier incurs in satisfying an organization's requirements. This will make it possible for the company to identify any potential problems at an early stage and fix issues that arise before they have significant financial impact. Using the KPI process assists both parties in the transaction and helps articulate clear performance expectations. KPIs are a popular tool used for Quarterly Business Reviews (QBRs) to facilitate successful and long-term supplier relationships.
Contractual Supply Chain Improvements
When bringing on new suppliers, it is necessary to transfer information and establish linkages to logistics and communication systems, provide training and even specific physical assets, if required. The implementation of these transfers takes time and expertise to set and start up. Expectations during this time frame should be agreed upon during contract negotiations with time frames for full operations and deliveries.
This content is an excerpt from the FITTskills Global Value Chain. Click here to learn how to manage your company's supply chain and logistics and mitigate risks, reduce costs and improve efficiency throughout every stage of your global value chain.

Transition Plans
The transition from in-house provision of services to an outsourced service provider can be one of the riskier aspects of global outsourcing of services. How the transition to the outsourced service is handled and how it is perceived by staff and the public are very important. Outsourcing transparency and preparation are key to this aspect of the sourcing strategy.
Engaging employees in the process of service assessment can result in efficiencies and innovation that keeps the service internal. Otherwise, it is important to find other roles in the organization, elevate staff to supervisory, training or monitoring roles for the outsourced service, or provide severance packages that involve job placement. Organizations must be sensitive to employees who will not be retained.
The transfer of knowledge is important and can increase costs if not accounted for in the total costing assessment. There is also an inherent risk of discontinuity and loss of organizational knowledge.

During the transition, the relationship between the service provider and the organization is vulnerable to failure if expectations on both sides are not managed carefully and realistically.
Organizations can facilitate implementation by engaging in the following practices:
Working with the service provider to develop a detailed transition plan with specific transition activities (e.g. staff exchanges, training sessions), specific milestones, monetary penalties for failing to meet milestones and incentives for innovation and early achievement of milestones
Defining the initial mix of the organization's personnel and service provider's staffing levels
Working with service provider to minimize key employee turnover and retain labour pool
Ensuring service provider has termination assistance services in place
Providing  stability  during  the  transition  period  is  key  to  developing  the relationship with the service provider.

This transition not only allows the transfer of the buyer's information and processes, but also provides the service provider with the opportunity to understand the organization's corporate culture, mission and vision.
Government Procurement
There is a comprehensive statutory and regulatory agenda that controls the style in which governments issue and manage procurement contracts with private firms. According to the World Trade Organization (WTO), government procurement of goods and services is a core element of government operations and makes up the major part of a country's market for foreign and domestic suppliers. In addition, it secures the inputs that enable governments to fulfill their tasks, having a major impact on key stakeholders in society in a responsible, accountable, efficient and economical way.
Want to learn more about finding the right suppliers and outsourcing opportunities? Check out the International Procurement workshop.

Most levels of government have procurement processes in place that allow for:
Access, e.g. posting site, system for pre-approved suppliers
Competition, e.g. tender/proposal process
Fairness, e.g. conflict of interest, standardized RFPs
Transparency, e.g. steps of process publicly available

However, these government policies do not eliminate the corruption or fraud in government project bidding. Nor are corruption and fraud limited to developing countries.
There  have  been  government  procurement  scandals  in  many  developed nations as well. Research the Yarl's Wood scandal (United Kingdom), Siemens Greek bribery scandal (Germany) or the Charbonneau Commission (Canada) to learn of a just a few examples.
Much like the private sector, government procurement departments need to follow the same sourcing steps and due diligence, in addition to ensuring employees responsible for procurement decisions are above reproach. As well as having a transparent, open procurement process in place, the steps for sourcing and other units in this module apply to government procurement departments.
World Trade Organization (WTO) and Government Procurement
Government  procurement  accounts  for,  on  average,  10  to  15 % of the GDP of an economy. It constitutes a significant market and an important aspect of international trade. The WTO's work on government procurement aims to promote transparency, integrity and competition in this market.
Parties, Observers and Accessions
The Agreement on Government Procurement (GPA) consists of 19 parties covering 47 WTO members (counting the European Union and its 28 member states, all of which are covered by the Agreement as one party). Another 29 WTO members and four international organizations participate in the GPA Committee as observers. Nine of these members with observer status are in the process of acceding to the Agreement.
Government Contracts
It is important to note that the Convention for the Sale of International Goods (CISG) does not distinguish between contracts where one party is a governmental body and contracts that involve two or more private enterprises. In other words, governments are subject to the same rules as other organizations when it comes to contracts on the international sale of goods.
There are, however, two stipulations:
1 | Article 11 of CISG:
This states that a written contract is not necessary, but where domestic laws on government procurement relationships require it, Article 11 can be overridden.
2 | Later-in-time rule:
If a nation follows this rule, domestic legislation passed after a contract is signed can supersede contract provisions. For example, in the U.S., treaties supersede state and national laws, but federal procurement laws passed after a treaty is instated can override treaties, including CISG.
Do you know the ins and outs of the other steps of the procurement process? In case you missed them, here are Steps 1-6:
Step 1 of the procurement process: Conducting an internal needs assessment – Trade Ready
Step 2 of the procurement process: Conducting an assessment of the suppliers' market – Trade Ready 
Step 3 of the Procurement Process: Collect Supplier Information  – Trade Ready
Step 4 of the procurement process: Develop a Sourcing/Outsourcing Strategy – Trade Ready
Step 5 of the procurement process: Implement a Sourcing Strategy – Trade Ready
Step 6 of the procurement process: Negotiate with Suppliers and Select the Winning Bid