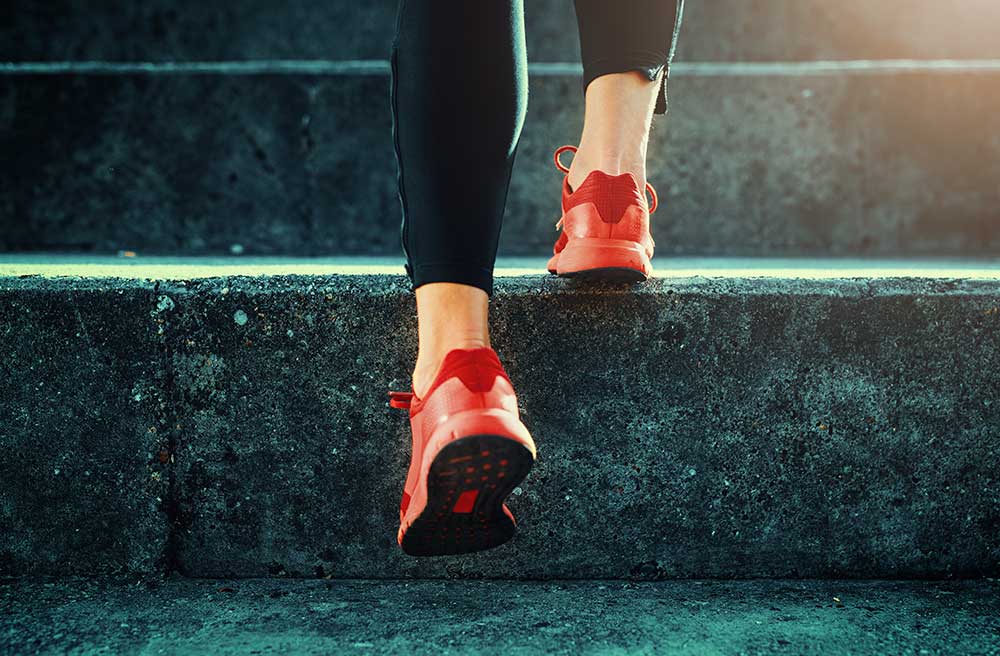 Defining and implementing a strategic procurement process enables organizations to maximize their spending and value contributions in a manner that supports their overall business strategy.
Having a standardized process with clearly understood inputs helps organizations determine a clear strategy for their departmental functions and provides meaningful forecast, cost and earnings/budget data. It also allows for the provision of operational metrics to help organizations meet their strategic business objectives.
The strategic procurement process is used to obtain and manage costs for all aspects of the organization:
Capital assets, including buildings, machinery and vehicles
Utilities, including electricity and water supplies
Fuel, including gasoline, diesel and heating oil
IT equipment, including hardware and software
Business support services, including legal services, freight forwarders, accounting, human resources, sales and marketing
There are 7 crucial steps in the strategic procurement process: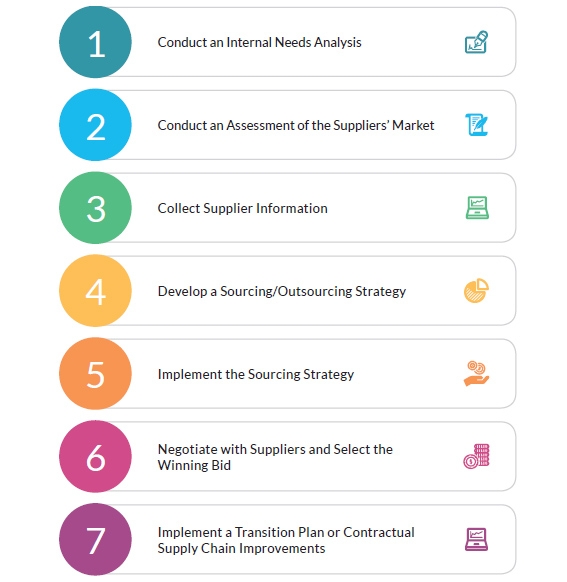 This article series will outline each step in detail, starting with Step 1.
STEP 1: Conduct an Internal Needs Analysis
The purpose of this step is to benchmark current performance and then identify needs and targets in order to develop a procurement strategy. This involves the collection of several different types of data. The purpose for collecting initial data is to benchmark current performance, resources used, costs for all the departments/functions in the organization and current growth projections. This data may include several different types of analyses:
Costs and value for all activities and assets, e.g. management costs, internal and external suppliers, process costs
Resource levels, e.g. labour, space, utility usage, turnover, replacement
Technology, e.g. age and capacity of production equipment, information and communications equipment and software, any replacement plans
Intellectual property, e.g. assets, licences, rights, patents, copyrights
Projects, e.g. research and development, marketing initiatives
Inventory levels and management systems for supplies and finished goods
Performance, e.g. production, capacity, distribution, sales, returns, turnaround time
Financial data, e.g. earning projections, cash flow, growth projections, taxes, cost of borrowing, returns on investments
Economic data, e.g. economic forecasts, international monetary trends, currency fluctuations, commodity indices, market intelligence, supplier market activity
Growth projections, e.g. sales, earnings
Feedback from stakeholders and suppliers
This analysis activity identifies how the organization is currently adding or creating value and provides an overview of operational efficiencies and effectiveness.
It is not uncommon for departments, during this process, to identify potential efficiencies and cost savings that could be implemented with little or no investment.
In addition to benchmarking current data, it is also necessary to determine gaps that exist based on the current projections (gap analysis). This data analysis may include requirements for:
Production capacity
Labour
Physical space
Infrastructure investment, e.g. production, IT equipment, software
The internal review of an organization's activities also supplies information for a value chain analysis, providing the following benefits:
Defines the value chain for the organization, based on the Porter model
Divides the organization's activities into customer-facing activities and non-customer-facing activities by asking what the customer cares about and what directly affects the customer's value of the product or service
Distinguishes the core activities—those the organization cares about and feels the customers value—from the activities that are not integral to the organization's brand, customer perception or value
Evaluates the core activities to determine how to excel at them
This analysis can be used to decide the type of competitive advantage best suited to the core activities. With all this information for each department/function, the strategic procurement team can then set procurement objectives and priorities that support the organization's overall strategic business objectives.


Competitive forces for global sourcing and outsourcing
The decision to source raw materials and supplies internationally or to outsource manufacturing and services offshore is linked to the competitive forces and the overall business strategy of the organization.
A review of competitors' performance and the strategies they are pursuing will inform an organization's overall business strategy decisions.
The following are examples of competitive objectives that an organization may wish to pursue:
Low-cost leadership: Reducing the cost of an organization's activities or reconfiguring activities so the cost of outputs is less than competitors'.
Differentiation: Focusing on selected core activities to differentiate the organization from competitors, e.g. quality or market access.
Focus strategy: Concentrating on a narrow market segment and employing a low cost advantage or differentiation to that segment to gain a competitive advantage in that specific area.
Best-cost provider: Value for cost strategy to provide comparable quality and features as competition at a slightly lower cost.
Low-Cost Leadership
Low-cost leadership is realized when an organization becomes a low-cost producer of a good of a given level of quality. This means the organization is focused on cost control. To be a low-cost leader, the organization needs to conduct further analysis of each cost-generating activity to identify what is driving the cost of that activity. A cost driver is a characteristic of an activity that incurs costs that are under an organization's control. Economist Michael Porter identified ten cost drivers:
Economies of scale: When the costs of performing an activity decrease as the scale of the activity increases, e.g. the cost of producing a chocolate-coated peanut is reduced because so many are produced.
Economies of learning: Cost savings determined from learning by doing, i.e. the cost of conducting the activity at first is more expensive because of inefficiency and waste, but once the activity is mastered, the cost decreases because the activity can be done more quickly, more efficiently and with less waste.
Capacity utilization: The relationship between potential output and actual output with the existing process and equipment.
Internal and external linkages: Costs of activities that are impacted significantly by the other activities linked to them.
Interrelationships: Costs of activities that occur as a result of their mutual dependence on another activity.
Degree of integration: The extent of ownership or control over inputs into an organization's processes and distribution.
Timing: Choices made relative to an organization's business cycle.
Policy choices: The cost of activities that are affected by an organization's policy choices.
Location: The geographic location, which can add to the cost of activities.
Institutional factors: Imposed government regulations that can affect an organization's ability to produce and add to costs.
Using technological innovations to streamline processes is often a feature of low-cost leadership strategy.
Gaining control of the costs of these drivers does not automatically mean cost savings for customers.
Organizations may price their goods at or close to their competitors' prices, which means greater margins or profit for owners and shareholders.
An organization's overall business strategy will also determine how this competitive advantage is used.
Differentiation
Another competitive strategy is to develop a product or service that is uniquely different than competitors' products. These unique attributes must be valued by customers and perceived to be better than competitors' products. Although costs to provide this value may be higher, customers are willing to pay more for the unique qualities for which there is no substitute in the market. It is important that the unique qualities are delivered to the customer or this strategy could fail and the organization's brand be negatively impacted by disappointed customers. To achieve differentiation advantage, the following factors need to be in place:
Highly skilled, creative product development team
Access to leading-edge scientific research
Reputation for quality/innovation
Strong sales team and campaign to successfully sell the unique qualities of the product
Detailed, ongoing and specific consumer research
Differentiation is a riskier competitive strategy because it is reliant on consumer knowledge, innovation and the ability to sell "unique qualities" that might be considered intangible.
Focus Strategy
A focus or market niche strategy targets a narrow market segment with either a low-cost or differentiation strategy. With a narrower target market, an organization will not have the volume in sales like a Walmart. However, the focus on narrow market segments means that research on customers is very specific and a program of products can be tailored specifically to meet the needs of the target customer.
Competitive advantage is gained either through price for a comparative product that specifically meets the customers' needs (focus strategy based on low-cost leadership strategy), such as Gap stores, or through unique products designed for the customer who will pay more for the product (focus strategy based on differentiation strategy), such as Mr. Big and Tall and Rolls Royce.
Best-Cost Provider
This strategy is a combination of lower cost, but higher quality. Customers perceive great value for reasonable cost, but not the lowest cost. Honda and Toyota are examples of this strategy, where they are perceived as better quality than domestic vehicles, at a higher cost, but not seen as the same quality level as luxury vehicles, such as Porsche or Ferrari.
The brands ensure they follow through with quality and service. Discount stores, such as TJ Maxx and Marshalls, differentiate themselves from Walmart by offering discounted designer brands— from the customers' perspective not as low cost as Walmart, but a higher perceived quality.
The focus and best-cost provider strategies are a little less risky than differentiation because either the focus is on a specific aspect of the business model or on positioning the product in the market by creating a new niche.
The decision-making process
After the internal analysis and setting of objectives in line with the overall business strategy, there are other analyses and factors that need to be reviewed when considering global sourcing and outsourcing.
A common analysis required when globally sourcing or outsourcing is a Total Acquisition Cost (TAC) analysis.
This analysis is compared to the in-house cost analysis (part of the internal needs analysis) to assist the strategic sourcing team in its global sourcing/outsourcing decisions. Organizations must factor in all the costs of dealing with the global suppliers.
A TAC analysis includes the following components:
Price of raw materials/ components/finished product/ service to be provided by global suppliers
Required adjustments to foreign-produced goods
Costs of managing suppliers and administering contracts, including audits, and other quality control and performance checks
Transitional costs from in-house to outsourced suppliers or from one supplier to another
International trade documentation
Transportation
Inventory
Import duties, tariffs, taxes and fees and/or export charges and fees
Repair services
Reverse logistics of handling repaired or returned items
Supply-base rationalization and consolidation
Risk mitigation for supply chain interruptions
Potential contract termination costs
Intellectual Property (IP) protection is also a major concern when outsourcing manufacturing and services. An intellectual property due diligence enquiry is a means of cataloguing an organization's intellectual property assets.
This type of enquiry should include the following activities:
Identify and document organization's IP, e.g. trade secrets, trademarks, patents, industrial designs, copyrights and related rights.
Identify the inventor, creator or author of the IP.
Determine ownership rights of the identified IP, such as joint-ownership issues.
Determine whether the IP is registered internationally or domestically.
Identify contracts or other agreements associated with the IP, e.g. technology transfer or licensing agreements, confidentiality and non-compete agreements.
Identify assigned or licensed IP used by the potential supplier, third parties, and/or employees and ascertain the rights granted to each party while detecting existing and potential sub-contracting issues
Identify existing and/or alleged breaches of contract, e.g. infringements, disclosure of confidential information and trade secrets
Determine jurisdiction and enforcement, e.g. applicable laws, enforceability, dispute resolution mechanisms (mediation, arbitration, choice of governing law, applicable jurisdiction)
Identify termination, expiration or exit clause of arrangements, e.g. whether there is an indemnity against infringement
Determine other IP related responsibilities, e.g. ongoing maintenance and upgrades to the IP, payments of transfer fees, product liability, IP insurance4
Having the complete picture of their activities helps organizations make informed decisions and avoid potential issues when considering sourcing and outsourcing globally. Arrangements with external suppliers always involve some element of risk. However, risks associated with sourcing/outsourcing internationally are often higher.
Global sourcing/outsourcing decisions can be influenced by the following risk factors:
Monetary risk
Regulatory environment and compliance
Culture
Ethics
Quality
Logistics
Intellectual property protection
Exit strategies
Covering all due diligence
It is extremely important that organizations exercise due diligence when making these global sourcing/outsourcing decisions.
For more information on this topic, see the module
Inventory Management
in the course Global Value Chain.
Due diligence is defined as the level of judgment, care, prudence and activity that a person should reasonably be expected to take. Therefore, due diligence must be exercised when investigating potential international suppliers to minimize risk to the organization and its stakeholders.
With global sourcing, due diligence involves the following components:
Thoroughly investigating potential suppliers, e.g. references, products, business reputation, business practices, sources of word-of-mouth advertising
Conducting an in-depth risk assessment, including political stability; civil unrest, war, terrorism, changes to trade policy and natural disasters can put supply or service delivery at risk
Checking the business practices of potential suppliers to identify any possible problems
Documenting findings to provide record of due diligence activities undertaken that provide rationale for business decisions
Accessing resources, such as trade commissioners, government agencies, export credit agencies, agents, trading houses and business references, should be part of due diligence research. The decision to globally source/outsource organizational activities should not be made quickly.
The strategic procurement process provides a basis for a well-informed, well thought out strategy, including sustainability and corporate social responsibility that considers the best interests of the organization. The impact of these decisions on organizations, employees and customers can be profound.
Stay tuned for the next article in the strategic procurement process series, detailing Step 2: Conducting an Assessment of the Suppliers' Market