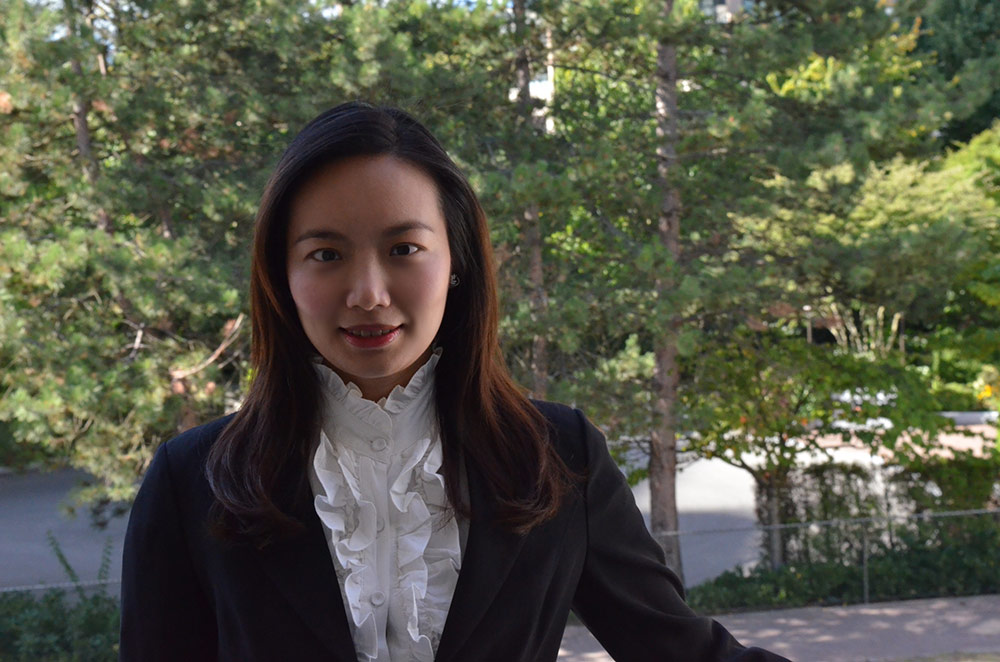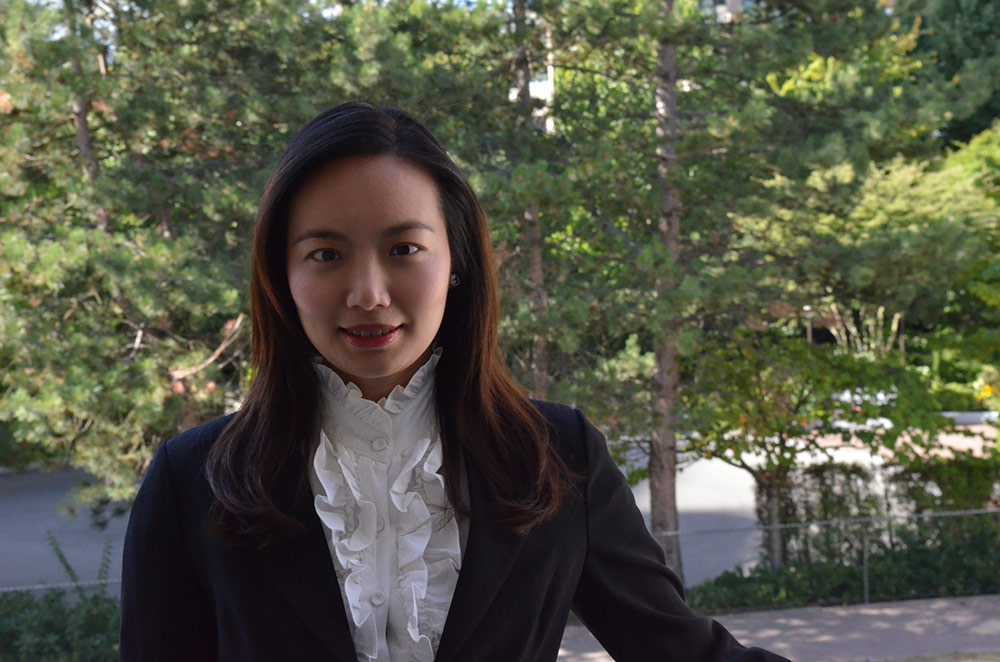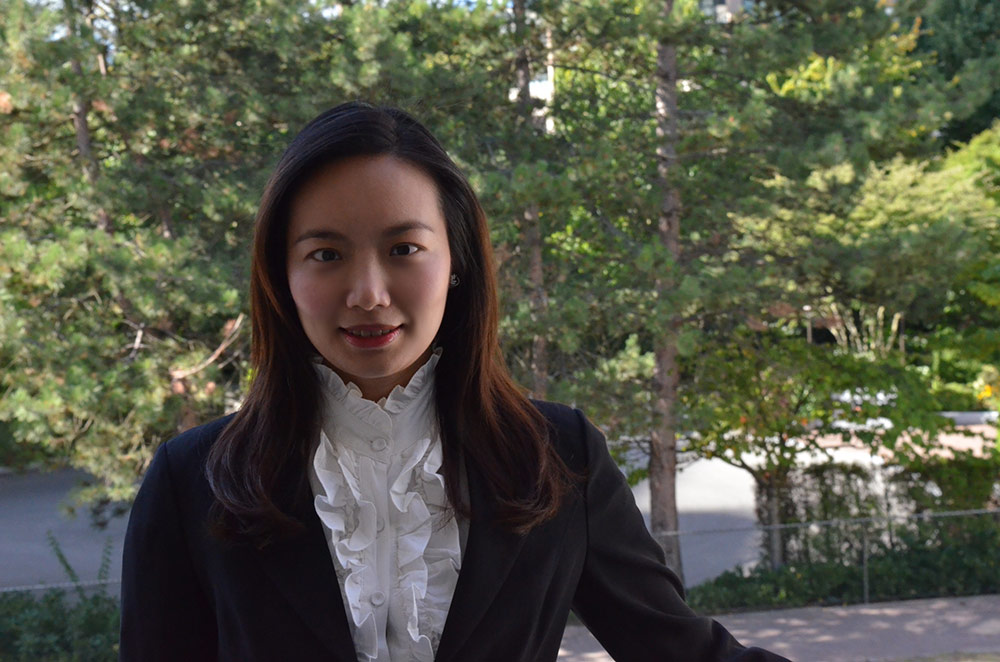 Earned her elite CITP®|FIBP® designation: April 2015
Athena Ren, CITP|FIBP, is a Business and Communication Coordinator for EKISTICS Town Planning Inc. in Vancouver, B.C., a local multi-disciplinary consulting firm providing professional expertise in the fields of urban planning, architecture and landscape design to Canada and China.
A highly motivated and ambitious professional, Athena has been moving her way up in the international trade industry through a dedication to higher education, linguistics training and new challenges. Her driving force?
"To take full advantage of my language skills, business mindset and professional international trade knowledge to contribute to Canada-China international business."
Early in Athena's career, she had the opportunity to meet trade commissioners while working as an office assistant at the Canadian consulate in Guangzhou, China.
Intrigued through conversations with the commissioners, Athena decided to research international trade options. As she did so, she discovered the Forum for International Trade Training for the first time. She was hooked.
When I first heard of FITT through research, it planted a seed in my mind which gave rise to the idea of getting involved in international trade.
Getting more than a little involved in her global community
Soon afterwards, she made the decision to immigrate to Canada to pursue career opportunities there. Athena views the steps she took to transfer her whole life to North America as some of the most crucial milestones in her life.
Upon her arrival in Vancouver in 2010, she hit the ground running, immediately setting her sights on connecting with other professionals and getting very involved with Vancouver's global community.
Straight after settling down, she actively joined the Vancouver Business Network Forum (VBNF) as Executive Assistant, took on a Marketing and Administrative Assistant role with the B.C. Society of Educating Girls of Rural China (EGRC), and became both the Social Coordinator for the Association of Chinese Canadian Professionals (ACCP) and Event Assistant for the Latin American Community in Vancouver (Latincouver).
After networking and volunteering in various business events and activities, I definitely felt I was heading in the right direction.
Staying focused pays off in a big way
Her linguistic prowess (she speaks 4 different languages including Mandarin, Cantonese, English and French) came in handy, as she initially took professional positions as Legal Administrative Clerk/Chinese Translator for Specht & Pryer, Barristers and Solicitors, and as an event assistant for BBW International Inc., assigned to work for international conferences and trade shows.
As a trilingual interpreter during the meetings and presentations, I found it funny to switch the language channel, at all times smoothly and fluently.
All of her hard work and volunteering paid off when she interviewed for a position at a Pomer Import and Export Services Inc. in 2011.
"I found my first full-time job in an import and export company at Pomer, which specializes in sourcing and trade consultation for the Chinese market. It was a small private company, so I got to be involved in all aspects of business operation from administration to export documents and accounting."
Her proudest accomplishment with Pomer was her vital role in a presentation given to a delegation of municipal officers, led by a mayor from China.
"With a team of 3 staff members, we managed to take care of every aspect of this reception. I had to prepare all of the materials, and later actually present to the Chinese delegation group and our local exporting suppliers. It was a challenging and rewarding experience."
A specialized education was the natural next step
Athena then decided to upgrade her skillset and gain a comprehensive understanding in international trade worldwide.
"After I settled down for my first international trade job in Canada, I took FITT courses right away from BCIT downtown campus in Vancouver."
"Besides the language advantage and communication skillset I already processed, I lacked a systemized education and practical knowledge of international trade. I felt that a complete understanding of policies and procedures from the North American perspective was definitely needed."
She says the courses offered her a well-rounded and practical learning experience through a mix of hands-on training, theory and applied understanding.
She regularly applies the research skills she gained from the program for sourcing and compiling information for different projects. She also uses the skills she learned in the International Trade Management course in to facilitate the successful completion of projects as a whole, by looking at processes from a macroscopic perspective.
"International trade experiences shared by my instructors and classmates were eye-opening, helping me to consider problems from multiple angles."
Connecting business between her two home countries
Her FITT-accredited training and varied experiences in her role at Pomer led to an Executive Assistant position at EKISTICS in 2012. She assisted the China Regional Manager, working semi-independently in communicating with Chinese clients and coordinating design projects for China projects out of the Vancouver office.
She was quickly promoted to Business and Communication Coordinator, a stand-alone position where she does a combination of project management, acting as the "point person" for client communications, taking care of project accounting and managing client relationships.
Athena is involved in a staggering amount of China-focused projects at EKISTICS, over a hundred at last count.
The Principal of EKISTICS, Mark Monteiro, said that "She has proven to be a valuable talent in organizing and coordinating everything required for our business to operate effectively in Asia, and in dealing with the associated challenges – language and culture, time zone issues, a completely different contract administration process from Canada, etc."
"Her proven abilities have facilitated the successful completion of numerous international projects by the company."

This rolling stone gathers no moss
She earned her FITT diploma in 2013 and hastily decided to apply for the elite CITP®|FIBP® designation.
"In a Chinese ancient saying, 'a workman who would do his work well should first sharpen his tools.' The FITT CITP®|FIBP® designation was a pre-requisite tool for me to prove that I understand the industry and have built up a solid foundation and confidence."
We need challenge and accomplishment to be happy. I am so proud of being a member of the FITT family. I truly believe the CITP®|FIBP® designation is a huge milestone that I accomplished.
Though Athena has accomplished a lot through her education, training, immigration and community involvement, she is still as motivated as ever to continue improving herself.
She intends to continue her education by enrolling in an MBA program, and to work towards becoming an experienced specialist in international trade. She hopes to one day become an international trade commissioner for Canada.
Athena has capably summed up her continued inspiration and ambition.
"I firmly believe a saying: 'Life never favors those who always follow the beaten path and content themselves with the status quo. Instead, life saves opportunities for people who are willing and able to reform and innovate.'"
Want to connect with Athena?

LinkedIn: Athena Ren
Learn more about the CITP®|FIBP® designation
INTERNATIONAL BUSINESS CERTIFICATION—CITP®|FIBP®
Advance your career and build your professional credibility in the field of global business by earning the Certified International Trade Professional (CITP) designation.
Why Earn the Certified International Trade Professional (CITP) Designation?
The Certified International Trade Professional (CITP) designation is the world's leading professional designation for the field of international business. So whether you're new to global trade or have over a decade of direct experience, you'll find the CITP designation can help advance your career and build your professional credibility.
The CITP designation sets you apart in the competitive international business industry because it's proof you possess the competencies global business experts have identified as being essential for a successful career in international trade. It also recognizes your dedication to ethical business practices and ongoing professional development—both of which are desirable traits for today's global business practitioners.