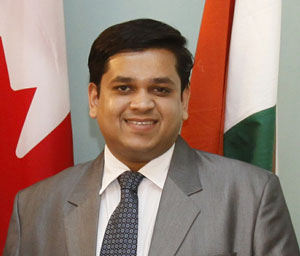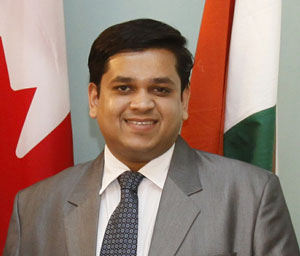 Earned his elite CITP®|FIBP® designation: May 2017
Varun Anthony is a pillar of patience. As he tells his clients, a dose of patience is what helps a brand successfully enter a potential international market.
Varun always wanted to pursue a career that was client-centric. At first he thought the hotel industry would provide the client-based work he was interested in. While the work was rewarding, Varun often found he had to be to be highly reactive. He wanted a career where he could be proactive and creative. This led Varun to start researching new career options, which led him to international trade.
Varun started in international trade in 2008 by joining the Department of Foreign Affairs and International Trade at the Consulate General of Canada in Mumbai. Varun took the position of Trade Commissioner Assistant in August of 2008. The job was daunting, as Varun was new to the world of international trade. His colleague's use of tongue-twisting jargon nearly pushed Varun away from international trade completely.
However, Varun always saw himself as a lover of challenges so he got to work, learning all the ins and outs of international trade. Varun applied himself and, by 2010, was given the opportunity to develop the agriculture and agri-food sector in West India on behalf of the government of Canada.
Building a strong relationship between two nations 
Varun received substantial support from Agriculture and Agri-food Canada as he worked to build up this new sector in West India. As the project intensified, Agriculture and Agri-food Canada made the decision to promote a trade commissioner, whose sole focus would be to build this new sector. Their choice for the job was obvious.  Varun was selected from a multitude of candidates, due to his innate knowledge of the Indian market and his proven track record with Agriculture and Agri-food Canada.
Since his promotion in 2012, Varun has led industry delegations from India to Canada, exploring new opportunities across the agriculture and agri-food sector to establish trade. Varun works with multiple clients across Canada to help them thrive in the Indian market. Varun expertly helps his clients enter the Indian market by offering his fundamental piece of advice.
Canadian clients, who are brand new to the Indian market, come to India and are thrust into the complex regulatory framework. They go through what I would call an 'international trade culture shock.'
"But it's my job as trade commissioner to administer a 'dose of patience' to my client when he/she looks at the Indian market. The 'dose of patience' is what helps any client, be it Canadian or an international exporter and manufacturer, to successfully enter potential-filled, but yet regulatory complex, markets like India."
Called on to assist in a frightening international situation 
Varun's career has seen many highlights, but one always sticks out in his mind. Varun was only at the Canadian Consulate for three months when a significant challenge presented itself. Mumbai was struck by a three-day long terror strike, during which several Canadians were caught in the cross-fire. The Canadian Consulate was brought in to render services to the Canadians effected.
During the terror strikes, the Consulate General asked Varun to visit with a Canadian who had been shot multiple times during the attack. Varun visited the Canadian as he recovered in hospital and had his eyes were opened to the harshness of life.  Varun continually checked in with the wounded Canadian until he recovered and was released from hospital.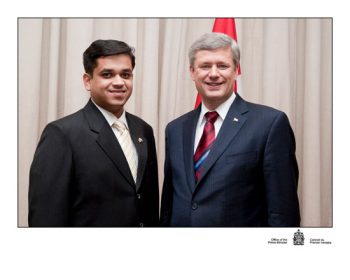 The following year, Varun and a few of his colleagues were recognized for their incredible work during the attacks. Prime Minister Stephen Harper presented Varun and his colleagues with a personal appreciation letter.
"It was the proudest moment of my career because I was fortunate to be one of those who served Canadians caught in the cross-fire and I was found worthy to render support to humanity. I still display the personal letter from Prime Minister Harper on my desk, to always remind me of the time when my career in international trade brought me face-to-face with citizens of the world. They were in peril and, in a small way, I was able to contribute and rekindle their faith in life. This was life in international trade and life couldn't be better."
"In my daily role as a Trade Commissioner for Agriculture and Agri-Food, the most rewarding and the proudest moments of my job is when a client who I have advised, guided and worked with to enter the Indian market actually does successfully enter the market and has their quality Canadian products placed on the retail shelves of this dynamic, diverse and complex market."
Honoured and equipped to serve his clients 
Varun had already developed considerable skills in his role as trade commissioner, yet he wanted to enhance them even further. The FITTskills courses offered Varun exactly what he was looking for. Varun earned his FITTskills diploma, which set him on the path to his CITP®|FIBP® designation.
I truly believe that attaining the CITP®|FIBP® designation is the attainment of Nirvana in international trade. Ever since I became a trade commissioner, my eyes were always set on achieving this prestigious designation, which could only be derived by years of dedicated service and client engagement within the industry.
"I knew the path to attaining this designation would mean I would have to excel in my job as trade commissioner. It meant I would have to excel in giving my clients the best possible service, which would enable and prepare them to enter international markets."
When Varun finally did earn his designation, he had only two words to describe the experience.
"Honoured and equipped. Honoured to be a holder of the elite CITP®|FIBP® designation and equipped to take on the world of international trade with my new designation."
Varun sees the CITP®|FIBP® designation only enhancing his career moving forward.
The designation has equipped to best serve my clientele on a daily basis.
"The attainment of this designation has taught me the excellence required by every international trade practitioner to be successful at connecting the dots that make up this enormous global industry. My clients have a greater trust and know they are being serviced at the highest standard possible."

Learn more about the CITP®|FIBP® designation
INTERNATIONAL BUSINESS CERTIFICATION—CITP®|FIBP®
Advance your career and build your professional credibility in the field of global business by earning the Certified International Trade Professional (CITP) designation.
Why Earn the Certified International Trade Professional (CITP) Designation?
The Certified International Trade Professional (CITP) designation is the world's leading professional designation for the field of international business. So whether you're new to global trade or have over a decade of direct experience, you'll find the CITP designation can help advance your career and build your professional credibility.
The CITP designation sets you apart in the competitive international business industry because it's proof you possess the competencies global business experts have identified as being essential for a successful career in international trade. It also recognizes your dedication to ethical business practices and ongoing professional development—both of which are desirable traits for today's global business practitioners.